This post may contain affiliate links. If you click a link and buy something, I may receive a small commission at no extra cost to you.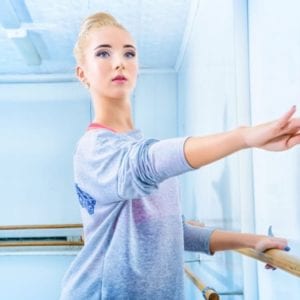 As word spreads about the benefits of barre workouts, more and more people are snapping up Barre workout DVDs and equipment and signing up for Barre classes.
Ballet-inspired with dance-moves including pirouettes and plies, workouts also include elements of Pilates, yoga, and functional training.
Choreographed to music, sessions utilize a ballet barre, light hand weights, and mini balls.  They also involve mat work.
Regular workouts will tone your muscles without adding bulk.  They will also improve your flexibility, balance, and strength.
A low-impact form of exercise, it offers plenty of variety, which makes it ideal for people who get bored doing the same thing over and over.  Another thing women love about Barre workouts is that visible results are apparent quickly.
In this article, we will look at the top benefits of Barre workouts so you can decide if they will be right for you.  We will also look at the areas in which they may be lacking, what a typical session involves, and more.
Barre Exercise Overview
The typical structure of Barre exercise sessions is similar whether you attend a class or work out to a DVD at home.  Most begin with a mat-based warm-up that includes Planks, Push-Ups, and other toning moves.  You will then move to the bar to do lower body exercises.  Most sessions conclude with either core-focused moves at the bar or mat exercises.
Every workout involves isometric movements during which you will pulse up and down just one inch.  While this may sound simple, when it comes to toning it really packs a punch.
Calorie Burning Barre Workout – including modified moves
What Equipment & Clothing Will I Need?
Most Barre exercises use bodyweight alone.  However, if desired, you can use light dumbbells (one to three pounds) or resistance bands to increase the resistance when doing upper body moves.
When doing lower-body work, a soft exercise ball is often used to target the leg muscles.
Most people find that leggings or capri pants and a torso covering top are the most comfortable clothing option.  You can go barefoot, or wear yoga/pilates, or grippy socks for traction.
The Top Benefits of Barre Workouts
People of any age and fitness level can experience the benefits of Barre exercise.
NO PRIOR EXPERIENCE NECESSARY
You don't need to be a dancer or to be experienced in yoga or Pilates to do this form of exercise.
Being a low-impact form of exercise, the likelihood of injuring yourself doing Barre is very slim.
Barre exercise workouts are highly efficient, with every move targeting multiple muscle groups so you will tone your muscles quickly.
SCULPTS LOWER BODY MUSCLES
One of the top benefits of Barre workouts for many women is that they are excellent for sculpting and defining the thighs, calves, and buttocks muscles.
TARGETS THE CORE
Whether you are exercising your upper or lower body, every Barre exercise you do engages your core, making it stronger and more toned.
Most people notice an improvement in their overall body strength within a few weeks of starting Barre workouts.
You should notice gains in endurance within a few weeks of starting.
Barre workouts include a lot of stretches that elongate the muscles and ultimately improve flexibility.
Because the moves improve core strength, you will be able to effortlessly sit and stand taller.
ENHANCED NEUROMUSCULAR CONNECTION
Barre workouts require that you focus your thoughts on your movements, which promotes inner harmony and strengthens the neuromuscular (mind-body) connection.
One hour of Barre burns approximately 300 calories – not as many as more vigorous workouts, but the calories will add up over time.
The resistance placed on bones when doing Barre makes them stronger which helps to ward off osteoporosis.
The Possible Drawbacks of Barre Exercise
PRACTICAL FITNESS LIMITATION
Some Barre workouts lack functional fitness moves that enable us to gain strength for performing everyday tasks.
Barre involves some cardio, but not enough to significantly improve cardiovascular health or create afterburn.
Progressive overload is the key to consistent fitness gains, so with Barre, your results will eventually plateau.
Final Words on the Benefits of Barre Exercise
Barre workouts can benefit people young and not so young, of any fitness level.  They're low-impact, enjoyable to do, and results come quickly.  Along with better muscle tone, within weeks of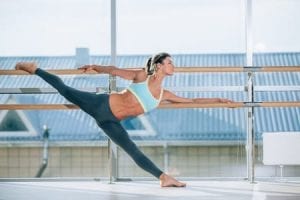 starting you will be stronger, more flexible, have greater endurance, and feel better in general.
Workouts are gentle enough for seniors.  They may also be suitable if you are rehabilitating from injury.  Check with your doctor first though.
As with any form of exercise, there are some drawbacks.  To get around these, combine your sessions with cardio and strength training two or three times a week, for a well-rounded fitness program.
If you want to experience the benefits of Barre workouts without taking classes, click this link to read about the Supreme Toning Tower W/ Pilates & Barre.  A Beverly Hills Fitness product, it is affordable, and it will provide you with the benefits of Barre exercise in the comfort and convenience of your home.