This post may contain affiliate links. If you click a link and buy something, I may receive a small commission at no extra cost to you.
If you're looking for information on the best arm workouts for women, you've come to the right page.
Most women want to firm and shape their upper arms and shoulders.  It's an area that can lose muscle tone and become flabby, especially as we age.  And with today's revealing fashions, it is on display more than ever before.
In this article, we will look at a variety of effective arm workouts for women.  These include arm workouts for women with weights and arm exercises for women without weights that use body resistance.
Do them consistently, and you will soon be confidently wearing sleeveless tops again instead of sweltering in sleeves when the mercury is high.
What are the Best Arm Workouts for Women?
The best arm workouts for women challenge the muscles of the arms, shoulders, and upper back.  Done regularly, this type of exercise strengthens and tones the entire upper body.
If you combine the arm workouts for women below with exercises that work your whole body, you will be surprised at how quickly you will tone up and slim down without having to spend hours at the gym every week.
Some of the best upper arm exercises for women don't even require any equipment.  Doing arm exercises for five to ten minutes a day, or even every second day, will be enough to see improvement.  That's not a lot of time, so there really isn't any excuse not to get yourself motivated and devise and stick with an arm workout routine.
Many exercises use a combination of bodyweight and resistance training.  To do this type of arm workout routine, you won't need a lot of equipment.  Some people do find using equipment helpful, though, and the right kind can bring quicker results.
Arm Workouts for Women with Weights
Weight lifting is one of the best arm toning exercises for women.  In fact, it is arguably the best.
If you are concerned that weight workouts will create too much bulk, don't be.  Due to our genetic differences, it's extremely difficult for females to build muscle mass to the same extent as males.
We can create some bulk if that is our goal; however, doing so would take time and a lot of effort.  You would need to use hefty weights or machines specifically designed for this purpose.  You would also have to follow a particularly stringent diet.
At the other end of the spectrum, there are arm exercises using weights that develop lean, toned muscles.  The difference between the two lies in the number of repetitions and the weight lifted.  Performing few reps with heavy weights builds bulk.  By using light weights and doing lots of reps, you won't build bulk, but instead, firm your muscles and create definition.
Choose the right exercise for the look you desire, and your muscles will respond accordingly.
Other types of equipment to try
If you are looking for compact, portable and inexpensive exercise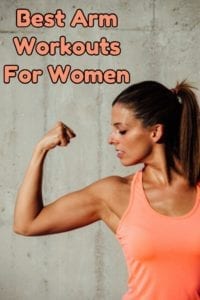 equipment, three options to consider are a medicine ball, a Pilates ring, and a resistance band.
A medicine ball is a small weighted ball about the size of a soccer ball.  It can be used in various ways, including to promote upper body toning and strengthening.  One of the simplest and most efficient arm exercises done with a medicine ball is the Chest Press.
To perform a Chest Press, lie on your back with your knees bent and your feet flat.
Hold a medicine ball in your hands, which should be resting in the center of your chest.  Inhale deeply, then exhale, and using controlled resistance, straighten your arms, extending them upwards.  Inhale, then slowly lower the ball back to its starting position.
For best results, do at least three sets of fifteen reps.
Click here to find out about the benefits of medicine ball workouts
A Pilates Ring, aka a Fitness Circle, is a flexible rubber or metal circle.  Gripped on the outsides and pressed inwards or outwards, it provides isometric exercise.  Along with delivering some of the best arm workouts for women, it can also be used to exercise other muscle groups.
Click here to read a review of the Stott Pilates Fitness Circle Lite Power Pack
Resistance bands can be bought singly or in a pack containing bands of varying strength.  Excellent for doing arm exercises, they can also be used to target other muscle groups.
One of the most simple arm exercises for women without weights who would like to get the results weights can deliver involves gripping either end of a resistance band and pulling your hands away from each other.  The closer your hands are together at the start of this move, the more resistance and better workout you will get.
Click here to find out about the benefits of resistance bands
Another popular option is the Iron Gym Total Upper Body Workout Bar.  (Click the previous link to read a review.)
Excellent Video Demo of Arm Workouts for Women
Home Arm Workout Routine for Women Using Bodyweight
If you don't have the money to invest in a gym membership and you don't want to purchase any equipment, much can still be done.  In the days before gyms and fitness equipment, people who wanted to improve their physique did so through bodyweight exercises.  This form of exercise was effective then, and it still is.
Following is an at-home arm workout routine that doesn't require any exercise equipment:
Arm circles are ideal for warming up the arm and shoulder muscles before doing an arm workout.  They also have some toning benefits.
Stand with your feet shoulder-width apart, your arms straight out to your sides at shoulder height, your palms facing downwards.
Move both arms in small forward circles for 60 seconds.  Change direction, making circles in a backward direction for 60 seconds.  
Click This Link For A Video Demonstration Of Arm Circles
Push-Ups are one of the most effective arm exercises without weights that you can do.  Quite challenging
at first, they are worth persevering with as they will strengthen and shape many of your upper body muscles, including your triceps, chest, and shoulders.  Your core will also get a workout.
To do a Push-Up, with a straight back and arms, place your hands on the floor beneath your shoulders, slightly more than shoulder-width apart.  Position your legs straight out behind you with the underside of your toes flexed.
Contract your abdominal muscles and inhale as you lower your body towards the floor until your elbows are at a 90-degree bend.
Exhaling, push yourself back up to your starting position, keeping your back straight, and making sure not to lock your elbows.
Repeat this sequence for the desired number of repetitions.  Start with 10 Push-Ups if you can, adding more as you gain strength.
* If you are new to exercise and you don't have a lot of upper-body strength, do modified or bent knee Push-Ups.  These are easier to do, and you will be able to maintain better form.
Click This Link For A Video Demonstration of Push-Ups
One of the all-time best arm workouts for women is the Triceps Dip, which firms the backs of the upper arms, an area that has a tendency to sag as we age.
To begin, sit on the edge of a stable chair or bench with your legs straight out to the front.  Keeping your back straight and with your palms pressed flat into the chair, your fingertips facing forward and hanging over the chair's edge, push up with your arms, lifting your hips up.  At this point, your arms will be completely supporting your weight.
Slowly lower yourself downwards in front of the chair using a smooth movement.  Lift yourself back upwards again by slowing bending, then straightening your elbows.
Do three sets of 12 to 15 reps.
Click This Link For A Video Demonstration of The Tricep Dip
Shadowboxing is another one of the best arm toning exercises for women because it also provides full-body toning and cardio.  You can stand in front of a mirror, place a light behind you so you can see your shadow on the wall, or just stand and box freestyle.
To start, assume a boxer's stance with your legs slightly bent and your arms raised, your hands curled into fists.
After setting a timer, begin punching the air, keeping tension in your arms, abs, and legs at all times.  The contraction provides the resistance that makes shadow boxing one of the most effective arm exercises for women without weights.
Continue for 2 to 3 minutes, alternating your leading arm every 20 or 30 seconds.
Click This Link For A Video Demonstration of Shadow Boxing
If all you are interested in is a little toning and firming and you have access to a swimming pool, some of the best arm toning exercises for women (and men) can be performed in a pool, and there won't even be any need for you to swim.
By standing in a swimming pool and moving your arms through the water as if you are, in fact, swimming.  The water will provide resistance, so you will tone up a lot faster than you would by "air swimming".
Final Thoughts on the Best Arm Workouts for Women
Something you should not overlook in your quest for better-looking arms is the
importance of diet.  By following a healthy, low-fat diet and controlling your meal portion size, you will lower your body fat.  With less body fat, muscles formed through exercise will not be concealed beneath a layer of fat.
The exercises above are some of the best and most effective arm workouts for women that you will find.  Whichever exercises you choose to do, be sure to target all of the arm's muscles, including the biceps, triceps, deltoids, and the entire shoulder area.  Working out this way will result in a balanced and aesthetically pleasing look.