This post may contain affiliate links. If you click a link and buy something, I may receive a small commission at no extra cost to you.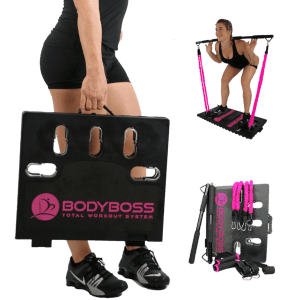 Today, we will look at the BodyBoss Home Gym 2.0 to see if it's worth buying.
If you prefer working out at home, but you don't have enough space or the finances for multiple pieces of fitness equipment, the BodyBoss 2.0 offers the perfect solution.
Capable of over 300 different exercises, the gym can provide you with the same total-body strength and cardiovascular benefits as the fitness equipment you will find at the gym.
Even the most compact home gym will usually require a dedicated space, but not this one!
Along with having a small footprint, it is lightweight, and it folds for easy relocation and storage. You could even take it with you on vacation so that you don't have to disrupt your exercise routine.
In this BodyBoss review, we will cover everything you may want to know about the BodyBoss Home Gym 2.0 before purchasing. This includes its maximum user weight, specs, key features, pros, cons, and what you will be getting for your money.
BodyBoss Home Gym 2.0 Specs
Space requirement – The BodyBoss Home Gym measures 20″ (W) x 34″ (L)
Folded dimensions – The gym folds to 20″ (W) x 17″ (L) x 2″ (D), which is small enough to store beneath most beds
Weight – It weighs 10.5lbs
User weight – Tested and proven to support up to 500 pounds in weight, this gym has no weight limit
User height – People of any height can use it
Color choices – This model comes in a choice of green, pink, and bright gold
Who will benefit from using the gym?
People of any age, weight, height, and fitness level can benefit from regular use of this gym. Whether you want a total body workout or you just want to target your trouble spots, you can do so with the BodyBoss. Increase the resistance level you work at as your strength improves, you will continue to grow your fitness.
What's in the box?
The following components make up the BodyBoss 2.0 Home Gym package:
1 Vector Fit Platform – The gym's spacious workout platform is large enough for you to exercise in comfort
4 resistance bands – The cloth-covered bands provide resistance
2 handles – The handles simulate dumbbells
2 wrist wraps – Wrist straps are incorporated into some of the boxing, toning, and cardio exercises
1 collapsible workout bar with padded grips – The collapsible workout bar provides the same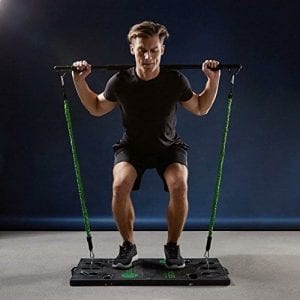 benefits as a squat rack
A door anchor w/ring – Attached to the top of a door, the door anchor expands your BodyBoss exercise options and simulates a Chest Cable and Lat Pull Down machine
1 carry bag – Use the carry bag to store or transport the resistance bands, handles, wrist straps, workout bar, and door anchor
A Getting Started Manual – The getting started manual shows you how to assemble the device and teaches you the BodyBoss exercises you can undertake with it
Bonus video workouts – You can tune in to live training sessions, and you will also be able to access hundreds of pre-recorded workouts
BodyBoss 2.0 Home Gym Video Overview
A Closer Look at the BodyBoss Home Gym 2.0 Accessories
The gym's platform is robust with a durable anti-slip finish. Its top surface features rings to which the bands are clipped. Non-slip pads on the underside hold the platform in place and protect your floor.
Thickly padded sweat-resistant cloth-covered bands provide comfortable, slip-free workouts.
The bands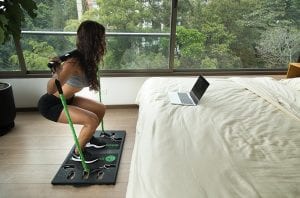 can be used with or without the handles, with the latter adding extra weight. Simply attach them to the workout platform or the door anchor depending on the BodyBoss exercises you want to do.
The bands can also be used attached to the door anchor.
Velcro-fastening wrist wraps have rings to which the bands can be attached.
The workout bar comprises two pieces that join together. Its ends can rotate a full 360-degrees without the clips sliding.
BodyBoss Home Gym 2.0 Overview
The BodyBoss Home Gym will enable you to get a gym-quality workout at home. The variety of exercises it gives access to is outstanding given its size and price. Its components are sturdy and durable, and it is one of the simplest to use fitness aids you will find.
Lat Pulldowns, Squats, Bent Over Rows, Standing Chest Flys, and Overhead Presses are just a handful of the hundreds of Bodyboss exercises that are possible with the gym.
When you are starting out you will probably want to work with the bands left long. Doing so will enable you to work with less resistance. It will also give you a better cardio workout.
As your strength and fitness improve, to see further gains, you will need to work with higher resistance.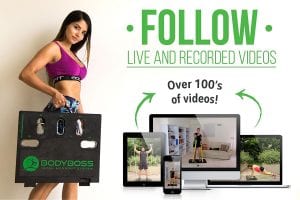 You can do this by clipping the bands in a different position on the platform to shorten them.
The more you shorten them, the harder your session will be, the more calories you will burn, and the faster you will tone your muscles. If you want a tougher workout still, add an extra band, or bands, on either side.
Either way, training with bands can be more practical than working with dumbbells. They are easier to move and store, and more gentle. The likelihood of injury decreases too, so even those rehabilitating from injury can often use resistance bands.
Another advantage to the BodyBoss Home Gym 2.0 is that unlike when lifting traditional weights, with this system you won't need a spotter.
Follow along with the live sessions, do the prerecorded workouts or both. New videos are added regularly, so there's always something new to try.
In the next part of this BodyBoss review, we will look at its pros.

BodyBoss Home Gym Pros
Folds for relocation and storage
No upper user weight limit
BodyBoss Home Gym 2.0 Cons
The accessories can't be stored inside the folded gym
A couple of BodyBoss Gym purchasers who emailed customer service stated that they didn't receive a timely or adequate response
BodyBoss Home Gym 2.0 Summary
If the expense of joining a gym or buying quality home exercise equipment has hindered your fitness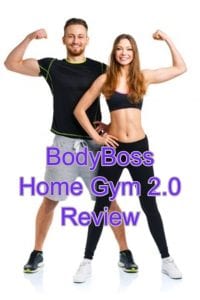 progress, you're going to love the BodyBoss 2.0 Home Gym. Likewise, if you don't have the time or inclination to go to a gym, work out, then travel back home three or more times a week.
Along with being excellent value for money, this model offers the ultimate in convenience. Enabling you to do a broad range of exercises targeting your upper body, lower body, and core, BodyBoss exercises will also improve your strength and cardiovascular health, and help you to lose weight.
To read reviews of other popular home gyms, click this link