This post may contain affiliate links. If you click a link and buy something, I may receive a small commission at no extra cost to you.
The Gorilla Bow Portable Home Gym is a versatile resistance band fitness tool that provides many of the benefits of a traditional home gym in a far lighter and more compact package.
Manufactured by a reputable Canadian brand, Gorilla Fitness, it comes in a few different versions.  These include Original and Lite models that are suitable for beginner and intermediate level users.
There's also a Travel version, the pieces of which can be separated to fit into a suitcase or backpack.
If you want to take things to the next level, you can buy a stronger set of bands to pair with the Original or Travel models.
When used regularly, the device can improve your muscle tone and build muscle mass.  It can also enhance balance, reduce joint pain, boost acceleration and speed, and assist with weight loss.
With so many potential benefits, it's not surprising that it is among the most popular portable home gyms on the market.  But is it worth the money, and it is any better than other portable home gyms?
Keep reading this Gorilla Bow review to get the facts so you can decide if it's worth including in your workout regimen.
Along with an overview, you will find out whom the device will best suit and some Gorilla Bow Exercise options.  We will also look at its pros and its cons.
Whom does it best suit?
Anyone can benefit from using the Gorilla Bow.  It is an excellent choice for individuals who don't have a lot of room for fitness equipment.  It will also suit people who like the smooth and fluid movement fitness bands offer compared to heavy weight lifting equipment, and those who want to lower the risk of joint stress that could cause an injury.
Its ability to hone speed and acceleration will be particularly appealing to people who want to hone their sporting performance.
The Original, Lite, and Travel versions best suit new and intermediate level users.  The Heavy model suits individuals who are already strong and fit.
NB: Some of the items referenced below are not currently available on Amazon.  
Gorilla Bow Exercises
Gorilla Bow exercises include Deadlifts, Lunges, Squats, Side Bends, Calf Raises, Crunches, Twists, Rows, Lat Pulldowns, Shoulder Presses, Chest Presses, Bicep Curls, Tricep Extensions, and many more.
Specs
Original Gorilla Bow
Dimensions – The original model measures 56″ (L) x 1 1/2″ (D)
Weight – It weighs 6 lbs
Weight capacity – The weight capacity for this model is 300 lbs
Band strength – Four bands are included, offering an equivalent strength of 10 lbs, 20 lbs, 30 lbs, and 50 lbs, for a total of 110 lbs of resistance

Lite Gorilla Bow
Dimensions – The Lite Gorilla Bow measures 47″ (L) x 1″ (D)
Weight – It weighs 3 lbs
Weight capacity – The weight capacity for this model is 120 lbs
Band strength – Three bands are included, these being equivalent to 10 lbs, 20 lbs, and 30 lbs, for a total resistance of 60 lbs

Travel Gorilla Bow
Dimensions – The Travel Gorilla Bow measures 56″ (L) x 9.5″ x 1.75″ – it separates into three pieces, with the longest of these being 21″
Weight – It weighs 6 lbs
Weight capacity – It has a 400 lb weight capacity
Color – It comes in a choice of black, green, or pink
Band strength – Bands equal to 10 lb, 20 lb, 30 lb, & 50 lb are included, offering a total of up to 110 lbs of resistance
Gorilla Bow Portable Home Gym Overview
The Gorilla Bow Portable Home Gym is a sturdy, lightweight, and very compact apparatus that is made of aircraft-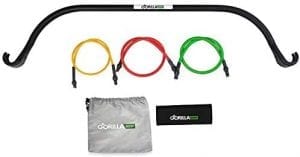 grade aluminum that is bend and snap-resistant.  Its shape resembles that of a traditional bow and arrow.
Using the device involves attaching one or more resistance bands to either side of the high-tensile bow.  The bow is then flexed in different ways, depending on the exercise and muscle group you want to target.
Exercising in this manner can be even more effective than using traditional gym equipment.  This is because when using fitness bands there is no possibility of momentum helping you to complete reps.
Another benefit of exercising with resistance bands as opposed to lifting free weights is that you won't need a spotter.
The bands you receive will vary depending on the version you choose.  Their color and equivalent resistance includes yellow, which is equal to 10 lbs of resistance, red, which is the equivalent of 20 lbs, blue, which offers 32 lbs of resistance, and black, which gives 45 lbs of resistance.
You can also purchase single bands.  These include a green band offering 70 lbs of resistance, an orange band that is equivalent to 80 lbs, and a maroon band that provides 100 lbs of resistance.
There's also the option of buying a set containing two 50 lb and two 60 lb bands, which are bright blue and pale blue, respectively.
A set containing four 27″ long white bands provides 90 lbs of resistance per band.
A "flexclaw" on either end of the Gorilla Bow makes attaching or swapping out the bands super-easy.  If you are a beginner, you can start with just one band and work with light resistance.  As you become stronger, you can add extra bands.
The bands are light and compact with enough stretch to enable you to do a broad range of resistance exercises, plus total-body HIIT workouts.
Each version comes with a storage bag.
Gorilla Fitness provides a 2-year warranty on the bow and the bands.  They also give a 90-day money-back guarantee.
Next, in this Gorilla Bow review, we will look at its pros, followed by its cons.
Pros
Compact, light, and therefore portable
There's a model for every fitness level
Provides a total-body workout
Offers strength training, plus the potential for HIIT
The risk of injury is extremely low when using resistance bands
The bow is virtually indestructible
The bands are very strong and resilient
A bag is included for convenient storage and transportation
Comes with a great warranty plus a money-back guarantee
Cons
The bow doesn't fold, so if you want to take it on vacation, you will do best with the Travel version; however, the device will fit into a car trunk
Depending on how often you work out, you may need to change the bands every couple of years
The bands are 100% latex, which may not suit some people
Final Thoughts on the Gorilla Bow Home Gym
The Gorilla Bow is worth a closer look if you're bored with your regular workout and ready for a change.
It is light in weight and simple to use, and it can give you an awesome total-body workout on par with the one you will get from heavy, bulky gym equipment.  It is also just as durable and able to withstand up to 300 pounds of tension, so you can expect to use it for many years.