This post may contain affiliate links. If you click a link and buy something, I may receive a small commission at no extra cost to you.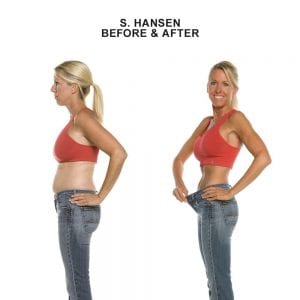 Looking for ChaLEAN Extreme reviews?  If so, you've come to the right page.
Released in 2009, the ChaLEAN Extreme workout was an instant hit with the public, and its popularity endures to this day.
A 90-day fitness program created by BeachBody in conjunction with well-known fitness expert Chalene Johnson, ChaLEAN Extreme is based on a technique known as Lean Phasing.
This technique uses healthy eating, cardio workouts, and resistance training to burn body fat and build lean muscle quickly.
Most people will see visible results within the first couple of weeks of starting the course.  By the end of the program, a reduction in body fat of up to 60% is typical.
To find out more and to determine if it will be right for you, read my Chalean Extreme review below.
What is the ChaLEAN Extreme Workout Schedule?
The ChaLEAN Extreme workout schedule consists of doing resistance training three times a week and cardio twice a week.  You get two rest days.  These will vary from week to week, and the workouts will change throughout the course.
Exercising this way will keep your muscles constantly challenged.  It will also increase your metabolism during workouts, and for hours afterward.  As a result, you will burn additional calories and ultimately lose weight faster.
You may find the ChaLEAN Extreme Workout Schedule fairly intense at first.  However, the moves can be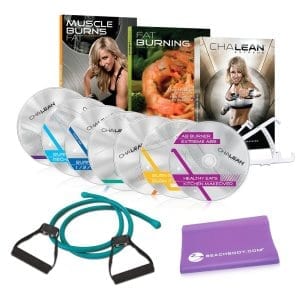 customized to suit your fitness level.  If you are reasonably fit, follow Chalene's version of the workout.
If you are new to exercising or haven't exercised for a while, follow one of the modifiers who demonstrates easier versions of Chalene's moves using resistance bands or lighter weights.
You can also follow the moderators if you have joint issues that require you to do a lower-impact workout.
ChaLEAN Extreme comes with resistance bands.  If preferred, you can use light weights, progressing to heavier ones as you proceed through the course.
As a general guideline, weights of between 5 and 30 pounds are recommended for women, with 12 to 40 pounds recommended for men.  Most people find they can comfortably work with heavier weights for some exercises, but need light weights for others.
Chalene's manner is positive and encouraging.  A countdown timer lets you know how much of the workout you still have to do.  This can help you stay motivated at times you might feel like stopping.
Some people have obtained very good results by doing the ChaLEAN Extreme workout without following the diet.  It's entirely up to you, but if you want to strip your excess body fat as well as tone up, exercise and diet combined will enable you to achieve your best possible shape.
ChaLEAN Extreme Workout Infomercial
What's in the Box?
ChaLEAN Extreme consists of 6 DVDS featuring a total of 15 workouts, a CD entitled Extreme Motivation, two books – the Muscle Burns Fat Guidebook and the Fat Burning Food Guide – a resistance band, a thigh toner band, and a body fat tester.
We will look at all of these in further detail below, starting with the DVDs.
Chalean Extreme Workout DVDs
The ChaLEAN Extreme Workout DVDs consist of the following:-
• DVD 1 – Burn Basics, Band Basics & Healthy Eats & Kitchen Makeover (57 mins)
In this introductory DVD, the Burn Basics segment gives an overview of the program and shows the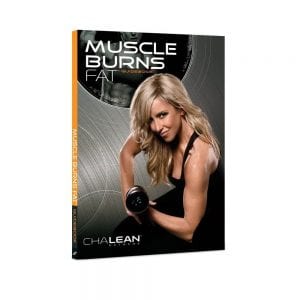 correct form to use when working out with dumbbells.
Band Basics is similar to Burn Basics, with the moves demonstrated using resistance bands.
In Healthy Eats Kitchen Makeover, Chalene offers tips on and recommendations of the best foods to eat to get the optimum results.
• DVD 2 – Burn Circuit 1 (36 mins), Burn Circuit 2 (38 mins) & Burn Circuit 3 (32 mins)
Moderately intense, during this month-long first phase of the ChaLean Extreme workout, you will begin breaking down and burning your stored body fat.
Targeting both the upper and lower body, the exercises are done using a weight.  The weight should be one you can perform 10 to 12 reps with, while still maintaining correct form.
Burn Circuit 1 concentrates on the abs, upper back and chest, Burn Circuit 2, the back, biceps, and triceps and Burn Circuit 3, the deltoids, shoulders, and calves.
• DVD 3 – Push Circuit 1 (33 mins), Push Circuit 2 (35 mins) and Push Circuit 3 (35 mins)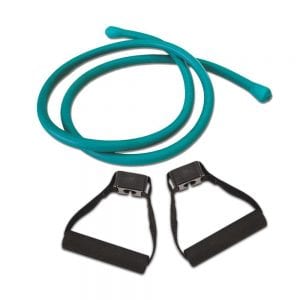 ChaLEAN Extreme DVD 3 steps things up a notch, for faster results.  Concentrating on one muscle group at a time, you will be working with a weight you can lift 6 to 8 times.
Push Circuit 1 homes in on the biceps, triceps, and lower body. Push Circuit 2 targets the lower body, shoulders, and deltoids and Push Circuit 3 targets the lower body, chest, and back.
• DVD 4 – Lean Circuit 1 (44 mins), Lean Circuit 2 (39 mins) and Lean Circuit 3 (39 mins)
The Lean Circuit phase of the workout concentrates mainly on the core, upper, and lower body.  You will do different exercises each set, working with a weight you can lift 10 to 12 times.  At this point, your body fat level will have markedly decreased, and you will see a substantial improvement in your shape and muscle tone.
Lean Circuit 1 focuses on the biceps and triceps, Lean Circuit 2 zeros in on the back and deltoids and Lean Circuit 3, the chest and shoulders.
• DVD 5 – Burn Intervals (46 mins), Burn It Off! (27 mins) & Recharge (21 mins)
If you like cardio, you're going to love ChaLEAN Extreme DVD 5.  Starting with rapid-paced intervals that burn a high number of calories, you will then do Burn it Off!.  Your session will end with Recharge.  This consists of yoga-inspired moves to stretch and elongate your muscles and impart a feeling of relaxation and well-being.
• DVD 5 BONUS – Ab Burner (10 1/2 mins) & Extreme Abs (16 1/2 mins)
Get the sexy, flat, toned abs and tiny waist you've been dreaming off, with these two very effective BONUS workouts, Ab Burner & Extreme Abs, that target the abs and core.
ChaLEAN Extreme Workout Extras
In this part of my ChaLEAN Extreme review, we will look at the tools that come with the kit.  Included are:
Extreme Motivation CD – An audio motivational CD that explains food addiction, the reasons you may not be losing weight and a whole lot more.
Pro-Grade Resistance Band – For increased fat burning and muscle toning.
Thigh Toner Band – Enables you to tone your muscles even more effectively.
Fat-Burning Food Guide – A step-by-step guide that will teach you the best ways to burn the maximum amount of body fat.  The Fat-Burning Food Guide contains over 80 healthy and delicious recipes.
Muscle Burns Fat Guidebook – Helps you stay on track with your goals.  Also included is a workout calendar.
Body Fat Tester – This handy set of calipers will enable you to easily measure your body fat and track your progress throughout the program.
ChaLEAN Extreme Meal Plan
The ChaLEAN Extreme Meal Plan calorie allowance is in the 1,200 to 1,500 per day range for women.  Men are allowed between 1,400 and 1,700 calories a day.  This is divided between three small, balanced meals and two snacks.  Eating this way will keep your body constantly fueled, so it resists storing calories and building fat stores. 
For best results, the food you eat should contain the mix of protein, fats, and carbs outlined in the ChaLEAN Extreme Meal Plan.
As you progress through the three phases of the workout – Burn, Push, and Lean – your body fat level will decrease, and your metabolic rate will accelerate.  At this point, your ChaLEAN Extreme Meal Plan calorie allowance will increase.
During the Burn phase, the basis of the diet is protein-rich foods, vegetables, and foods that are low in refined carbs and fats.
In the Push phase, additional protein foods and more calories are allowed.
Upon reaching the Lean phase, you will consume foods eaten during the Burn phase, in larger portions.
It's recommended that you drink 8 x 8-ounce glasses of water a day, including one glass a half an hour before meals.  This will take the edge off your appetite, so you will be satisfied with smaller portions of food.
Final Thoughts on the ChaLEAN Extreme Workout
Most reviewers are very happy with the ChaLEAN Extreme workout schedule.  They appreciate that the sessions are quite short and very effective.  It's worth noting, however, that some purchasers said they don't find the program tough enough.
A few who undertook it claim their clothing became tighter due to an increase in their muscle mass.  These people are very much in the minority, with most people going down in clothing size.  If you are concerned, I recommend you use weights at the lighter end of the recommended range rather than the upper end, which Chalene encourages.
Most reviewers have said Chalene is friendly and encouraging without being too perky or over-the-top.  A few, however, stated that they would have preferred less talk.
The ChaLEAN Extreme meal plan has a more generous calorie allowance than a lot of other fitness programs.  This makes it easier to follow.  It also means that most people will find that they have more energy, even though they are working out.  This tends to be the case even for people who haven't exercised before and so don't have a lot of stamina.
As is the case with any fitness program, ChaLEAN Extreme will not suit everyone.  However, if you're in the market for an effective workout that will enable you to lose weight, decrease your body fat and develop strong, lean muscle without having to starve yourself or spend an hour a day at the gym, it's worth a closer look.
Not the right workout for you?  Click here to read reviews of alternatives.