This post may contain affiliate links. If you click a link and buy something, I may receive a small commission at no extra cost to you.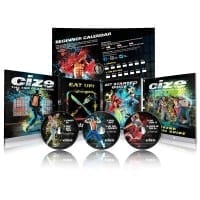 Whether you love or hate working out, if you enjoy dancing or want to learn to dance, the Cize Shaun T Dance Workout DVD Base Kit should be right up your alley.
An Amazon Best Seller in the fitness DVD category, the moves in this 4-week dance/power cardio program are clearly and repeatedly demonstrated.  With nothing left to chance, the program is doable, even if you've never danced a step before in your life.
Along with learning some cool new dance moves, with the Cize Workout DVD, you will burn calories and fat as you tone and sculpt your muscles.
There are two versions of the kit to choose from, the Base Kit and the Deluxe Kit.
The main component of both is 6 dance segments on 3 DVDs.  The intensity of these increases as you progress.  There is also an ab workout.  The other package inclusions vary, depending on whether you buy the base or the deluxe kit.
People of all fitness levels have successfully used the program.  In my opinion, however, its format is more suited to new and intermediate level exercisers than those who are already very fit.
What's in the Cize Shaun T Kits?
Along with the dance segments, included with the Cize Shaun T Workout Base Kit is a Start Guide, a Meal Plan, 2
Workout Calendars and a Weekend Survival Guide.  Used in conjunction with the workouts, you will have everything you need to transform your shape for the better. 

If you want to step things up an extra notch, there's the deluxe kit.  In addition to everything listed above, with the Cize Shaun T Workout Deluxe Kit, you will also receive 2 additional workouts, 1 x pair of weighted wristbands, the Lose It! Guide and the much-praised 21 Day Fix Portion Control Containers.

Keep reading for more details on both Shaun T Cize Dance Workout Kits, including a brief overview of each of the segments, their run time, and the songs you will be dancing to, plus a description of the fitness tools that come with the kits.
Cize Shaun T Workout Video Preview
Cize Shaun T Dance Workouts & Song List
The following 6 workouts are the basis of both the Cize Shaun T Workout Base Kit and the Cize
Shaun T Workout Deluxe Kit.  Both kits also contain a bonus abs workout.
Regardless of the set you buy, the format will be the same.
You will learn each of the segments, one step and one move at a time.  Once you know the first move, you will learn the second one.
You'll then put the two moves together before moving on to the third movement, and so on, adding more steps as you go.
Finally, you will do a full routine, performed to a pop song.
The 7 workouts and songs are as follows:
• Crazy 8s – Crazy 8s is a 35-minute hip-hop segment that will leave you sweating.  After learning all of the moves, you will dance to Timbaland's Hands In The Air.
• You Got This – A faster-paced workout than Crazy 8s, You Got This is a 43-minute session in which you will be doing entirely different moves and sweating even harder.  The song you will be performing to at the end is Bruno Mars' Treasure.
• Full Out – In Full Out, the pace and sweat level picks up further.  Danced to Lose My Breath, by Destiny's Child, the run time is 34 minutes.
• In The Pocket – With In The Pocket, the pace increases again as you undertake innovative dance moves created by professional dancers.  37 minutes long, it concludes with you dancing to Problem by Ariana Grande.
• Go For It – By now your dancing skills and fitness will have improved considerably and you will be ready to undertake Go For It.  This 40-minute session concludes with you dancing to Missy Elliot's Pass That Dutch.
• Living in the 8s – Living in the 8s ties everything together.  Concluding with Chandelier by Sia, at 51 minutes, it is the longest of the sessions.
• 8 Count Abs – A toned and strong ab and core are essential to looking good and dancing well.  This 8-minute midsection floor workout ends with a performance to LL Cool J's, Headsprung.
The two additional workouts included with the Shaun T Cize DVD Deluxe Kit are:
• Get Into It – Get Into It is a fast-paced 38-minute dance course that will kick your metabolism into overdrive, scorching even more calories.  The song you will perform to is, He Ain't with Me Now, by RichGirl.
• Turn It On – Turn It On is another excellent fat-burning workout.  This 35-minute segment concludes with you dancing to Jessie J's Wild.
Next, we look at the other inclusions in the kits.
Cize Shaun T Fitness Tools
Both kits contain the following fitness tools:
• Get Started Guide – The Get Started Guide is a step-by-step guide designed to help you take
charge of your diet and fitness as you undertake the program.
• Eat Up! Meal Plan – The Eat Up! Meal Plan will teach you how to select the right foods to lose weight and later maintain your weight.
Included are nutritional tips and guidance, plus simple, easy-to-prepare recipes that can be on your table quickly.
With Shaun T's belief that if we eat healthily and sensibly 85% of the time, we can get away with indulging the other 15% of the time, you're going to love what's on the menu!
• Beginner Calendar – The Cize Shaun T Beginner Calendar allows you to monitor and rate your progress as you hone your dance skills.
You will quickly progress from "Back-up Dancer" to "Front and Center" to "Ready for My Own Music Video" standard.
• Advanced Calendar – The Size Shaun T Advanced Calendar will help keep you on track, telling you what you should be doing each day to meet your fitness and weight loss goals.
• Weekend Survival Guide – Weekends can be difficult when you're trying to lose weight and
your friends are out socializing.
With the information contained in the Weekend Survival Guide, you won't have to miss out on the fun.
The guide lists do's and don'ts that will enable you to go to a party or out for dinner and enjoy yourself without going overboard and sabotaging your diet.
• 24/7 Online Support – The Cize online support forum provides diet and nutrition tips and motivational help.  It also enables members to interact with other members and Shaun T himself, who regularly hosts live chats.
Along with everything listed above, the Deluxe Kit also contains the following:
• Lose It! Guide – The Cize Shaun T Lose it! Guide contains Shaun T's best tips for losing weight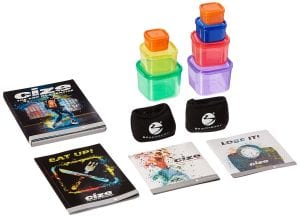 in the shortest possible time while staying strong and healthy.
Included are things that can make all the difference, such as when to eat, how much water you should drink, healthy snack suggestions, and more.
• 1-LB. Weighted Wristbands – These stylish and comfortable to use weighted wristbands will add resistance to your movements, enabling you to tone up faster and burn more calories.
• Deluxe Calendar – The Deluxe Calendar outlines the core workouts for the course.  It also contains a guide for undertaking faster-paced and more challenging routines.
• Portion Control Containers – 7 color-coded Portion Control Containers make calculating your calorie intake very easy.  The containers have proven to be very popular with people who have undertaken Autumn Calabrese 21 Day Fix.  (Click the previous link to read a review.)   Fill them with the proper food type, and tuck in!
You will receive a green container for veggies, a purple one for fruits, and a red one for proteins.  There's also a yellow container for carbs, a blue one for healthy fats, and two orange containers, one of which is for seeds and the other, dressings.
• Personalized Coaching – When you purchase this Cize Shaun T package, you can opt to connect with a coach.  Your coach will answer any questions you have about the program, motivate and encourage you and provide free fitness and nutritional advice.
Most coaches have private Facebook groups where members can chat.  They also hold competitions designed to encourage members to reach their goals.
Cize Shaun T Summary
If you're looking for a fun workout you can do at home, this program delivers.
A BeachBody/Shaun T collaboration, the Cize workout DVD has proven to be a hit with purchasers.
While it has excellent fat burning and cardio benefits, Cize is less intense than some of Shaun T's other programs.  Nevertheless, put in the effort, and you will sweat, be out of breath, burn calories and improve your fitness.
It's up to you how much you put into the moves.  This makes Cize suitable even for people with knee and joint problems seeking a very low-impact fitness program.
However, it may not suit those looking for a workout that is intense from start to finish.  If this is what you're looking for, you may prefer Shaun T's Insanity or P90X3.
If you're looking for another fun dance workout DVD to add to your collection, check out Shaun T's Rockin' Body.
To read more fitness program reviews, click this link