This post may contain affiliate links. If you click a link and buy something, I may receive a small commission at no extra cost to you.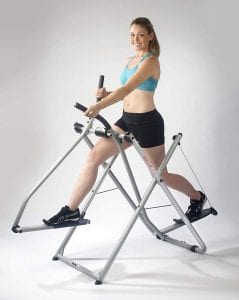 You may have seen fitness personality Tony Little on TV espousing the benefits of his Gazelle Edge Machine and be wondering, "does the Gazelle Edge really work?"  According to Tony Little and thousands of purchasers who have left Gazelle Glider reviews online, the answer to that question is a resounding, "yes!"
If you hate exercising, this fitness aid could change that.  It provides gentle, low-impact workouts, and it's easy to use, so working out is less of a chore.  Ideal for new exercisers, it will give you a total body toning workout that, over time, will help you lose weight.
Keep reading to get the facts on the Gazelle Edge exercise system and decide if it's right for you.
Is the Gazelle Edge Glider Suitable for Someone who hasn't Exercised Before?
The Gazelle Edge Glider is perfect for people who are new to exercise.  Even going at a slow pace, you will burn calories, improve your muscle tone, and, over time, decrease your body fat.
As you become accustomed to working out, you can increase your speed and effort.  Doing so will give you an effective cardiovascular workout that burns additional calories.
Next, in this Gazelle Edge review, we will look at its specs, followed by an overview.
Gazelle Edge Glider Specs
Dimensions – Assembled, the Gazelle Edge measures 43″ (L) x 29 1/4″ (W) x 53 3/4″ (H)
Folded dimensions – Folded, it measures 66″ (L) x 29 1/4″ (W) x 8 1/2″ (H)
Weight – This exercise glider weighs 45 lbs
User weight – The upper user weight limit for this model is 250 pounds
Batteries – 2 x AAA batteries are needed for the fitness meter
Gazelle Edge Overview
The Tony Little Gazelle Edge is a budget-priced exercise glider that delivers low-impact cardiovascular and resistance workouts.  It will enable you to target your upper and lower body simultaneously and burn calories in the process.  If you use it regularly, you will lose weight.
A 1 1/2″ rolled steel frame makes it strong enough to support a weight of up to 250 pounds.  Providing a smooth, quiet, low-impact ride, the Gazelle is suitable for users of most fitness levels.  However, if you are already fit, you probably won't find it enough of a challenge.
The machine has a basic built-in computer that tracks and displays workout stats to help you plan and grow your fitness.
Lighter and more compact than most other exercise gliders, it is easy to move, and it folds to store.
When you purchase, you will also receive a 35-minute DVD entitled the Gazelle Total Body Workout.  Led by fitness trainer Sharon Money Twombly, it features a low-impact workout, plus tips on how to get the best from the machine.
The Gazelle Edge Exercise Machine comes with a 1-year warranty.
What Muscles Does the Gazelle Workout Machine Target?
The Gazelle workout machine targets all of the major muscle groups of the upper and lower body, including the biceps, triceps, chest, shoulders, glutes, hamstrings, quads, calves, and core.
Are There Any Other Fitness Benefits?
Along with muscle toning, other fitness benefits that come from regular use of a Gazelle workout machine include a reduction of body fat, improved endurance, and a higher energy level.
How many Calories Does the Gazelle Burn?
The number of calories you will burn working out on the Gazelle machine depends
on several factors, including your current weight and fitness level and how fast and hard you go.
According to the manufacturer, on average, someone who weighs 120 pounds working at a brisk pace will burn approximately 520 calories every hour they exercise.
Someone weighing 150 pounds putting in the same intensity will burn around 650 calories an hour.  Someone weighing 200 pounds working at the same level will torch in the vicinity of 840 calories for every 60 minutes of exercise they do on the Gazelle Glider.
How many hours a week will I have to exercise to get results?
When done consistently, just 3 x 20 minutes sessions a week on the Gazelle Edge will be enough for you to begin experiencing its benefits.  The more time and effort you put in, the faster you will lose weight and improve your body shape.
The Gazelle workout machine delivers workouts that are so low in impact; it's almost impossible to overdo it.  You can safely extend your sessions to 30 minutes or more, and the frequency to 4 or 5 times a week or more, if you wish.
The next section of this Gazelle Edge review covers how to use the machine.
How to Use the Gazelle edge
Using your Gazelle Edge is straightforward.
To mount the device, stand behind and to the left of the pedals.  Reaching across, grip the right handle with your right hand, then the left handle with your left hand.
Next, lift your right foot onto the right footplate, then lift your left foot onto the left footplate.
To dismount the machine, first, make sure it is at a standstill.  Then, with your feet evenly balanced on the footplates and while securely gripping the front crossbar, step off the left footplate to the left, then step down with your right foot before letting go of the crossbar.
What Exercises Can I do on the Tony Little Gazelle Edge Glider?
A number of exercises can be done on the Gazelle Glider, all of which are variations of the Basic Glide.
The Basic Glide consists of standing with one foot on each of the two platforms, then moving your feet back and forth.  This is done while holding onto and moving the machine's handlebars in the opposite direction to which your legs are traveling.  The movement is similar to that of striding while swinging your arms.
Slightly more intense is the Wide Glide, which is the Basic Glide done with longer strides.  More challenging again is the High Glide, during which you would increase your pace and extend your arms and legs as far as possible as you stride.
Other options include the Low Glide, the Power Glide, the Power Jog, the Forward Push, and the Backward Lean.
Interval Training on the Gazelle Edge Glider
If you are an experienced exerciser, or if you want a more challenging workout, try interval training or "power sprints."
To do power sprints, after warming up, go all out for thirty to ninety seconds, before easing back to a regular pace for a minute or two.  Alternate this sequence, and you will burn a lot more calories and shape up really fast.  Gradually increase the time you spend going flat out, and decrease the time you go at a regular pace.

Gazelle Exercise DVDs
There are several Gazelle exercise DVDs available.  Some are cardio-based, while the primary focus of others is cardio, plus muscle toning.
One I like is Tony Little's Gazelle Freestyle Advanced Total Body Buttkick'n Workout DVD, which is suitable for people of any fitness level.  Tony is motivating, and his enthusiasm is contagious.  The accompanying music is happy and upbeat, and the workout is fun to do.  Stick with it, and you will be surprised at how quickly you drop pounds and tone up.
Please keep reading this Gazelle Edge review to find out its pros and advantages and its cons and drawbacks.
Video Overview of the Tony Little Gazelle Edge Machine
Gazelle Edge Pros and Advantages
A digital display panel shows your time, speed, distance, and calories burned.
Providing a low-impact workout, the Gazelle Edge is safe to use if you suffer from knee, ankle, or shin problems.
* NB Anyone with severe joint problems should consult a healthcare professional before undertaking a new exercise program.
Tony Little's Gazelle Exercise Machine has a very smooth, fluid motion, on par with exercise gliders that come with a far higher price tag.  Not having to contend with awkward, jerky movements makes workouts feel natural, comfortable, and easy.  This is the case with the Gazelle Edge, even when transitioning from a slow walk to a fast-paced run.
Extra-wide non-skid foot platforms provide comfortable and secure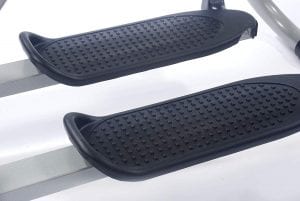 sessions.  High-density foam-covered handlebars are easy to grip, even for people whose hands sweat a lot.
The Gazelle Edge Machine is a good, basic exercise glider with a low price point.  It does lack some features that are standard with more expensive machines.  However, it does the job, and it is one of the better exercise gliders available for the price.
Your machine will arrive partially assembled.  Completing the assembly process is easy, and it will only take about 30 minutes.  Other than a Phillips head screwdriver, everything else you need will be inside the box the glider comes in.
The Gazelle Edge is light, so it can easily be relocated.  Folded flat, it is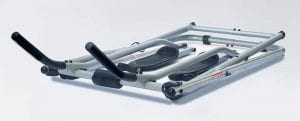 compact enough to store in a closet or under a bed.
This model comes with a 12-month warranty.
Gazelle Edge Cons and Drawbacks
A drawback of the Gazelle exercise machine is that its resistance level is not adjustable.  This means that your only option for increasing the intensity of your workouts will be to glide faster.  While doing so will improve your cardio fitness, you will only be able to maintain, not build, more muscle tone after reaching a certain level of fitness.
For a DIY workaround to increase the machine's resistance, attach elastic rubber cords to the machine's handlebars.
* If you'd prefer to buy a glider with adjustable resistance and you need a higher user-weight capacity, the Gazelle Supreme Glider is a great alternative to the Gazelle Edge. 
Along with all of the original model's features, the Gazelle Supreme has the added benefit of power pistons.  This makes it a better option for anyone who wants more intense and challenging workouts.  For an easier workout, remove the pistons.
The Gazelle Supreme Glider can support a weight of up to 300 pounds.  It comes with three workout DVDs, including Tony Little's Quick Shape Workout, the Ultimate Body and Mind Workout, and the Total Body Workout.  Also included are a heart rate monitor, a nutrition guide, an exercise chart, and a 22-ounce water bottle.
(Click this link to read my Gazelle Supreme Glider review.)
The Gazelle Edge Glider is only suitable for use by people who weigh 250 pounds or less.
* If you need a machine with a higher user weight limit, but don't require adjustable resistance as comes with the Gazelle Supreme, take a look at the Tony Little Gazelle Freestyle Exercise Machine.  Heavier at 51.9 pounds and slightly larger, it can support users weighing up to 300 pounds. 
Included with the Tony Little Gazelle Freestyle is a heart rate monitor, a nutrition guide, a 22-ounce water bottle, and two workout DVDs.
While the workout stats shown are handy, the Gazelle Edge lacks some programs that are standard with more expensive models.
Gazelle Edge Summary
The Tony Little Gazelle Edge Glider will enable you to get your weight loss and fitness journey underway.  Reasonably priced, it is ideal if you're looking for a piece of compact fitness equipment and you're on a tight budget.  It will also suit you if you are a new exerciser who doesn't want to spend a lot of money until you're sure you can commit to working out.
If you're anything like most purchasers, after trying the Gazelle exercise machine, you will look forward to using it.  And, upon seeing the results regular training bring, you will quickly become hooked.
Providing an effective, low-impact workout, the Gazelle Edge machine is robust but light enough to be moved and folded to store when required.  Setting it up is a very straightforward process that takes about half an hour.
The smooth, comfortable ride the Gazelle Edge Glider delivers more than makes up for its lack of fancy extras.  In fact, having so few parts, there is less that can go wrong during assembly or use of the machine.
Click here to read reviews of other popular elliptical trainers and air walkers
To read more Tony Little Gazelle machine reviews on Amazon, click the link below.