This post may contain affiliate links. If you click a link and buy something, I may receive a small commission at no extra cost to you.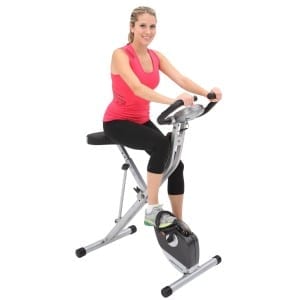 When it comes to affordable exercise bikes, the Exerpeutic Folding Magnetic Upright Bike with Pulse ticks all of the right boxes.
Along with being very reasonably priced, well-constructed, and durable, and it has feedback from close to 20,000 buyers on Amazon alone, most of which is highly positive.
The bike has a higher user weight limit than most of a similar price and one positive over many other exercise bikes, that being a comfortable seat.
Other notable features include variable tension to increase or decrease the intensity of your sessions, heart rate monitoring and a screen that displays basic workout stats.
To find out more and decide if it will suit your needs, please keep reading this Exerpeutic Folding Magnetic Upright Bike with Pulse review.
Whom does it suit?
This model best suits new and intermediate-level indoor cyclists.  Of course, anyone can use it; however, very experienced cyclists may not find the top resistance levels enough of a challenge.
Being relatively compact, it would be great for anyone who doesn't have a lot of space.  And being light, foldable, and having transport wheels, it can be folded then wheeled away to store between workouts if required.
Exerpeutic Folding Magnetic Upright Bike Specs
Dimensions – The Exerpeutic Folding Magnetic Upright Bike with Pulse measures 31″ x 19″ x 46″
Seat dimensions – The seat measures 14.6″ x 9.7″
Weight – It weighs 51 lbs
User weight – The user weight limit for this model is 300 pounds
User height – The manufacturer recommends this model for users from 5′ 3″ to 6′ 3″, with shorter and taller people having left positive feedback
Color – The bike is chrome with black highlights
Batteries –  2 x AA batteries are included for the monitor
Exerpeutic Folding Magnetic Upright Bike Overview
Drive –
The Exerpeutic Folding Magnetic Bike has a V-belt drive, a precision-balanced flywheel, and  a high torque 3-piece crank system,.
Finish –
The bike's solid steel frame has a chrome-painted finish that resists scratches, chips, and rust.
Stability, Smoothness, and Noise level –
Front and rear stabilizers ensure steady wobble and vibration-free workouts.
No matter how hard and fast you go, your sessions will be smooth.
The Exerpeutic Folding Magnetic Upright Bike with Pulse is quiet enough that you will be able to watch the television, listen to music, or carry on a conversation while using it without having to strain your ears.  This makes it ideal for anyone who has roommates or a partner who works irregular hours and may need to sleep when you want to exercise.
It would also be a good choice for someone with young children who take naps.
Resistance –
This Exerpeutic Folding Bike has provision to increase or decrease the intensity of workouts, with 8 levels of magnetic tension available at the turn of a dial.  Level 1 is very light, with each additional level stepping up a notch.  This feature will allow you to increase the challenge of your workouts as your fitness improves.
Console –
A 3.3″ (W) x 1.5″ (H) handily positioned LCD screen allows you to track and monitor your sessions and set goals as you progress.
Jump on, start pedaling, and your workout stats will be displayed in large, easy-to-read numbers.  This includes your Pulse Rate, Time, Speed, Distance, and Calories Burned.  There is also a scan function that enables you to rotate through all of the metrics automatically.
Heart rate monitor –
To track your pulse, grip the hand sensors in the handlebars.  A few seconds later, your pulse rate will appear on the screen, enabling you to set fitness goals and train in your maximum fat-burning zone.
Seat –
The well-padded seat is finished in soft, faux-leather.  It adjusts up and down to accommodate people between 5′ 3″ and 6′ 3″ tall.   Some people outside this range claim to use it without a problem, so it could still work for you if you are a couple of inches shorter or taller.
Pedals –
Oversized pedals with safety straps will hold your feet securely in place as you pedal.
Handlebars –
The padded handlebars are comfortable to grip and sweat-resistant.
Transport Wheels –
Transport wheels in the front base allow the bike to be easily moved to another location if required.
Assembly –
The bike comes partly assembled. All you will have to do is attach the handlebars, seat, post, pedals, monitor, and stabilizer bars.  Clear instructions and three wrenches are supplied to facilitate the process, which takes around 30 to 40 minutes for most people.  Having a second person help will shorten the assembly time.
Accessories –
The Exerpeutic Upright Bike has a cell phone holder.
Warranty
This model comes with a 1-year warranty.
The next section of this Exerpeutic Folding Magnetic Upright Bike with Pulse review will cover its pros, followed by its cons. 

Exerpeutic Folding Magnetic Upright Bike with Pulse Assembly
Pros
Built to last, the quality of the Exerpeutic Upright Bike is superior to a lot of other exercise bikes that cost around the same.
The bike is available for an incredibly low price.
Solid and very stable, the bike's high torque cranking system provides a smooth, low-impact ride on par with, or even better than, a lot of exercise bikes that carry a higher price tag.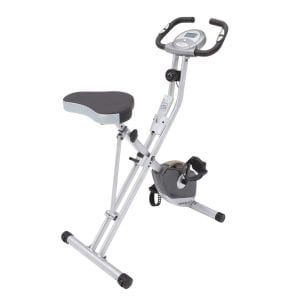 Your workouts will be so quiet that they won't annoy others in your house or apartment.
Many purchasers have commented on how comfortable the seat is, even during extended, strenuous workouts.
The Exerpeutic Folding Magnetic Upright Bike with Pulse is quite compact.  If you need to free up space, it folds to around half of its assembled size to store.
The assembly process is quick and straightforward, so you can be exercising in under an hour after unboxing the bike.
Cons
Most buyers have stated that the seat of the Exerpeutic Folding Magnetic Upright Bike with Pulse is very comfortable.  However, as with anything, there are always exceptions.  In this instance, some users have said that they find the seat too wide for their liking.  This could be a problem for shorter users.
The seat is height adjustable only, and the handlebars are fixed, so their position cannot be altered.
Noise at highest resistance levels
This model is considered to be very quiet during use overall.  However, some purchasers noted that it is markedly noisier when used at higher resistance levels.  Even when exercising at the highest level, though, it is quieter than many others.
Heart rate readout accuracy
Some purchasers have questioned the accuracy of the heart rate monitor.  It's a fact that pulse grip sensors don't provide as accurate a readout as chest straps.  At best, they should be used as a guideline.
May not be suitable for very heavy training
The Exerpeutic Folding Magnetic Upright Bike with Pulse stands up very well to regular, mid-range workouts.  Some purchasers who use it for extended periods at the highest setting are not as happy with the bike's performance.  This being so, it might not be the best choice if you plan to use it for very heavy training regularly.
The bike is low on accessories, with no water bottle holder, speakers, or cooling fan.
Final Thoughts on the Exerpeutic Folding Magnetic Upright Bike
There's no getting around the benefits of the stationary bike for weight loss and toning.  However, buying an inferior bike, or one that doesn't suit your needs, will be a waste of money.  With this model, you will be getting a bike that is among the best available for the price.
Many hundreds of purchasers have left feedback for the Exerpeutic Folding Magnetic Upright Bike, with the vast majority being very positive.  For a budget-priced exercise bike, it certainly has a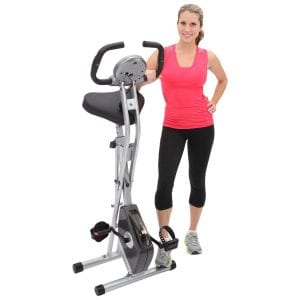 lot going for it.
Robust and high in quality, it delivers a smooth and comfortable ride.  If you haven't owned an exercise bike before, you may underestimate the importance of making sure to choose one that won't wobble during use or have a jerky action.
I once purchased such a bike solely because it looked good and the price was right.  Ironically, it turned out to be an expensive purchase.  I think I worked out on it three times, or rather tried to work out on it, before giving up and consigning it to my garage.  You will have no such problem with this model, which has a very smooth action.
If you are a new to intermediate level exerciser who is in the market for a quiet, sturdy, and reliable indoor bike that can be folded for storage, the Exerpeutic Magnetic Upright Bike with Pulse is worth a closer look.
If this isn't the right model for you, click this link to read reviews of other popular upright bikes