This post may contain affiliate links. If you click a link and buy something, I may receive a small commission at no extra cost to you.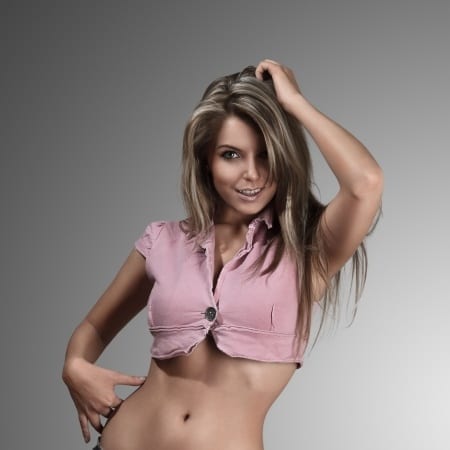 I tend to be skeptical of "as seen on TV fitness products", but one that caught my eye that I took a closer look at is the Figure 8 Fitness System.
After reading some Figure 8 reviews, most of which were extremely positive, I ordered the program.  It arrived a few days ago and, so far, so good.
Having done several of the workouts, I can honestly say they are fun.  They feel more like a dance class than exercise, but that's not to say they are easy.
Dancing isn't my forte, and the pace is quite fast, so rather challenging.
Workouts primarily target the abs and the waist, but my arms and legs are also feeling the burn.
When I finish the course, I will update you with my results to help you decide if it is worth buying.
In this Figure 8 review, we will look at whom it will best suit, and what's in the box.  You will find an overview detailing what Figure 8 Fitness is, and an explanation of the 3 phases.
I will also give you a breakdown of the Figure 8 workouts, including their runtimes.
Who will and won't it suit?
The Jaana Kunitz Figure 8 Fitness Program suits people of all fitness levels from beginners to advanced.
Beginners who find the workouts too challenging can do modified versions of the steps until their fitness improves.
You should love this workout if you enjoy Latin music and dancing or want to get into it.
If you suffer from back or knee injuries, you may find the workouts too stressful.  Conversely, a few people with back problems who undertook the course said that it improved their flexibility.
With most of the sessions being 40 minutes plus, if you can only dedicate 20 minutes a day to exercise, it may not be for you.
NB: After receiving a few emails from people asking me where to buy Figure 8 Fitness, I found that it is now only available through the creator's website.
To purchase or to find out more about the program, click on the banner image directly below.  
What is Figure 8 Fitness?
The Figure 8 Fitness DVD Workout is a 60-day Latin dance-inspired workout designed for women.  Men can also undertake the program, with many who have done so, reporting impressive results.
The course is led by its creator, Latin Ballroom Dance Champion, and certified fitness trainer Jaana Kunitz who is accompanied by a team of professional dancers.
The Figure 8 dance moves are demonstrated in a way that makes them easy to learn.  Once you know the steps, you can add the hip movements.
There is an option to view the moves from behind.  This makes it even easier to replicate the movements as you will be looking at a mirror image.  When Jaana moves her right foot or arm, etc., you will know to do the same.
You will have two exercise-free days during the first three weeks, then one per week after that.
Along with toning your mid-section and decreasing your waist measurement, Figure 8 workouts promise to give you a total body workout.  Regular sessions will also improve your cardiovascular health and range of motion, and help you to lose weight.
In fact, according to Jaana, each session can burn up to 1,000 calories.
The workouts are accessible online via iPhone, iPad, Apple TV, PC, iPad, Android, Chromecast, or Roku Fire TV.  The course is also available in DVD format.  Whichever you chose, ordering is safe and secure, and you will get a 60-day money-back guarantee.  
*The average weight loss after following the program for 8 weeks is 11 1/2 pounds.  You may lose more or less than this depending on your starting weight, how much effort you put in, and the dietary modifications you make.  
What's in the Box?
The Figure 8 Dance Workout comprises 13 DVDs contained in a booklet, plus one bonus DVD.
You will also receive the Success Tracker & Belly Fat Report.  This medically sanctioned measuring system tells you how to determine your true health based on your belly fat and hip measurement.
Then there's the Nutrient Blueprint.  This detailed nutrition guide will answer all of your diet-elated questions.  It will also teach you how to maximize fat burning threefold by eating correctly.
Used and tested in the program's "24 Figure 8 Weight Loss Challenges", follow the instructions and you could lose weight as hundreds of others have, with between 10 and 55 pounds being typical in eight weeks.
You will receive a link to download a Fitness Guide that contains information on getting started.  It also tells you when to do the workouts to get the best results.
Also included is a Workout Journal that covers each of the DVDs to help keep you on track and focused.  Additionally, the journal contains advice and tips from workout leader Jaana, who explains the Warm-Ups and Cool-Downs.  She also suggests modifications you can make to suit your current fitness level.
And, you will be able to join a free Facebook group that will enable you to get support and interact with other people who are doing the course.
Will I need anything else?
The sculpt workouts require a resistance band.
While not essential, an exercise mat will make for more comfortable workouts during the sculpting segments.
You will also need a pair of lightweight, comfortable, and supportive sports shoes.  If you have a pair, they will work just fine.  If you need a new pair, I recommend Ryka Women's Influence Cross Training Shoes.  I bought a pair recently when my old shoes wore out, and I love them.  Click on the previous link to check them out on Amazon.  (I got the white pair with pink and aqua details.)
The Phases
The program is split into three phases, as outlined below.
In this phase, you will learn three exercises that are regularly featured throughout the workouts, these being Hip Sways, Hip Tucks, and Hip Rolls.
Hip Sways target the obliques to nip in your waist and get rid of love handles, while Hip Tucks work the upper, lower and middle abs.  Hip Rolls elongate all of the ab muscles.  Each move also targets the back, to strengthen the entire core.
Along with detailed guidance for mastering the steps, you will be taught how to do them with the correct technique that will enable you to improve your flexibility and tone your midsection to the max.  While repetitive, the rhythmic moves are fun and quite sensual, and they feel as though they will be extremely effective over time.
Jaana also tells you what not to do so you can avoid injury.
You should stay in this phase until you are confident with the basic moves.
Phase 2 – Burn
Phase 2 incorporates the three moves learned in Phase 1 with different rhythms and tempos to accelerate fat-burning.
Examples of the dances you will be doing include the Rumba, the Salsa, the Samba, the Merengue, the Paso Doble, and the Jive.  The music for these is fast-paced, so your heart rate will be in the perfect fat-burning zone.  Along with working your core muscles, you will torch lots of calories.
Each workout in this phase includes an intense "metabolic accelerator," segment.  These power moves are performed very quickly for approximately 30 seconds, burning additional calories and boosting your metabolic rate post-workout.
The moves in this phase are a distinct step up from those in the previous segment, with the footwork, body, and arm movements being faster.  If it's too difficult to coordinate all three aspects at once, Jaana recommends focusing on just two at first, adding the third when you are more experienced.
In this phase, you will be targeting other muscle groups, including your arms, back, shoulders, legs, and glutes.  Multiple muscles are worked simultaneously and in different directions using a resistance band.
Stick with the workouts, and you will become leaner, tighter, and more toned.  By the end of Phase 3, your abs will be flatter, your waist smaller, your arms and legs will be more toned, and your butt will be tighter and higher.
A countdown timer is on the screen throughout the workouts.  With some routines, there is the option of increasing or decreasing the music volume.
In the next section of this Figure 8 review, we will look at the individual workouts and their runtimes.
The Workouts
The Jaana Kunitz Figure 8 Fitness Program workouts are as follows:
1) Get Started – (55 mins)
In this instructional DVD, Jaana teaches you the dance moves you will be doing throughout the program.  You will work to the count with no music, but you will still get a workout as you repeat the moves.
2) Core Cardio Learn – (41 mins)
In this segment, you will learn the Merengue, the Samba, the Salsa, the Paso Doble, and the Jive.  You will do three or four steps of each, then combine and repeat these before doing all of the moves without stopping.
The Cool-Down for Core Cardio Learn is the Rumba.
3) Core Cardio Burn – (46 mins)
Core Cardio Burn is an intermediate level cardio workout.  The dances you will be doing are the same as those in Core Cardio learn, these being the Merengue, the Samba, the Salsa, the Paso Doble, and the Jive.  You will, however, be doing them for longer and at a faster pace.
The One on One option enables you to see a back view of the moves to follow Jaana from behind.
The Home Base moves introduced in Core Cardio Learn are also included in Burn, but there is more focus on dancing.
4) Core Cardio Blast – (52 mins)
Also featuring One on One, Core Cardio Blast is a high-energy advanced level workout.  It features the Merengue, the Samba, the Salsa, the Paso Doble, and the Jive.
As with some of the other workouts, Core Cardio Blast contains Home-Based moves.  These enable you to have a bit of a breather before taking on the next drill or tempo.  If the workout is too challenging, follow along with the modifier who demonstrates lower impact versions of the moves.
5) Dance Plyo 1 – (20 mins including a 4-minute Warm-Up and Cool-Down)
Based on competition dancing, if you're familiar with HIIT, you will know what to expect from this workout.
Following the Warm-Up, you will be doing a series of 5 x two-minute high-intensity dance intervals.  There's a 30-second rest between each, during which Jaana gives an overview of the moves for the following dance.  Dances you will be doing include the Merengue, the Samba, the Salsa, the Paso Doble, and the Jive.
On both this DVD and DVD 6, there is the option of copying a modified version of the moves as demonstrated by a class member.
6) Dance Plyo 2 – (20 mins)
Dance Plyo 2 is similar to Dance Plyo 1 but with different choreography.
7) Dance Max Drills – (45 mins)
Dance Max Drills will improve your dance skills and maximize your core strength.  Starting with a Warm-Up and ending with a Cool-Down, you will repeat five dance drills, doing variations of each.  The pace alternates between half and full tempo.
8) Lower Body Sculpt – (30 mins)
Lower Body Sculpt is a bodyweight segment incorporating the Paso Doble and the Jive.
The moves in the slower-paced Paso segment include Squats, Lunges, Plies, and Calf Raises.  The focus of the brisk-paced Jive sequence is cardio.
A modifier demonstrates a simpler version of the workout.
9) Upper Body Sculpt – (30 mins)
In Upper Body Sculpt, you will be using a resistance band to exercise the five main upper body muscle groups.
Exercises you will be doing are Double Arm Rows, Narrow Push-Ups, Lat Pull Downs, and Chest Flys with Crunches.  You will also do Reverse Flys, Front and Lateral Raises, and Upright Rows.  Other exercises include Bicep Curls and Tricep Overhead Extensions.
The background music for this segment is up-tempo, and there is a modifier.
10) Broadway Body Burn – (25 mins)
Broadway Body Burn is an energetic workout that features Jive and Lindy Hop music.
You will learn a series of moves, then repeat them at half pace, then at full pace, before combining them into a sequence.
11) Sexy Abs – (10 mins)
Sexy Abs comprises Standing Ab Work set to super-fast music.  The speed is varied, so you will start at half-pace, then work at full pace, then double time.  The movements are done standing, working one side of the body at a time.
Exercises you will be doing include Standing Crunches, Single Arm Figure 8's with Knee Raises, Torso Tilts, and Hip Sways with Upper Body Twists.
12) Sexy Abs Extreme – (15 mins)
Sexy Abs Extreme is a floor-based ab workout.  The workout is challenging, with lots of isolation holds.  Exercises you will be doing include Bicycles, Pilates Pumps, Scissor Kicks, V-sits, Core Rotations, and Plank Rotations.
13) Stretch & Flex Belly Latin Fusion – (26 1/2 mins)
The first half of Stretch and Flex comprises standing exercises.  Performed to a Bolero rhythm, the moves in this workout are fluid, and some require good balance.  You will also do Yoga, Leg Stretches, Figure 8 moves, Spine Rolls, and Bridge Rolls.
14) Figure 8 Express – (10 mins x 30)
This BONUS workout comprises more than 30 x 10-minute workouts that are easy on the joints.  Perfect for those busy days when you don't have the time for a full workout!
Pros:
Good value
Suitable for people of any fitness level
Modifications are shown for newbies
Workouts are fun, the music is awesome, and the class leader is likable and motivating
It targets the entire body and addresses all aspects of fitness
Can be streamed on any device with internet access and it is also available on DVD
The app can be used to download the workouts to your electronic device
It offers enough variety to keep boredom at bay
You will have access to a Facebook support group where you can interact with other course participants
Along with getting fit, you will learn how to dance
It works!
Cons:
The workouts may not suit individuals with back or knee problems
The app format is slightly outdated, but this does not negatively affect the workouts
Figure 8 Fitness System Summary
The Figure 8 dance fitness system combines the excitement of Latin dancing with stretching, Plyo, and body shaping moves.
  The result is a program that gets outstanding results.  The workouts are fun, and the format is such that even non-dancers will be able to learn the steps and get super-fit in the process.
A problem with many fitness programs is that progress tends to plateau after a while.  According to Jaana, this does not happen with the Figure 8 dance workout because you will be doing a new workout every two weeks.  Your body won't have a chance to become accustomed to the moves, so your fitness will continue to grow.
The program was created for people of all fitness levels; however, if you are new to exercise, you may initially find it too challenging.  If so, do the modified version to start, then progress to the regular version when you are fitter and stronger.
UPDATE: I've completed the program, and it was more challenging than I'd anticipated.  Over the years, I've bought workouts that I've found boring because they were too easy.  That is not the case with this system.  Some of the moves were harder to learn than others, but I persevered, and I am so glad I did.
I enjoy the workouts, I love the music, and I am delighted with my results.
Not needing to lose weight, I didn't weigh myself before starting, but my clothes are looser.  My overall muscle tone is better, and I look leaner all over. 
I see the most difference in my waist, which is smaller, and my abs and obliques, which are more defined.  My arms also look better, as do my calves.  And while I will never be as accomplished as the ladies in Figure 8 Fitness DVDs, I now know how to dance!
I hope you found this Figure 8 review helpful.  To find out more or to purchase the workout, click here, or click on the banner ad directly below.
Or keep reading to find out about the Body FX upgrade and Figure 8 Pro.
Body FX Upgrade Option
As well as the Figure 8 Dance Workout, Jaana has created a number of other fitness programs that are available through the parent company, Body FX.
A free 30-day Body FX trial is currently available.  This gives access to a selection of Jaana's other programs and over 100 hours of video coaching.
You will also receive meals plans, personalized nutritional advice, and daily emails containing mindset training tips, plus fitness and dietary tips.  The subscription also enables you to enter competitions and win monetary prizes.
Once you finish the trial, you can continue your subscription for a modest monthly fee.  If you decide that Body FX is not for you, you can cancel your subscription at any time.
Click here to find out more about Body FX.
Figure 8 Pro
If you would like to turn fitness into a business and get Figure 8 Trainer Certification, Figure 8 Pro will enable you to do just that.
An online training program that is NASM (National Academy Of Sports Medicine) and AFAA (Athletics and Fitness Association of America) approved, Figure 8 Pro is suitable for everyone from those who are just beginning their fitness journey through to established professionals.
Comprising step-by-step instructions and 10 days of live classes, you can access the course immediately, or at any time.  And, you can go at your own pace and choose hours that suit you.
The training provides everything you will need to confidently lead classes, right down to the music and choreography.  And, you will receive ongoing support if needed, and regular course updates.
Click here for more information on Figure 8 Pro.
Or click here to get the Figure 8 Dance Fitness System