This post may contain affiliate links. If you click a link and buy something, I may receive a small commission at no extra cost to you.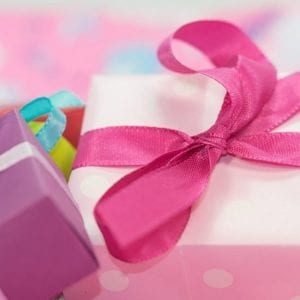 In this article, we will look at some of the best inexpensive gifts for runners.
If you don't exercise or play a sport, you may think you won't be able to choose a gift that your running friend or relative will love.
The good news is that it is actually pretty easy to buy a gift for someone with a specific hobby or passion.
Guesswork is often involved when choosing gifts.  Will the T-Shirt fit them?  Will they like the bubble bath you have in mind, or do they only take showers?
And when buying a gift such as a book or a DVD, if the recipient already has it, they won't want another identical copy.
However, when buying for someone with a particular interest, they will love what you give them.  Think about it – – – if you knit or crochet, you can never have too many knitting needles or crochet hooks, right?  If you love to bake, I'm sure you would welcome another cake tin or loaf pan.  Well, it's the same with runners.
All of the gifts for runners we will look at below are practical and inexpensive.  Some are suitable for daylight running, others nighttime.  There are gifts for hot weather, cold weather, and more, so there's sure to be something to suit your intended recipient.
Best Gifts for Runners
Nathan Running Belt
Every runner needs a running belt, and the Nathan Running Belt is one of the best and the most popular
on the market today.  Made of soft ultra-light neoprene, it measures 16″ x 4.8″ x 1″, and it weighs 1.92 oz.
The belt's adjustable strap expands to fit waists from 26″ to 44″.
It comes in a choice of five colors including, All Black, Black and Coral, Black and Aqua, Black and Berry, and Bright Blue, Apple Green, and Black.  All feature a reflective detail that makes for safer running sessions, no matter the weather or time of day.
The belt has two external pockets, roomy enough to hold any essentials your recipient may want to take on their run.   One will hold any brand of cell phone; and the other keys, money, etc.
Suitable for men or women, it won't bounce around, no matter how hard or fast you run.

---
Senso Bluetooth Headphones
Senso Bluetooth Headphones are one of the best gifts for runners who like listening to audio as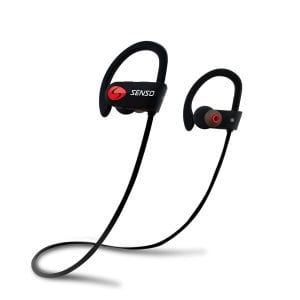 they exercise.
Available in either black or red, they measure 4.9″ x 1.3″ x 4.7″.
Worn in and behind the ears, these waterproof headphones are incredibly comfortable to wear.  And they stay in place throughout the fastest-paced runs.
Featuring Bluetooth 4.1 CSR technology, this delivers fantastic clarity that has to be heard to be believed.  Able to play music for up to eight hours at a time, it has an impressive 240 hours of standby, and a full recharge takes just 90 minutes.
Other standout features of the headphones include noise suppression technology and the ability to connect with Bluetooth-enabled devices within a radius of 30 feet.
Coming with a 1-year warranty, if for some reason you are unhappy with your purchase, you can return it within 30 days for a full refund with no questions asked.

---
Foxelli Headlamp Flashlight
The Foxelli Headlamp Flashlight provides clear visibility for two hundred feet in any dark setting,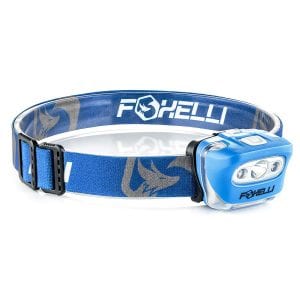 including when running at night.  It is available in a choice of Black, White, Khaki, Blue, Neon Pink, and Neon Yellow with a contrasting image of a fox.
Featuring a bright white and a red CREE LED light with an adjustable angle, the headlamp operates on 3 x AAA batteries (included), and it has a 45-hour run-time.  SOS and strobe settings can be activated to attract attention in an emergency.
One-button operation and a timer function add to the convenience and ease of use.
Compact and lightweight at just 3.2 oz, the device has an adjustable headband, and it is very comfortable to wear.  It is also waterproof, so the light will continue to function if it rains.
Coming with a lifetime warranty, the manufacturer will give you a refund if you are not 100% happy with your purchase.

---
LED Higo Slap Armband
If your budget is very tight, a glow-in-the-dark armband is one of the most inexpensive gifts for runners
you can buy, and the LED Higo Slap Armband is among the best you will find.
When worn on the wrist or ankle, it increases the wearer's visibility to traffic while running or exercising outdoors after the sun has gone down.
Available in Blue, Red, Green, Yellow, Orange, and Pink, the armbands weigh under .3oz.  They come in 35cm and 45cm lengths.
Comprising an eco-friendly TPU Light tube encased in nylon fabric, it uses 1 x CR2032 or 2 x CR2016 3V lithium coin batteries.  The latter batteries will be in the armband when you receive it, plus a set of spares.  Each will last between 50 and 70 hours before they need replacing.
The manufacturer is confident that you will love the armband.  If you don't, you can get your money back. 

---
Balega Blister Resist Running Socks
No gifts for runners list would be complete without socks.
Balega Blister Resist Running Socks are one of the most popular running socks on the market.  Made of mohair and drynamix, this combination is soft and durable, and it helps prevent blisters.  The composition and microfiber mesh ventilation panels keep feet cooler and drier.
The socks are cushioned to provide maximum comfort, even during extended running sessions.
Their heel tab is high, and the heel pocket is deep to stop the socks from slipping down.  A seamless toe box limits friction and prevents chafing on the instep.
These "no show" socks come in seventeen different brights and neutrals that appeal to women and men.  

---
Outdoor Research Sun Runner Cap
The Outdoor Research Sun Runner Cap protects the head and neck from the hot sun.  Made of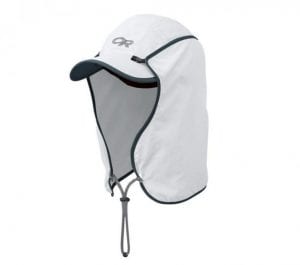 lightweight nylon treated to help wick sweat away, it provides UPF 30 sun protection.
Mesh side panels provide ventilation, and there's an adjustable "skirt" that covers the back and sides of the neck.
A chin cord will hold the cap securely in place during high wind.  If desired, the cap can be worn without the skirt.
Suitable for males and females, it is available in six colors, including White, Khaki, Pewter, Shade (teal), Hydro (bright blue), and Fig (purple).

---
Tracer360 Visibility Vest
The Tracer360 Visibility Vest is one of the most useful gifts for runners and other sportspeople who train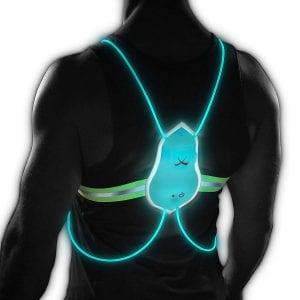 after dark.
Suitable for males or females, it is made of high-quality sports mesh and elastic.
Weighing just 6.5oz, the vest is extremely comfortable to wear.  Because so little of the vest comes in contact with the body, sweating while wearing it is minimal.  The design also enables a more accurate reading when worn with a heart rate monitor.
The vest provides 360 degrees of reflectivity, fluorescence, and illumination.  A 3M chest belt and X-shaped LED lights enable the runner to be visible from any angle at a distance of up to one-quarter of a mile.
Pressing a button will change the lights from bright Blue to Red, Green, Orange, Purple, or Pink, and there are five multi-colored flashing sequences.
This vest comes with a 1-year warranty.

---
Hydrosleeve System
The Hydrosleeve System gives runners and other athletes hands-free access to hydration without having
to break their stride.
Worn attached to either upper arm, the runner can sip water or a sport's drink by moving their arm up to their mouth.
It is available in three sizes, including Small (7.5″ to 11″ bicep measurement), Medium (10″ to 15″ bicep), and Large (14″ to 21″ bicep).
There are four color options: Black and Bright Blue, Black and Gray, Black and Pink, or Aqua and Black. 
Able to hold 7.5oz of liquid, this is kept cool courtesy of a built-in insulator.  A PVC and BPA-free TPU anti-slosh bladder eliminate spillage.
Along with the Hydrosleeve, you will receive two angled bladders made from FDA-approved silicone. 

---
Triple Threat Running Workout
The Triple Threat Running: Runners Workout Program helps runners to achieve new goals.
Suitable for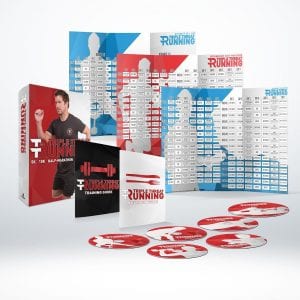 all levels, the program improves performance, strength, speed, and endurance, by burning fat and building lean muscle.
Comprising five primary workouts, each is on a separate DVD.
One workout targets the entire body.  The others focus on the lower body, the upper body, the core, and the abs, respectively.
A sixth DVD contains a bonus workout entitled Form, Agility & Warm-Up, designed to enhance running strength and efficiency.   
The kit also contains a Nutrition Guide and a Training Guide, plus planning calendars for beginners and intermediate runners, 5K, 10K, Half Marathon, and Marathon runners.  A calendar for advanced runners is available online to download.  

---
The Runner's World Cookbook
The Runner's World Cookbook contains 150 delicious, quick, and easy-to-prepare meals created to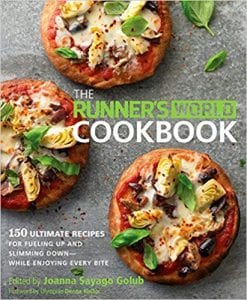 provide the utmost in nutrients and maximize a runner's performance.
Every meal is catered to, from breakfast to lunch, dinner, and snacks, each of which has a nutrient listing.  Recipes in the book include Salads/Soups/Stews, Sandwiches/Wraps/Burgers, Pizza/Pasta, and more.
A lettering system allows people with special diets and personal food preferences to quickly locate suitable recipes.  For example, V indicates vegetarian, VE vegan, and GF Gluten-free, etc.
(If the intended recipient doesn't eat any meat, you can go with The Runner's World Vegetarian Cookbook.)
Icons add more useful information such as whether the recipe is low-calorie, quick and easy to make, suitable to eat pre-exercise, after working out, and the list goes on.
Another cookbook worth checking out is Run Fast Eat Slow: Nourishing Recipes for Athletes.  (Click on the previous link to read a full review.)  

---
Final Thoughts on Gifts for Runners
Gifts for runners don't have to be expensive if you steer clear of exercise equipment and electronic devices.  As a runner who has either given or received all of the above items, I can vouch that they won't be tossed into a closet and forgotten.
For more information and to read more customer reviews, click on the relevant link above to visit Amazon's website.