This post may contain affiliate links. If you click a link and buy something, I may receive a small commission at no extra cost to you.
This article looks at how to fit exercise into a busy schedule and some exercises for busy people.
Balancing work and family life can be a challenge.
After working all day, then coming home and cooking dinner, it can be difficult to muster the enthusiasm to work out.
Or the time, for that matter, especially when there are children to care for and chores to do.
But you can still have a regular fitness routine.  All it takes is a little planning.
The following fitness strategies are simple yet effective, and they will enable you to exercise when you are busy and ultimately reach your fitness goals.
6 Strategies to Fit Exercise into a Busy Schedule
Strategy 1 – Choose efficient workouts
Choose workouts that burn more calories in less time to get the most from exercise when busy.
Look for fitness activities that target your entire body and elevate your metabolism during and after your workout.
Some exercises that fall into this category include lifting weights, kettlebell training, HIIT, and Tabata.
These will enable you to lower your body fat, build muscle, improve your cardiovascular health, and more, doing relatively short sessions.
Other exercises that burn a lot of calories include rowing and jumping rope.
Rowing can burn up to 840 calories an hour, and jumping rope up to 1000.
Swimming, cycling, and running are other good options, each able to burn approximately 600 calories in sixty minutes.
Walking burns approximately 300 to 400 calories an hour.
The exact number of calories you burn will depend on certain factors, including your weight and how much effort you put in.
Click here to access an online fitness calculator that will give you a more accurate reading of how many calories you burn when doing specific sports and exercises.
Strategy 2 – Choose exercises you like
Though cardio exercise such as jumping rope burns more calories than walking, you will find excuses not to work out if you don't like the
activity and have to force yourself to do it.
If you stick with your workouts despite despising the activity, you will probably put in less effort.
As a result, it will take you longer to lose weight and become more toned and fit.
You will look forward to working out when choosing fitness activities you enjoy.  This will make committing to a regular schedule easier, even if you are very busy.
You will be more enthusiastic and go harder when doing an exercise you like.
You won't look for excuses not to exercise.  You may even make time to work out more often.
If you've led a sedentary lifestyle to date, embarking on a fitness program is the perfect time to try out different types of exercises and sports.
If you find a few you like, include them in your program.
You will be less likely to become bored this way.  And because you will be working different muscles, you will get faster results.
If you only have sixty or ninety minutes a week to exercise, try to split your sessions.
Doing three twenty or thirty-minute sessions on non-consecutive days will benefit you more than doing one sixty or ninety-minute workout a week.
Strategy 3 – Exercise first thing in the morning
If you cannot work out during the day or in the evening, do so first thing in the morning.
Getting up 30 to 60 minutes earlier will give you sufficient time for a good workout.  Do this consistently, and it will become a part of your routine.
If you decide to exercise in the morning, don't skimp on sleep.  Aim for at least seven to eight hours a night.  Studies have shown that people who sleep less tend to gain weight.
Exercising when you are tired will also negatively impact how much effort you can put in.  Your results won't be as good, and you will be more prone to injury.
Exercising in the morning before breakfast is known as a fasted cardio workout.  Click here to learn about this type of exercises's benefits and potential drawbacks.
Strategy 4 – Walk or cycle to work
Walking to work is a great way to fit exercise into a busy schedule.
If you typically drive to work, walking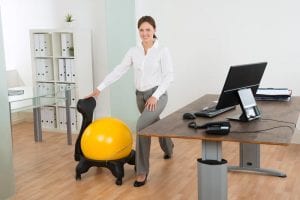 there will enable you to avoid the tension that comes from being stuck in a traffic jam.
And you won't have the stress of pushing through a crowd or battling for a seat if you catch public transport.
If you live in an area with a lot of commuters, you may even get to work faster on foot than when using your usual mode of transport.
If you live too far from work to walk the entire way, walk half the way.
Either way, you will save money you would normally spend on gas, a bus, or a train ticket.
The endorphins that result from walking will improve your mood, and you will arrive at work more relaxed.  And by walking rather than driving, you will be doing your bit for the environment.
Cycling is another option if your route to work isn't too crowded.
Strategy 5 – Work out in your lunch break
Working out during lunch breaks is another way to fit exercise into a busy schedule.
A sixty-minute lunch break will allows you to take a brisk 30-minute walk.
You could work out at the gym if there is one near your workplace and still have plenty of time to shower afterward and eat lunch.
If you work in a high-rise building, another option is to walk or run up and down the fire escape stairs rather than use the elevator.
Along with enabling you to lose weight and become more fit, working out at lunchtime will improve your focus and productivity for the rest of the day.
If you have your own office, close the door and do some Squats and Sit-Ups.
You can even incorporate your desk or chair to do Standing Push-Ups, Tricep Dips, seated muscle toning exercises, etc.
Invest in a yoga ball chair or a fitness workstation, and you can exercise as you work.
Strategy 6 – Exercise with family or friends
If family commitments make it difficult for you to exercise, ask your
loved ones to work out with you.
This will enable you to fit exercise into a busy schedule without sacrificing family time.
Playing a sport, hiking, jogging, and cycling are just a few of many fun outdoor activities to try.
If you have a baby, buy a jogging stroller.  This will allow you to walk or jog and take your baby with you.
If you'd rather exercise at home while your little one naps, consider buying your own exercise equipment or some workout DVDs.
One I like and recommend is Tony Horton 10 Minute Trainer.  The workouts can be done in 10-minute chunks, but 15 minutes should be allowed for transitioning between the moves and for warming up and cooling down.
If you usually meet a friend for coffee and a chat, suggest that you exercise together instead.
Final Thoughts on How to Fit Exercise into a Busy Schedule
When we are busy, exercise can seem like just something else we "have to do."
The reality is it is something we all "should" do to keep in shape and improve our health.
Instead of viewing it as a chore, see it as "me time" that will do far more for you than lying on the couch watching television.
No matter how busy you are, it is possible to fit exercise into a busy schedule with a little forethought.  By implementing one or more of the above strategies, you can quite easily add physical activity to your current routine.
You may also like to read, The Top 10 Excuses People Use for Not Exercising and How to Overcome Them.