This post may contain affiliate links. If you click a link and buy something, I may receive a small commission at no extra cost to you.
If you've been using your busy lifestyle as the reason for not working out, the Tony Horton 10 Minute Trainer DVD Workout Program makes your excuses null and void.  If you have time for a coffee break, then you have time to do this workout.
Developed by highly respected personal trainer and fitness expert Tony Horton in conjunction with BeachBody, 10 Minute Trainer contains everything you will need to tone your body from head to toe and start dropping those excess pounds and inches.
And, as the name suggests, you can do it in ten-minute chunks at a time.  Incredible as this sounds, it is true.
This Tony Horton 10 Minute Trainer review covers what each workout entails.
It also looks at the included tools and accessories and the program's pros and cons.
*While each session in this program is approximately 10 minutes long, you will need to allocate a few minutes extra for Warm-Ups, Cool-Downs, and transitioning between exercises.  
Whom does it suit?
The Tony Horton 10 Minute Trainer DVD is best suited to beginners.  People who are getting back into exercise after a long break will also benefit from it.
The program is also useful for days when you don't have much free time but want to get in a quick workout.
Equipment requirements
While not essential, a yoga mat will make for a more comfortable workout when doing Yoga Flex.
10 Minute Trainer Schedule
The 10 Minute Trainer Schedule is straightforward and easy to follow.  You can alternate the workouts daily or only do those specific to the areas you wish to target.  Either way, done regularly, you will lower your body fat and tone and sculpt your muscles.
For faster results, stack the workouts, doing 2, 3, or more a day.  It's best to do them in a single set, but you can split them if this is not convenient.
Each workout burns approximately the same number of calories as a 30-minute jog.  Do them regularly and along with toning up, you will soon be shopping for smaller-sized clothing.
Tony Horton 10 Minute Trainer Overview
Tony Horton 10 Minute Trainer is an incredibly efficient fitness program that will provide you with the knowledge and tools to improve your shape, even if you don't have a lot of time.
A major reason why the exercises in the program are so effective is that they target multiple muscle groups simultaneously.  Tony calls this "super stacking."  For example, along with targeting the triceps and biceps, Push-Ups also target the pecs, shoulders, back, and core.  Exercises targeting multiple muscle groups burn more calories, with each 10-minute segment estimated to burn as many calories as a thirty-minute jog.
The program can be used alone or as part of a more extensive fitness regimen.  The workouts are fast-paced, but you can go at a slower pace if you can't keep up.
Designed to trim body fat and sculpt muscles in a minimum amount of time, 10 Minute Trainer comprises 2 DVDs containing 5 workouts and some useful fitness tools.  We will look at all of these below.
The Workouts:
• Cardio – This fun yet challenging workout will have you punching, kicking, and lunging your way to a better shape and a healthier heart.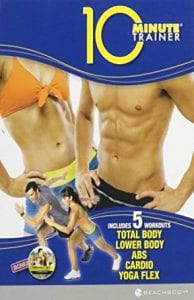 While the moves are pretty easy compared with those in some other programs, they are very effective.
You can expect to feel the burn almost immediately and start sweating about halfway through.
• Total Body – This segment demonstrates ten strength moves in 10 minutes for all-over body toning.
Exercises include Military Presses, Crunches, Lunges, Tricep Kickback Rows, Chuck-Ups, and more.
• Abs – Do the abs segment regularly, and you will soon be saying bye-bye to your muffin top and hello to your six-pack.
This workout is very effective, with many people who undertake it reporting visible improvement in around two weeks.  For the best result, do the abs workout three times a week.
• Lower Body – Lower Body is a total thigh and buttocks workout that will give you the perky butt and jiggle-free thighs of your dreams.
You will do ten moves in this intense segment, including Lunges and Squats, to target your legs, hips, and glutes.
• Yoga Flex – YYoga Flex incorporates some of Tony's P90X Yoga workout exercises.
The focus of Yoga Flex is stretching.  While relaxing, the workout is energizing at the same time.
Exercises you will be doing include Side Lunges, Wide Legs, Cobblers, Reverse Warrior, and Pigeon Stretches.
Along with giving you a great core workout, the workout will increase your flexibility and range of motion as it helps you sculpt the long, lean muscles most of us desire. 

The Tools & Accessories:
The Tony Horton 10 Minute Trainer DVD comes with the following tools and accessories to enhance your results:
• Resistance Band – The kit includes a beginner's Pro-Grade Resistance Band with detachable handles.  Anchor the band to a doorway, wall, or another solid object to increase your exercise options.
NB: While the band's quality is high, it will not offer enough resistance for people who have been exercising for any length of time. 
Newbies will also quickly find they need a stronger band to continue increasing the challenge and get the most benefit from their workouts.  
For this reason, it's a good idea to purchase an extra band or two of greater resistance to use as you progress through the program.
• Cardio Belt – The included cardio belt enables you to work with an increased level of resistance.  It also provides more training options.  Connecting the band and the cardio belt will increase the intensity of an already very effective workout.
• Workout Calendar – A workout calendar enables you to track your sessions easily.  It will also help you monitor your progress.
• Rapid Results Guide Book – The Tony Horton 10 Minute Trainer Rapid Results Guide Book is a fitness guide designed to get you
started on the program right away.
The guide provides a number of options that will help you tailor the course to your preference and requirements, whether you want to start with just one or two workouts a day or stack the workouts and do three or more a day.
• 10 Minute Meals Nutrition Guide – The 10 Minute Trainer Nutrition Guide provides healthy meal and snack suggestions.
Five or six smaller meals are recommended rather than the traditional three meals a day.
The guide also contains some easy-to-cook 10-minute recipes that will appeal to even the fussiest of eaters.
Also included is the 10 Day Lean Jean Plan, which will help you kick-start your weight loss and get faster results.
*NB With just 1,000 calories a day allocated for women and 1,200 for men, the Lean Jean Plan is very restrictive.  Following it for longer than the recommended time could result in nutritional deficiencies and health problems occurring.
• 2 Day Jump Start Plan – If you have fallen off the fitness wagon and have a special occasion coming up or just want to get back into shape fast, the 2 Day Jump Start Plan will help you do so.  Along with doing the workouts, following the cleanse will result in very rapid weight loss.
* NB The 2 Day Jump Start Plan requires you to do a lot of workouts in a short period.  This makes it unsuitable for those who are entirely new to exercise.
• Flashcards – If you can't access a DVD player, refer to the flashcards that depict the various exercises.  Pop the set into your bag when you're going on vacation, or leave them in your desk drawer at work.  This way, you will be able to fit in some exercise whenever you have a bit of spare time.
• Measuring tape – Use the included measuring tape to track how many inches you lose.
• Free Online Support – As with all of the BeachBody programs, 10 Minute Trainer comes with free 24/7 online support.  This gives you access to coaches who will answer your diet or fitness-related questions.
You will also be able to connect with fellow exercisers via the BeachBody website's forum.
The next section of this 10 Minute Trainer review looks at its pros, followed by its cons.
Check out these Impressive 10 Minute Trainer Before and After Results!
Tony Horton 10 Minute Workout Pros
The workouts are short, so you should be able to fit at least one in on even the busiest of days.
The exercises target the entire body and burn a lot of calories.
You can stack the workouts, doing two or three concurrently, or fit them in throughout the day when you have the time.
The program includes a range of accessories to optimize your results.
The workouts offer plenty of variety, so you shouldn't get bored.
There are no equipment requirements, so there's no need to interrupt your fitness plan if you travel for work or go on vacation.
Tony Horton 10 Minute Workout Cons
The workout will not present enough of a challenge for people who are already very fit.
The Lean Jean plan is very calorie-restrictive.
Even those who are very unfit will quickly outgrow the resistance band and need to purchase stronger ones.
Tony Horton 10 Minute Trainer Summary
Tony Horton 10 Minute Trainer shows you how to get results, working out for just 10 minutes at a time.
If you do two or three ten-minute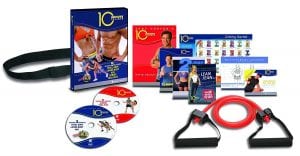 workouts every day, results will come even faster.  Either way, you can reach your goal without having to do endless Sit-Ups and Push-Ups, spend hours pounding the pavement or join a gym.
Targeting and toning all of the body's major muscle groups, 10 Minute Trainer provides exercisers with plenty of variety.
The program has many positive reviews from satisfied purchasers because it delivers the results Tony says it will.  It is tailor-made for busy people who want a quick and easy exercise program.
If you're a new mom who wants to lose her baby weight, this program can help.  Likewise, if you travel for work and want to get in some exercise between meetings.  10 Minute Trainer is also for you if you don't have much time to exercise, and you want to fit into your favorite pair of jeans again.
You can spare ten minutes, right?  So why not give the Tony Horton 10 Minute Trainer workouts a try!?  I think you'll be pleased you did.
To read reviews of other fitness programs, click this link.  You may also be interested in this article containing tips on how to fit exercise into a busy schedule.