This post may contain affiliate links. If you click a link and buy something, I may receive a small commission at no extra cost to you.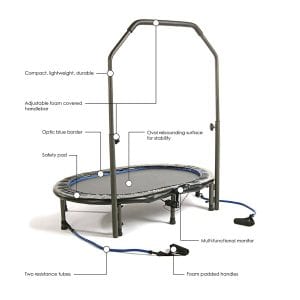 Very popular in the 1980s, the exercise trampoline has made a comeback, and one of the best for the money is the Stamina InTone Oval Jogger.  Compact, with a large mat (jumping surface), it is comfortable, safe and convenient to use.
The trampoline's cushioned, easy-to-grip foam covered handlebars will help to steady you as you jump, making your sessions safer.
Two resistance bands are provided for toning and strengthening your upper body.
Light enough to relocate without a hassle, you will be able to move it in front of your TV to exercise, or anywhere else that takes your fancy.
In this Stamina InTone Oval Jogger review, I will cover some of the advantages of owning an exercise trampoline.
We will then look at this particular model's specs, an overview, its pros, and its cons.  We will also look at buyer feedback, to further help you decide if it will be right for you.
Advantages of the exercise trampoline
Also known as a rebounder or mini trampoline, the exercise trampoline has a lot of benefits.  These include the following:
Very affordable
Exercise trampolines are inexpensive to buy.
A rebounder provides low-impact exercise.  It is considered to be a safe fitness option for people suffering joint problems that preclude them from undertaking intense forms of exercise.
If you jump on an exercise trampoline regularly, you will strengthen your heart muscle and increase your lung capacity.
Rebounder trampoline workouts will rev up your metabolism, enabling you to burn calories and decrease body fat.
The exercise trampoline provides a great core and lower body workout.  By pumping your arms as you jump, you can also exercise your upper body.
Some mini trampolines, including the Stamina InTone Oval Jogger, come with resistance bands that let you tone your arms as you jump.
Regular use of a rebounder trampoline strengthens and builds bone mass.  Strong bones help to prevent breaks, fractures, and osteoporosis in older folk.
Improves Balance & Coordination 
With the rebounder's landing surface moving as you jump, you must be aware of your center of gravity and continuously make small adjustments.  Over time, this will result in improved balance and motor skills.
The action of jumping on a rebounder strengthens and lengthens the muscles and improves flexibility. 
Regular rebounding exercise will strengthen your core.  It will also ease back pain in those who suffer it.
Using an exercise trampoline for even a few minutes a day benefits the lymphatic system by fighting infection and expelling waste products from the body.
The fun aspect of jumping on a trampoline, combined with the uplifting effects of endorphins released during cardio exercise, enhance the mood and impart a sense of well-being
Stamina InTone Oval Jogger Workout Demo
Stamina InTone Oval Jogger Specs
Dimensions – The Stamina InTone Oval Jogger measures 43″ (L) x 33 1/2″ (W) x 9″ (H)
Handlebar height – Suitable for users short from short to tall, the trampoline's handlebar is adjustable to a height of between 38 1/4″ and 48″, in 3 1/4″ increments.
Weight – It weighs 21lbs.
User weight – The maximum user weight for this model is 250 pounds.
Battery – The monitor requires 1 x AA battery, which is not included with your purchase.

Overview & Pros
With its steel construction, the frame of the Stamina Trampoline is very sturdy.  Further adding to its strength are eight steel legs that offer exceptional stability.
A large mat provides cushioning and increases exercise options.  It enables the reclining yoga exercises shown on the DVD to be comfortably undertaken.  A blue line on the mat gives a visual reference to keep you jumping in the right area.
The trampoline's mat is attached to its frame by bands instead of springs, making for exceptionally quiet workouts.
This model has an electronic fitness monitor that tracks and displays your workout time, the number of jumps per minute, the total number of jumps and calories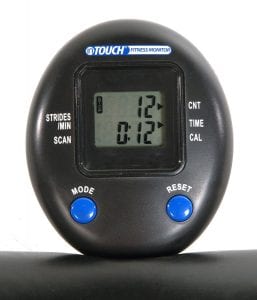 burned.
A 30-minute workout DVD led by trainer Mia Finnegan is included.  The exercises' focus is circuit training, yoga moves, and core strengthening and toning.
You will also receive two resistance bands that attach to the trampoline's frame, enabling you to work your upper body.
Assembling the Stamina InTone Oval Jogger is merely a matter of screwing on the handlebar and legs and attaching the monitor.
Cons
While the jogger has a lot in its favor, there are a couple of negatives.
Firstly, before you can fold it, you will need to remove its legs and handlebar.  You will then need to reattach these the next time you want to assemble the trampoline.  While not a big job, it's something to be aware of before you purchase.
Also, the warranty for the Stamina Oval Jogger is quite short, with just 90 days for parts and 1 year for the frame.
Buyer Feedback
The majority of people who left feedback for this Stamina trampoline consider it to be sturdy and easy to assemble.  Many reviewers said they like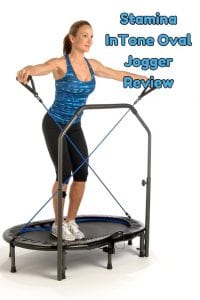 having a handlebar to hold onto during workouts.  The roomy mat is appreciated, as is the trampoline's affordability.
Purchasers love the results they're getting.  Numerous people commented on the fitness trainer featured in the accompanying DVD, saying she is cheerful and very likable.
The quality of the monitor and the resistance tubes received some negative feedback.  A small number of people said that while the trampoline feels sturdy enough, it rocks a bit during use.  A few people had trouble assembling it.
Final Thoughts on the Stamina InTone Oval Jogger
If you're thinking about buying an exercise trampoline and you don't have a lot of money to spend, the Stamina InTone Oval Jogger is worth considering.  While it does have some shortcomings, overall, feedback is very positive.
Sturdy with a larger than is typical sized mat, it is stable and very quiet to use, and it is a cut above most similar fitness products in its price category.
Click this link to find out about more trampoline exercise benefits
To read more Stamina InTone Oval Jogger reviews or to purchase, click the link below.