This post may contain affiliate links. If you click a link and buy something, I may receive a small commission at no extra cost to you.
This Total Gym Apex G1 review looks at everything you may want to know about this budget-friendly model from the new and affordable Total Gym Apex range.  Many fitness fans aspire to ditch their gymnasium membership and buy a home gym.
With your own gym, you can exercise at any time of the day or night without stepping outside your front door.
Along with this being convenient, with self-isolation due to Covid-19 keeping us at home, now is the perfect time to consider the available options.
The Apex G1 has variable resistance, and it comes with several accessories that will allow you to do dozens of exercises.  But it offers far more than just improving your strength and muscle tone.
It will also enhance your cardiovascular fitness and flexibility and strengthen your bones.  And, over time, it will help you to lose weight and inches and lower your BMI.
Who will this model best suit?
Anyone of any fitness level aged between 8 and 80 plus can use the Total Gym Apex G1.
It will be excellent for anyone who is looking for a low-impact total body workout.  It will also suit individuals who are in the market for a unit that folds to store.
As with all of the models in the range, the G1 is ideal for people who want to see results working out three to five times a week for 20 to 30 minutes.
If you aim to build a lot of bulk, this will not be the right model for you.
Total Gym Apex G1 Home Gym Specs
Assembled dimensions – Assembled, the Total Gym Apex G1 measures 93″ (L) x 15 1/2″ (W) x 43 1/4″ (H)
Folded dimensions – Folded, it measures 50 1/2″ (L) x 15 1/2″ (W) x 8″ (H)
Weight – It weighs 53.2 lbs
Weight capacity – The maximum weight load for the G1 is 300 pounds
User height – Users from 5′ to 6′ 2″ tall have given it the thumbs up
Total Gym Apex G1 Exercises
Used in combination with the included accessories (see below), you will be able to do upwards of 60 exercises with this model.
These focus on every muscle group, including the arms, shoulders, chest, back, abs, and legs.  Many of the exercises target multiple muscle groups, with some providing a total body workout.
Following are just some of the many exercises you will be able to do with the Apex G1.
Pull-Ups
Chin Ups
Leg Curls
Inverted Crunches
Shoulder Presses
Lying Leg Curls with Crunches
Seated Leg Curls with Flyes
Leg Curls with Straight Arm Lifts
Seated Leg Curls with Bicep Curls
Leg Curls with Upright Rows
Seated Leg Curls with Surfers
Hamstring Pulls
Inner Thigh Pulls
Total Gym Apex G1 Overview
Total Gym is a trusted name that has been around for decades.  All of their home gyms have
overwhelmingly positive feedback, and the Total Gym Apex G1 is no exception.
Offering excellent value for money, it has a solid steel frame that should withstand years of workouts, and it comes with a range of accessories that will enable you to tone all of your major muscle groups.
The gym utilizes a cable pulley system and an ergonomic padded glide board, with the user's body weight providing resistance.
The board is durable and comfortable, even during long sessions.  It moves up and down a track quietly and smoothly, offering a full range of motion.
The board's angle is changeable to make your sessions easier or tougher, with 6 settings available.  Move it up to increase the resistance or flatten the angle for less resistance.  Whichever you choose, the board will automatically lock into the position you select.
The gym arrives almost totally assembled.  You will only need to attach the glide board and the flip chart and insert some pins.  This is a fast and easy task to complete.
Clear written instructions are in the owner's manual, and the accompanying DVD demonstrates the process.  You will also need to attach the accessories when you want to use them.
If you are short on space, you can fold the gym after you use it.  This is quick to do, but if you've attached an accessory, you will need to remove it first.  You will then be able to roll the gym to a closet or under a bed to store.
The Total Gym Apex G1 comes with a 6-month warranty.
The next section of this Total Gym Apex review looks at the accessories that come with the G1 model.

Accessories
Included with your purchase will be a Wing Attachment and a Leg Pull Accessory.
The Wing Attachment is used to do push and pull exercises that target the upper body, the lower body, and the core.
The Leg Pull accessory will give your legs an excellent workout.  It has adjustable ankle cuffs to cater to ankles and feet of any size.
You will also receive a DVD called Start it Up.  This contains the instructions for setting up the gym and attaching the accessories, plus a workout to get you started.
There's also an exercise wall chart and an exercise and nutrition guide.  Additional accessories can be purchased if desired.
And, you will get free access to Total Gym TV, which streams workouts led by certified fitness trainers 24/7.  You can watch the workouts on your computer, cell phone, or any internet-enabled device that has a web browser.
Total Gym Apex G1 Review
Pros
Suitable for people of every age and fitness level
Addresses every aspect of fitness
The included accessories add to the machine's versatility
It offers 6 resistance levels
Capable of 60 plus exercises
You will get free access to Total Gym TV, which streams workouts 24 hours a day, seven days a week
You will quickly see results doing short sessions regularly
The gym is high in quality and robust
The ergonomically designed glide board is comfortable
It is quiet and smooth to use
The handles are gentle on the hands and easy to grip
Assembly is quick and straightforward
Cons
Because the gym works with the body's resistance, it will not build a lot of muscle mass
The warranty is short at just 6 months
Final Thoughts on the Total Gym Apex G1
If you want to tone, sculpt, and strengthen your muscles, lose or maintain your weight and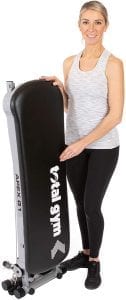 improve your health, this robust well-priced gym can help you achieve these goals and more.
An excellent option for people who don't have a lot of time to exercise, with this, or one of the other models from Total Gym, you don't need to do long workouts or work out every day to see results.
Its adjustable resistance will allow you to initially work at low intensity and increase the challenge as your strength and fitness improve.
And with so many exercises available, you will be able to tone your muscles from different angles, increasing the effectiveness of your sessions.  Another benefit of having so many different exercise options is that you won't become bored due to having to do the same few exercises repeatedly.
I hope this Total Gym Apex review has helped you decide if the G1 will suit your needs.  If you would like to compare its features to other Total Gym offerings, click the following link to read about the Total Gym 1100, the brand's other entry-level model.
The 1100 has fewer accessories than the Apex G1, but you will still be able to do greater than 60 exercises.  It offers 6 resistance levels, and it has a maximum weight load of 275 pounds.
If you like the sound of the G1, but you are looking for a machine with more exercise options and resistance levels, the Total Gym Apex G3 should be right up your alley.  As with the G1, it has a maximum weight limit of 300 pounds, but it has 8 resistance levels.  It also comes with extra accessories that increase the exercise options to 70 plus, and it can be used to do cardio, HIIT, and Pilates.
If you need a gym with a higher weight capacity and don't mind spending more, the Total Gym XLS is well worth considering.  The most popular model in the Total Gym range, it comes with 6 resistance levels and it provides access to over 80 different exercises.  Its maximum weight capacity is 400 pounds.
My sister bought an XLS seven or eight years ago.  She uses it four or five times a week and has never had a problem with it, so it has well and truly paid for itself.  It's survived two house moves, so I can vouch for its durability.
Still undecided?  Click this link to read reviews of other alternatives.