This post may contain affiliate links. If you click a link and buy something, I may receive a small commission at no extra cost to you.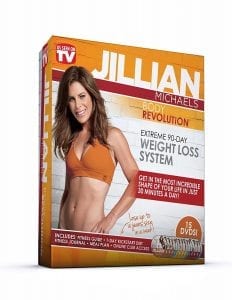 If you like the idea of totally transforming your body for the better in 3 months by working out for just 30 minutes a day, check out Jillian Michaels 90 Day Body Revolution.  
Released in 2012, it quickly became popular with people seeking an effective and reliable home-fitness program, that gets fast results.
Still selling strongly in an industry that consistently churns out new offerings, the reason for its continuing success is quite simple.  It works!
You will get great results following the diet or the fitness program, alone.  However, the real magic comes when you combine the two.
Read on to discover what Jillian Michaels 90 Day Body Revolution involves, and find out what people who have undertaken the program have to say about it.
Jillian Michaels 90 Day Body Revolution Overview
Jillian Michaels is one of the biggest names in the fitness and weight loss industry.  Coming to recognition through her high public profile as a trainer on the TV hit "The Biggest Loser," her "tough love" training style had us tuning in for more.
With Ms. Michaels guidance, contestants on America's most popular weight-loss reality show were able to get amazingly impressive results, but I couldn't help but wonder if her training methods would also work for the home exerciser.  With this in mind, I decided to take a close look at Jillian Michaels 90 Day Body Revolution.  I read reviews from people who had completed the program or were in the process of undertaking it.  Looking at customer photos and video testimonials, I was amazed at the transformations.
It soon became apparent that very good results are typical doing the workouts alone.  But if you really want to transform your body and you have a lot of weight to lose, you will get an even better result by also following Jillian Michaels 7 Day Kickstart Diet to get you underway.  Your calorie allowance during the Kickstart Diet is 1,200 per day split over three small meals and a snack.  The breakdown is 250 calories for breakfast, 400 for lunch, and 400 for dinner.  You can also have a 150 calorie snack.
At the conclusion of the diet, move on to the recommendations in Jillian's Fat Burning Meal Plan.  Doing so will enable you to lose weight steadily while keeping your energy levels up for the workouts.  Both diet plans come as part of the package, along with some other handy tools which we will look at below.
Jillian Michaels 90 Day Body Revolution Schedule
Jillian Michaels Body Revolution workout is a 90-day, 3-phase weight loss system that uses Jillian's Metabolic Training method.
Metabolic Training works by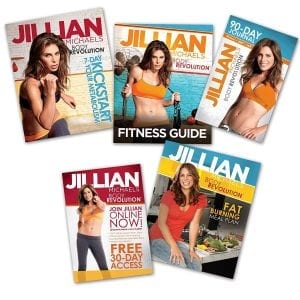 increasing our metabolic rate to a level beyond that which efficient fat burners such as cardio or weight training can alone.
This process burns a greater number of calories during each 30-minute workout, and it continues burning calories at an increased rate for up to 16 hours afterward.
The first of the 15 workouts ease you into the program, with the pace and intensity increasing as you progress.
You will do six sessions per week.  Four of these are metabolic (strength) training, while the other two are cardio-based.  The strength workouts change every two weeks, while the cardio changes every phase.
As can be expected with Jillian's workouts, they are challenging.  If you find them too difficult, follow along with the modifier who demonstrates the lower intensity version.  This will place less impact on your joints but still deliver great results.
To get the most benefit from the workouts, you will need a set of dumbbells and a resistance band.  Click the previous link to read reviews of some of my favorites.)
Jillian Michaels Body Revolution Infomercial
What's in the Box?
Jillian Michaels 90 Day Body Revolution consists of the following:
15 DVDs containing 15 workouts
The workouts in the Jillian Michaels Body Revolution system are divided into three increasingly challenging phases, as follows:-
Phase 1 – Phase 1 comprises low-impact exercises to begin strengthening your core and building your endurance.  With an increased metabolic rate assured, you can expect to lose weight rapidly during this phase.
Phase 2 – Phase 2 moves on to more dynamic and challenging movements, with added resistance.  During this phase, you will shed fat quickly and sculpt your muscles.
Phase 3 – Phase 3 of Jillian Michaels 90 Day Body Revolution focuses on high-energy circuit training.  This phase will further shape and sculpt your body, directly targeting any remaining trouble spots that need extra help.
Also included in Jillian Michaels 90 Day Body Revolution Kit is the following:
90 Day Journal and Bookmark – The 90 Day Journal and Bookmark will help you stay focused and enable you to track your progress easily.
Fat-Burning Meal Plan – This 90-day meal planner contains delicious fat-burning recipes suitable for breakfast, lunch, and dinner, plus snacks.
Jillian Michaels 7 Day Kickstart Diet – Jillian Michaels 7 Day Kickstart is a detailed guide and nutrition plan that will provide you with the knowledge to lose up to one dress size in 7 days, without feeling hungry.
Fitness Guide – The guidelines in Jillian's Metabolic Training Rotation Calendar Constantly change constantly.  By mixing things up in this manner you to get the best results and avoid hitting a weight loss plateau.
Body Revolution Club – Your free trial membership to the Body Revolution Club will enable you to access support from Jillian and her trainers at the click of a mouse.  You will also be able to receive personalized coaching and motivational help.
Real Customer Feedback – The Good and the Bad
Generally speaking, exercise programs tend to have mixed reviews.  Some that sound good on paper, may not stack up in the real world.  This is not necessarily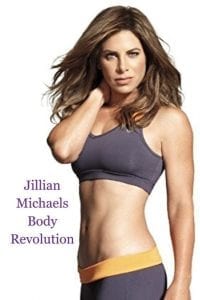 the fault of the program itself.  It can sometimes be that the program is just too difficult to follow for some people, so they give up.
A quick glance at Jillian Michaels Body Revolution feedback published online, reveals many hundreds of not just positive, but extremely positive reviews.  A number of reviewers claim they skipped some workouts and hadn't been that strict with their diet, yet they still lost weight and noticed an improvement in the tone of their muscles, just a week or two after starting.
Most reviewers have been of the opinion that the elements and the pace of the workouts in Jillian Michaels 90 Day Body Revolution is just right, with each being repeated enough times to learn the moves correctly.  At the same time, they change often enough to avoid boredom and burnout.
A few reviewers left negative comments about Jillian's use of profanities.  Some people also said that they don't think the program is suitable for anyone suffering from knee problems.
A few people said they found the workouts too easy, while others stated that they found them too hard.  Given that individual fitness levels vary so much, this is to be expected.
Jillian Michaels Body Revolution Conclusion
I tend to take the claims of some celebrity fitness gurus with a grain of salt, but not Jillian Michaels'.  Reading Jillian Michaels 90 Day Body Revolution reviews, most people who undertake it get excellent results.
Many people claim to have lost substantial amounts of weight through the program.  Many also report being in better health and having more energy.
Looking at the Body Revolution before and after pics uploaded by people who have completed the program, it's clear that it works exceptionally well.
If you are looking for a weight loss and fitness program that will get results, this is one I highly recommend.  If you're still not sure this is the right plan for you, a quick read of some Body Revolution reviews and a look at some of the Body Revolution before and after pics should convince you it's got the goods.