This post may contain affiliate links. If you click a link and buy something, I may receive a small commission at no extra cost to you.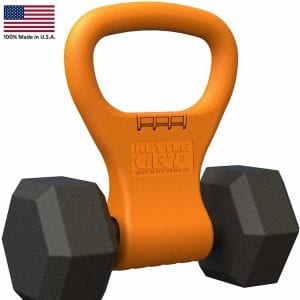 In this Kettle Gryp review, we will look at everything you may want to know about this unique and straightforward to use device that will turn your dumbbells into kettlebells in an instant.
Kettlebells are becoming ever more popular, and it's easy to see why.  They're versatile, fun to use, and they will get you into great shape super-fast.
Kettlebells enable you to get a total body strengthening and toning workout.  They improve cardio fitness and range of motion.  And you can utilize them when doing CrossFit and HIIT.
This diversity makes them one of the most versatile fitness aids you will find.
If you already own dumbbells, you may not have the room for kettlebells as well.  Or maybe you don't want the added expense of buying kettlebells.  Well, the good news is that with a Kettle Gryp, you won't have to!
Simply attach it to a straight or curved dumbbell whenever you want to do a kettlebell workout, then detach it when you want to do a regular dumbbell routine.
Next, in this kettlebell review, we will look at whom it will best suit to help you decide if it will be right for you.
Who will the Kettle Gryp Suit?
If you've never done kettlebell training so you're not sure if you will enjoy it, this nifty little device is the perfect introduction.  Far less costly than a kettlebell, it can be used with a broad range of hand weights.
It is lightweight, and it takes up very little room.  Along with saving space and money, the Kettle Gryp comes with other benefits.  
If you usually work out at the gym, you may have found that the one you attend doesn't have enough kettlebells to go around.  Pop a Kettle Gryp into your gym bag, grab a dumbbell, and you won't have to wait your turn.
The device is convenient to use when traveling too.
Few hotels with a gym provide access to kettlebells and those that do rarely have a full range of weights.  The ones on offer may be too heavy if you are a newbie, and too light if you are experienced.  Most hotel gyms do; however, have dumbbells in a variety of weights.
Clip a Kettle Gryp onto the dumbbell you want to use, and you won't have to change your workout routine just because you are away from home.
Kettle Gryp Demo Video
Kettle Gryp Specs
Dimensions – The top of the handle is 8.13″ wide, the base is 4.5″ wide, and it is 10.81″ long
Clip – The clip measures 1.13″ across the top, and it is 10.14″ long
Weight – It weighs under 1lb
Compatible with –  To use the grip your dumbbell will need to be at least 4.5″ wide and under 1.5″ thick.
Color – It is only available in orange
How to attach the Kettle Gryp to your dumbbell
Using the Kettle Gryp couldn't be easier.  Simply open the latch to separate the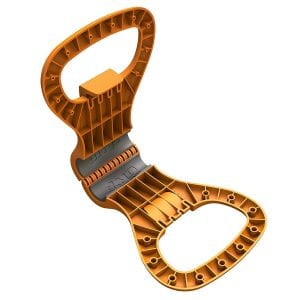 two sides of the handle, then place your dumbbell onto the textured foam insert.  Bring the two sides of the handles together, then lift the latch and press it down to secure the handle around your dumbbell.
When you finish your workout, reverse the above process to remove the Gryp if you want to do a traditional dumbbell routine.

Kettle Gryp Key Features & Pros
Can be used with kettlebells weighing under 55 pounds that have a handle under 4.5″ long with a diameter of 1.5″ or less
Heavy-duty ABS (Acrylonitrile Butadiene Styrene) construction with high-quality Urethane foam inserts and stainless steel hardware
User-friendly, taking seconds to attach and detach
Perfect for when dumbbells are available but not kettlebells
Made and assembled in the USA
Comes with a lifetime warranty
Kettle Gryp Cons
Won't work with dumbbells that weigh over 55lbs, or those with a handle less than 4.5″ long or with a diameter of over 1.5″
The handle is smaller than that of a regular kettlebell and this may take a while to get used to.
Dumbbells are wider than kettlebells, so to avoid hitting your knees or hamstrings when doing exercises such as

Kettlebell Swings

, you will have to widen your stance
The finish is rather slick, so if your hands get sweaty during workouts, you may need to buy a pair of kettlebell gloves to improve your grip
Final Thoughts on the Kettle Gryp
If your exercise of choice is kettlebell training, you will find the Kettle Gryp indispensable.  Great to use at home, it is very affordable, and light and compact enough to transport in your gym bag.  Pop it into your luggage when traveling, and you will never have to miss your regular workout when you're away from home.
While the Kettle Gryp has a few limitations, these are quite minor and far
outweighed by its convenience and practicality.
Coming with a lifetime warranty from its American manufacturer, you can buy with confidence knowing that in the unlikely event that there's a problem, it will be addressed promptly.
If you need to buy some weights to pair with the Kettle Gryp, a set that works well is the Bowflex SelectTech 552 Adjustable Dumbbell Set.  (Click on the previous link to read a review.)
I hope you found this Kettle Gryp review helpful.  To read more customer reviews, or to purchase one, click on the link below to visit Amazon.