This post may contain affiliate links. If you click a link and buy something, I may receive a small commission at no extra cost to you.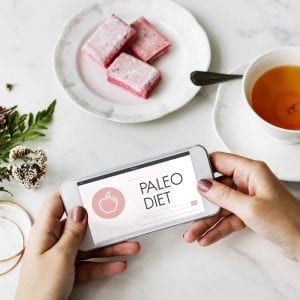 Whether you are just beginning your Paleo journey or looking for some new Paleo diet snack ideas, this article will help.
The Paleo diet promotes eating the foods that our ancestors ate over 10,000 years ago.  Advocates say that the diet can help prevent and even cure certain illnesses and assist with weight loss and weight management.
The diet involves eating meat, nuts, seeds, and most fruits and vegetables while steering clear of processed and highly refined foods, sugar, grains, and dairy products.
Snacks are permitted, but if your usual snack is a granola bar, a smoothie, or anything containing other unacceptable ingredients, you may be wondering how to ease those mid-morning or afternoon hunger pangs without breaking your diet.
The following Paleo snack ideas fit the bill.
Paleo Diet Snack Ideas
If you're looking for a way to appease a mid-afternoon slump at work or something to eat pre-workout that will boost your energy, check out these Paleo diet snack ideas.  They also make great late-night snacks that are healthy and won't weigh you down.
Nuts and seeds
Nuts make an excellent snack, day or night.  They contain the perfect balance of healthy fats, natural fiber, antioxidants, and other
essential nutrients.  They're also satisfying, convenient to eat anywhere, and they taste great!
Almonds, walnuts, cashews, pecans, macadamias, and hazelnuts are all acceptable.  Other options include pumpkin, sunflower, sesame, and chia seeds, and pine nuts.  Peanuts, which are classed as a legume, are not allowed.
Most nuts are delicious plain or smoked, so for variety, try tossing them in cinnamon, Cajun seasoning, or another spice that you like.
If you don't want to add the spice yourself, you should be able to find some at your local supermarket or health food store.  If you opt for store-bought, read the label before you buy, and pass on any that contain a lot of sodium.
Trail mix
A small bag of nuts, seeds, and dried fruit is an ideal snack that you can keep at work, in your car's glove box, or munch on the go.
Exclude peanuts, and avoid nuts that are sweetened with sugar or coated in chocolate, but carob chips are fine.
Making your own blend will save you some money, and it will mean you can add just your favorites.  Healthy dried fruits include blueberries, strawberries, goji berries, cherries, and pomegranate.
Hard-boiled eggs
Hard-boiled eggs are high in protein and calcium, and they contain a small amount of essential fat.  They can be prepared in advance and taken with you, or enjoyed at home at any time.  They are also satisfying.
Organic eggs are more nutritious, and free-range is the most ethical choice.
Fresh fruit
Fresh fruit is an ideal portable snack that satisfies sweet cravings and is easy to transport.  Being full of fiber and nutrients, it is nutritious and low in calories.  Fresh fruit is also an excellent pre-workout choice that will give you an energy boost and assist with hydration.
Examples of fruits you can eat on the diet include avocado, strawberries, raspberries, blueberries, blackberries, mango, canteloupe, watermelon, tangerines, oranges, and figs.  Bananas and mangos are allowed in moderation.
Vegetable dips
Guacamole and baba ghanoush are just two of a number of tasty, filling, and healthy Paleo vegetable dips.  They also contain healthy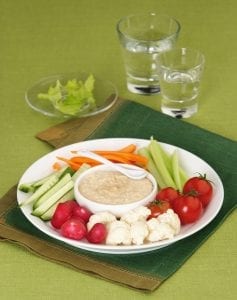 fats.
Look for store-bought dips that are additive-free and low in salt, or make your own.  To make guacamole, mash (with a fork) or blend avocado with lime, spices, garlic, and coriander.
To make baba ghanoush, combine roasted eggplant, garlic, olive oil, lemon juice, cumin, and tahini.
Enjoy the dips with fresh vegetable slices or veggie chips.
Fresh vegetables
Like fruit, veggies are a healthy component of the Paleo diet, and they make great snacks.
Veggie snacks are portable and can be prepared in advance.  Acceptable choices include cucumbers, celery, carrots, cauliflower, radishes, peppers, and tomatoes.  Eat them alone or with guacamole, baba ghanoush, or another Paleo vegetable dip.
Seaweed snacks
With chips and crackers off the menu, seaweed snacks are a perfect substitute that fills the gap at parties or when you need to grab something on the go.  They are an excellent source of vitamin K.  And, being low calorie; you can indulge freely without fear of gaining weight.
They come in so many different flavors these days; there really is something for everyone.
Vegetable chips
Vegetable chips are another delicious and convenient option that can be eaten on the go and served and eaten at parties and social gatherings.  Almost any vegetable in the Paleo list can be made into chips, including sweet potato, pumpkin, and carrot.
If you'd rather go with store-bought, while not as nutrition-packed as real vegetables, they make a scrumptious snack.  Look for low-sodium varieties that don't contain additives.
Jerky
Jerky is among the best savory diet Paleo snack foods that can be eaten on-the-go.  Long gone are the days when it was only available in beef.  You will now find turkey, fish, bison, and even vegetarian and vegan varieties.
Look for one that is low in sodium and free of additives, and eat it in moderation.
Fruit smoothies
Fruit smoothies make great Paleo diet snacks or breakfasts.  Freezing the fruit before blending will give you a more intense flavor, and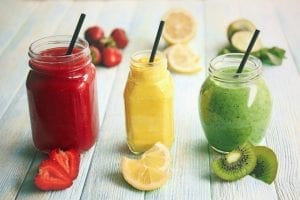 the riper the fruit is, the sweeter your smoothie will be.
Leaving the skins on will increase the fiber and vitamin content, as will including green leafy vegetables such as kale, spinach, lettuce, and celery.  The vegetables will be undetectable.
Just about any fruits can be used, including pineapple, kiwi fruit, peaches, raspberries, strawberries, blueberries, and pineapple.
Mangoes and bananas are also an excellent choice but should not be consumed every day if you are trying to lose weight.  This is due to their high sugar content.
Regular milk and yogurt aren't allowed, but coconut milk or water, and coconut yogurt are, as is almond milk.  Plain water can also be used – filtered, if possible.
Banana "ice cream" and sorbet
There's no need to forgo ice cream while eating Paleo.  This healthier version tastes like the real thing, and it is quick and easy to make.
Peel a banana, then wrap it in aluminum foil.  Pop it into the freezer, and when it sets, you will have a delicious, guilt-free snack or dessert.
If you won't be eating it within a couple of days, a squeeze of lemon juice before freezing will prevent the banana from turning brown.
To make a sorbet-like snack, lightly blend a frozen banana with a little coconut water or fruit juice.  If desired, you can top it with chunks of fruit, some nuts, or a sprinkling of shredded coconut.
Apple or banana bites
Banana bites are another tasty Paleo diet snack that you can make in no time.  They should be eaten in moderation due to their high sugar content.  Apple bites can be eaten more frequently.
The snack comprises two ingredients: apple or banana slices, and nut butter such as almond, cashew, or sunflower seed.  Peanut butter is classed as a legume, so should not be used.
Smear a dollop of nut butter onto a thick slice of apple or banana.  Put another slice of apple or banana on top to make a sandwich.
As with banana "ice cream," banana bites freeze well.
Final Thoughts on Paleo Diet Snack Ideas
Whether you are new to the lifestyle or looking for Paleo diet snack ideas, I hope you found the above suggestions useful.
While straightforward and offering plenty of variety, the diet does take a bit of forethought planning and preparation.  This means that when hunger strikes and you just have to eat something, it is possible to fall off the Paleo bandwagon.
Stocking a range of Paleo diet snack foods in your fridge, and keeping a supply of non-perishable grab-and-go Paleo snack foods in your handbag, will make it easier for you to stick to the diet.
I hope this article helps you on your Paleo journey.  For more Paleo diet snack ideas, check out these recipe books.  The books also provide a lot of useful Paleo diet information.