This post may contain affiliate links. If you click a link and buy something, I may receive a small commission at no extra cost to you.
If you want to get a rowing machine but you're short on funds and space, take a look at the Stamina 1215 Orbital Rowing Machine with Free Motion Arms.
My friend Libby bought a Stamina 1215 about a year ago.  She and her husband Steve use it regularly, and they love it.  Having used it a few times myself, I can see why.
Workouts are very comfortable, and its motion is smooth.  The manufacturer claims that it simulates the feel of rowing on water, and I agree.  This feature makes workouts far more enjoyable and adds fun to what could otherwise be a repetitive form of exercise.
It's not a professional-grade machine, but it is very sturdy, and it has some very useful functions that will make it easier for you to grow your fitness.  These include variable resistance and a monitor that displays basic workout stats.
Add to this its small footprint and relatively light weight that facilitates moving it around, and you've got a great little machine that won't break the bank.
In this review, we will take a close look at the Stamina 1215 Orbital Rower, to help you decide if it will suit your needs.
Stamina 1215 Orbital Rowing Machine Specs
Assembled dimensions – The Stamina 1215 Orbital Rowing Machine with Free Motion Arms measures 48″ x 32 1/2″ x 27 3/4″.
Folded measurements: When folded, the machine measures 48″(L) x 45 1/2 inches (W) x 10″ (H).
Weight – It weighs 47lbs.
User weight capacity – The maximum recommended user weight for this model is 250 pounds.  Considerably heavier people claim to have used it without a problem.  I wouldn't recommend this, but it does highlight the machine's strength.
Stamina 1215 Orbital Rowing Machine Overview
The Stamina 1215 Orbital Rowing Machine is a compact and lightweight indoor rowing machine
that is affordable.
The rower's steel frame is quite wide and low to the floor.  Its core is aluminum.  This combination results in a piece of equipment that, in spite of being light, is very stable.
Strength and stability aside, if I had to pick one word to describe this rower, that word would be comfortable.
The Stamina 1215's ample, ergonomically designed padded seat sits atop ball-bearing rollers.  This system ensures your workouts are smooth, even when you're exercising at top speed.  Foam-padded handles provide a comfortable grip.
The rower's larger than average footplates pivot to track the exerciser's movement.  This, along with its secure foot straps, adds to the comfort and safety aspects.
Hydraulic cylinder tension controls enable the resistance of the dual rowing arms to be adjusted to suit the user.  A multifunctional fitness monitor allows you to track your workouts.
Stamina 1215 Rowing Machine Infomercial
Stamina 1215 Key Features
An LCD screen positioned at the foot of the machine shows workout stats including time, calories burned, stroke count, speed, and distance. 
These stats are accessible individually, by pressing a button.  Press another button, and the stats will automatically appear, one by one, with each displayed for four seconds.
Coming with 5 resistance levels, this model suits everyone from the beginner to intermediate and more advanced level exercisers.  There is provision to increase the workout intensity over time, to keep your sessions challenging and grow your fitness.
To increase the challenge further, raise the back of the machine to a higher position.  With the seat lifted the resistance will increase as you will need to push harder with your legs when rowing.
A particularly noteworthy feature of the Stamina 1215 Rowing Machine is its arms, which can be moved back and forth or swung out to the sides.  This simulates the feel of rowing on water with oars.
If desired, the arms can be moved in different directions – one back and forth, and the other out to the side.  Each arm can be set at a different resistance level.  This feature is particularly beneficial for people who have more upper-body strength on one side of their body than the other.

Stamina 1215 Orbital Rowing Machine Pros
The Stamina 1215 Orbital Rowing Machine is less than half the size of a lot of other rowing machines.  If you don't have the room for a full-sized rower, this model should slot in nicely.
The Stamina 1215 is exceptionally stable.  No matter how hard you row, it won't shake or move around.
An ergonomically designed seat contains thick padding.  This makes workouts more
comfortable,  even during longer sessions.  It also means you won't have to contend with the numb butt that can be a result of using an exercise rower with a hard plastic seat.
Not being fan-driven, the Stamina 1215 Orbital Rowing Machine with Free Motion Arms is very quiet during operation.  The low level of noise it makes will not prevent you from listening to music or the radio or watching the television.
Assembling the Stamina 1215 Orbital Rower takes most people between one and two hours.  The instructions for this are easy to understand, and the required tools are included.  Having a second person help will make the job easier.
The warranty covers 5 years for the frame and 90 days for parts.
Stamina 1215 Cons
Possible user height limitation
People of various heights from short to tall have left very positive feedback for the Stamina 1215 Orbital Rowing Machine.  However, a couple of reviewers shorter than 5′ 4″ said they could only feel resistance in their lower body when they fully extended their legs.  A couple of very tall people stated that they couldn't extend their legs far enough to get the full benefit from their workouts.
Some users have said that they found working out on this Stamina rowing machine too challenging, even when they set it to the easiest level.  The consensus is that these people must not have read the user manual, so don't realize that level 1 on this machine is the toughest and level 5 the easiest.
Stamina 1215 Orbital Rowing Machine Summary
If you would like to experience the benefits of rowing machine workouts and you're looking for a good quality rower that is inexpensive,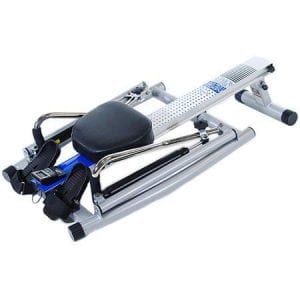 do yourself a favor and check out the Stamina 1215 Orbital Rowing Machine with Free Motion Arms.
Manufactured by a company who have supplied customers with value-for-money fitness equipment since 1987, the vast majority of people who have used this Stamina rowing machine and left feedback, are very pleased with it.
A small percentage of reviewers have left negative comments.  Most relate to joining parts made of cheap plastic, having snapped.  This is no longer an issue, with the joining parts now manufactured from steel.
While I can't guarantee you will love the Stamina 1215 Orbital Rowing Machine as much as my friends do, having found it to be solid and comfortable to use, I have no hesitation in recommending it.
If you're looking for a rowing machine that can support up to 285 pounds, or if you are exceptionally short or tall, take a look at the Kettler Favorit Rowing Machine.  (Click the previous link to read a review.)  It costs more than the Stamina 1215, but it, too, is comfortable to use and it has some excellent features, including 50 resistance levels.
Click this link to read reviews of other popular rowing machines
You may also like to read, How to Buy a Rowing Machine and the Proper Way to Use it.