This post may contain affiliate links. If you click a link and buy something, I may receive a small commission at no extra cost to you.
If Pilates is your thing, I think you're going to love the Stamina AeroPilates Reformer 651 as much as I do.
Also known as the Stamina AeroPilates Reformer with Free-Form Rebounder, this versatile machine delivers efficient, time-saving workouts.
Along with toning, lengthening and strengthening your muscles without adding bulk, it enables you to get an excellent low-impact cardio workout.
This latter aspect is what sets the Stamina AeroPilates Reformer apart from a lot of other Pilates equipment.
Years ago, I attended Pilates classes three times a week, and I loved it.  My work situation changed, and I began spending long days at the office.  I didn't always have the time to do an aerobic workout and a Pilates workout on the same day.  Nor the inclination, for that matter.  With this machine, I don't have to worry, as it takes care of all of my exercise needs.
In this review, we will look at what a Pilates reformer and rebounder are.  We will also cover the benefits of using them, plus the pros, cons and more of the latest model Stamina AeroPilates Reformer with Rebounder.
NB: I have updated this review to include details of the upgraded AeroPilates Reformer 651.  I've been using an older model for years, and it is still going strong.
What are Pilates Reformers & Rebounders?
A Pilates reformer is essentially a bed-like frame that sits beneath a platform upon which Pilates exercises are executed.  The platform, which is known as a carriage, rolls back and forth on wheels housed within the frame.  It is usually attached to the reformer at one end, by a set of springs.  These provide the user with various levels of resistance as the carriage moves along the frame as they work out.
A Pilates rebounder is a type of mini trampoline that attached to the end of Reformer.  It is used for jogging and jumping while in a prone position for no-impact cardio workouts.  The rebounder can be removed and replaced the included padded foot bar, increasing your exercise options.
What are the Benefits of using a Pilates Reformer Rebounder?
With regular Pilates reformer workouts, you will improve your muscle tone, strength, and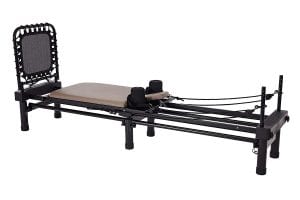 flexibility.  And, you will get a low-impact, calorie-burning cardio workout from the rebounder.
In fact, an 8-week study followed 14 subjects aged 23 to 64 who used the original AeroPilates Reformer with Rebounder for 40 minutes, three times a week.
Conducted by sports scientist Neil Wolkodoff, PhD., the study proved impressive improvements in the subjects' V02 peak (a measure of exercise potential), anaerobic threshold, core, and overall body strength.  Their endurance, balance, core, hip, lower back, and hamstring flexibility also significantly improved.
Additionally, participants reduced their body weight, lowered their body fat, increased their lean muscle mass and reduced their stress levels.
Stamina AeroPilates Reformer Specs
Dimensions – The Stamina AeroPilates Reformer with Free-Form Cardio Rebounder measures 86.2″ (L) x 20″ (W) x 34.5″ (H)
Weight – It weighs 100 lbs
User weight – This model has a maximum user weight of 300 pounds
Color – It has a black frame and a gray platform
Stamina AeroPilates Reformer Overview
The machine is extremely robust and stable, so your workouts will be safe, and you will feel secure
doing them.
A stand lifts the reformer 10 inches above floor height.  This gives the user a greater range of motion and expands the number of exercises you can do to over 300.
The base of the unit has six evenly-spaced non-skid feet that make for extremely stable sessions.  The feet are non-marking to protect your floor.
A padded headboard which adjusts to three different positions, and large, thickly padded shoulder supports ensure comfortable sessions.
Soft faux fur covered adjustable hand and foot straps add further to the comfort factor.
Clips make it easy to change the length of the ropes for different exercises.
Commercial grade rollers are extremely durable, and they provide smooth, workouts.
Four heavy-duty durable elastic cords enable you to vary the resistance.  You can start with the lowest level of resistance, increasing the intensity as you become fitter and stronger.  You can also adjust the resistance to suit the muscle group you're targeting.
This is a folding model.  If you are short on space, after folding it, you can wheel it away to store using the built-in transport wheels.
Unlike some rebounders which are wooden with a padded overlay, the composition of the Stamina AeroPilates Reformer 651 is the same as that of a regular trampoline.  This makes for a rebounder that does not put stress on the user's joints.
The rebounder can be detached and alternated with the foot bar, enabling you to do additional exercises.
The AeroPilates Reformer 651 comes with a workout DVD called Primer Plus.  Along with beginner workouts, the DVD contains helpful information that will enable you to get the most from Pilates.
You will also receive an exercise wall chart for quick reference.
Assembling the unit is easy, taking most people under an hour.  Easy-to-understand instructions and the necessary tools are included.
This model comes with a warranty covering 3 years for its frame, and 90 days for parts.
Stamina AeroPilates Arm & Shoulder Workout
Stamina AeroPilates Reformer Pros & Cons
Following are the pros and cons of the Stamina AeroPilates Reformer, with a closer look at each below the bullet point list.
Pros
Adjustable padded headrest and shoulder supports
Cons
The warranty isn't very long
A closer look at the pros & cons of the Stamina Pilates Reformer
This Stamina Pilates Reformer is manufactured to an exceptionally high standard.  Its steel frame
is very solid and stable, providing super-safe workouts.  Its gliders and rollers have a very smooth motion.  This enables the user to work out comfortably, with the utmost efficiency and confidence.
The patented rebounder that comes with this reformer provides low-impact aerobic workouts.  It typically burns as many calories as exercising on a treadmill or elliptical.
Its elevated platform expands the user's range of motion.  This feature also makes it possible to do advanced level versions of many of the exercises.
Most of the exercises are done from a prone or seated position, so almost zero pressure is placed on the shins, legs, hips, knees, and spine.  This makes Reformers ideal for anyone with joint problems.
Three forty-minute sessions per week on the AeroPilates Reformer with Rebounder improves every aspect of fitness.  Benefits of Pilates include weight reduction, muscle toning and a lowering of body fat.  You will also experience improved cardio health, strength, balance, flexibility, and more.
The straps, ropes, and handgrips of the Stamina AeroPilates Reformer 651 adjust to cater to users of any height.  The padded footrest comes with three different position options.
The Stamina AeroPilates Reformer with FreeForm Cardio Rebounder is excellent value for money.  In fact, it comes in at under half the price of many similar devices.
Assembling the device takes most people less than twenty minutes.  Everything you need for this will be in the box the machine comes in.
The frame folds and there are transport wheels in the base so that you can wheel the unit away to store.
Stamina AeroPilates Reformer Summary
The Stamina AeroPilates Reformer with FreeForm Cardio Rebounder has overwhelmingly
positive feedback from purchasers, which doesn't surprise me.
Several reviewers said the reformer's quality is on par with, if not superior to, reformers they've used at Pilates studios.
Another big plus mentioned repeatedly is that the rebounder provides a gentle, pain-free aerobic workout.  This has been the case, even for people with bad knees, ankles or backs.
This is a great machine for anyone who wants to improve their shape, health, and fitness, without having to spend an hour a day exercising.
If you're in the market for a top-notch Pilates reformer machine but you don't want to pay the earth for it, click the link below to check out the Stamina AeroPilates Reformer with FreeForm Cardio Rebounder.