This post may contain affiliate links. If you click a link and buy something, I may receive a small commission at no extra cost to you.
This article looks at 10 of the best Pilates workouts to do at home.  Some of the DVDs covered are suitable for new Pilates students.  Others will suit people of intermediate or advanced level.
The primary aim of Pilates is to strengthen and stabilize the core; however, its benefits go well beyond this.
Regular Pilates sessions will tone your entire body and improve your stamina, posture, balance, and bone density.
Pilates is one of the most gentle and low-impact forms of exercise you can do, making it suitable for people of any age and fitness level.
With a lot of the moves done lying on a mat on the floor, it can safely be undertaken by obese individuals, those with mobility or balance issues, and the very unfit.
It is also often suitable for people rehabilitating from an injury and those afflicted by chronic back pain.  In fact, numerous studies have shown that regular workouts can help to ease back pain.
Pilates is not generally regarded as a weight-loss exercise; however, done regularly, it can help you lose weight.
According to ILiveSlim.com, a sixty-minute beginner Pilates workout will burn between 220 and 336 calories depending on your weight and effort exerted.
It's estimated that someone weighing 125 lbs will burn approximately 220 calories, and a person weighing 150 lbs who puts in the same intensity will burn around 252 calories.  A 175 lb person will burn about 294 calories, and a 200 lb person will burn in the vicinity of 336 calories for each hour they work out.
Keep reading for a brief overview of some of the best Pilates workouts to help you decide which will be right for you.
10 of the Best Pilates Workouts to do at Home
Following are some of the best Pilates workouts available today.  While most have been around for years, they have stood the test of time, and they are just as effective as ever.
Pilates for Beginners DVD (60 mins)
As indicated by its title, the Pilates for Beginners DVD is for people who are new to Pilates.  Created by renowned Reebok master instructor Kristin McGee who has taught at Clay Health Club & Spa, Equinox, and The Sports Club LA, you can't go wrong with this DVD.
With a focus on body sculpting moves, you will start noticing positive changes within weeks.  These include better muscle tone, improved strength and flexibility, and a sleeker physique.
The instructions are clear and easy to follow, and Ms. McGee's enthusiasm for Pilates is inspiring and contagious.
Comprising four different segments targeting the entire body, two of these are of 20 minutes duration, and two are 10 minutes long.  They can be done singly or combined for a more challenging workout.
Included with Pilates for Beginners is a booklet with tips on how to get the most from your sessions, plus 8 Bonus Moves on take-along cards.
There's a 10-minute excerpt from the Exhale: Core Fusion Pilates Plus DVD, which focuses on the thighs and glutes.
There is also a 5-minute excerpt from Weight Loss Pilates, a Pilates pictorial that demonstrates the correct form, and a segment outlining Ms. McGee's credentials. 

---
Element: Pilates Weight Loss for Beginners (51 mins)
Element: Pilates Weight Loss for Beginners is another one of the best Pilates workout DVDs that has been around for years.
Set against a visually appealing backdrop of the Pacific Ocean, this fast-paced workout is led by Brook Siler, a Pilates expert who for twelve years studied under Romana Kryzanowska, the oldest living protégé of Pilates founder Joseph Pilates.  A best-selling New York Times author and owner of Ab Pilates Studio in NYC, Ms. Siler has trained some of Hollywood's biggest names.
A blend of mat exercises and cardio-based Pilates moves, this workout is designed to help you burn the maximum number of calories as it tones and strengthens your abs, hips, thighs, and upper body.
The workout is split into two halves.  You can do either one or combine them into one more extended session taking around 50 minutes.
The moves are so well explained that you will have no trouble following them.
Stick to the recommended schedule, and you can expect to see and feel visible results within two weeks.  Be warned, though, that you may find the course challenging if you are very out of shape.

---
Pilates – Beginning Mat Workout (60 mins)  
With easy-to-understand explanations of the moves and step-by-step instructions, Pilates – Beginning Mat Workout is perfect for anyone starting their Pilates journey and familiarizing themselves with mat work.
With the Pacific Ocean as the backdrop, the course is led by renowned fitness and Peak Pilates trainer Ana Caban, who has sold over 4,000,000 fitness DVDs to date.
Aside from the workout itself, a large part of Ms. Caban's popularity is her motivational and inspiring manner.  Ms. Caban will give you the tools to live a healthy, balanced life.
The DVD contains three sections.  These include a ten-minute introduction explaining the exercises and their potential benefits, plus the terms you will hear throughout the workout.
Next comes the exercises.  The focus is on total body-sculpting moves that won't stress your bones or joints.  There is also a 12-minute energy-boosting segment and an interview with Ana Caban.
After a couple of weeks of doing the workout as recommended, you will notice improved control, precision, and focus, and your clothing should be feeling a bit looser. 

---
Denise Austin: Mat Workout Based on the Work of J.H. Pilates (52 mins)
If you're a beginner looking for an old-school workout, Denise Austin: Mat Workout Based on the Work of J.H. Pilates is among the best Pilates workouts to do at home.  A timeless classic, the exercises are some of the closest you will find to those devised by Pilates' creator, J H Pilates.
Denise Austin has long been one of the most recognizable faces and names in the fitness industry.  A personal trainer who hosted a television fitness show for many years, she is also a prolific fitness program creator and author.  With these outstanding credentials, this DVD should be on your shortlist.
Along with an introduction, you will be getting two 20-minute workouts with in-depth explanations and easy-to-see visuals.  The first workout was filmed in a studio.  The second, which includes some of the moves and meditative aspects of yoga, contains some segments featuring a desert backdrop.
Other inclusions are a buttocks, hips, and thighs segment and some healthy low-calorie recipes.  There's also a segment that lets you select a pose and see a detailed description of executing it correctly.
With a particular focus on the core, the movements throughout both relaxing sessions are relatively easy to do.  They are gentle enough for people of any age and fitness level but challenging enough to get results.
Along with building strength, you will improve your flexibility, balance, focus, and breathing by doing the workouts regularly.

---
Pop Pilates Total Body Workout with Casey Ho (60 mins)
If you're looking for something a little different and have a bit more Pilates experience, Pop Pilates Total Body Workout with Casey Ho could be the DVD for you.
Mat-based, the moves in the workout are those you will be familiar with, done to upbeat pop music.
Do the workout from start to finish, or choose the segments which target specific body areas.  Another option is to target different muscle groups, alternating these so that you work your entire body more than once over the week.  If the moves are too challenging, do the modified versions.
A big plus with this DVD is that you can print the exercises.  Doing so will enable you to do the workout even if you don't have access to a media device to view them.
For those unfamiliar with Ms. Ho, she is a certified fitness trainer/social media personality with a website and popular fitness YouTube channel with millions of subscribers.  She is motivating, cheerful, and likable, making the workouts even more fun.
Give it a try if you are bored with your regular Pilates sessions and you want to burn some extra calories.  I think you will be happy you did.

---
10 Minute Solution: Pilates (50 mins)
10 Minute Solutions: Pilates is one of the best Pilates workouts on the market today if you want to get an effective workout and don't have much free time.  Best suited to new and intermediate level students, it is hosted by Lara Hudson, a fitness & Pilates instructor, wellness writer, and exercise DVD creator.
Ms. Hudson is likable, and her manner is friendly.  She explains everything in detail, even reminding us to breathe.
Each segment in the workout incorporates the fundamental essence of Pilates, teaching you control and correct breathing as you tone and strengthen your core.
Three of the routines target different muscle groups.
The first two, Abs, and Buns and Thighs, are self-explanatory.
Then there's Sculpting, a total body workout requiring a pair of 2 lb or 3 lb dumbbells.
The focus of Flexibility is stretching.  The final session, Burn, involves cardio.  Each segment contains easy plus more challenging positions and movements.
I like that the workout is customizable.  I can do every segment if I have the time, or one or two if busy.
No Warm-Ups or Cool-Downs are included, so you will need to allocate a few extra minutes for these.
Besides that minor negative, it's a great workout that gets fast results.

---
Winsor Pilates Basic Set (112 mins)
According to its many fans, the Winsor Pilates Basic Set contains the best Pilates workouts if muscle toning and weight loss are your aims.
For those unfamiliar with the trainer, Mari Winsor is a Pilates instructor, fitness author, and creator of numerous Pilates DVDs.  She has also personally trained many Hollywood celebrity A-listers.
The set comprises 3 workouts entitled Basics Step-by-Step, 20-Minute Workout, and Accelerated Body Sculpting.
These can be altered to suit Pilates students from beginner, to intermediate, to advanced level.
Disc 1 is approximately 29 minutes long.
It teaches the basics of Pilates, including the importance of maintaining correct breathing and form.  This disc also demonstrates the seven exercises which are the foundation of all Pilates workouts.
A 3D view of the exercises is available, making it easier to learn the proper body alignment and breathing technique for getting the best result.
Disc 2 is 26 minutes long.
It contains a fast-paced 20-minute total-body muscle-sculpting workout that promotes weight loss.  Its primary focus is the buttocks, thighs, and core.
Best suited to people of an intermediate or advanced level; ideally, it should be done daily
Disc 3 contains a 57-minute workout entitled Accelerated Body Sculpting.  This segment will tone and strengthen your entire body and improve your stamina and flexibility when undertaken regularly.
The kit also comes with a journal for tracking your progress, a portable exercise guide, and a meal plan.

---
Pilates for Beginners & Beyond (360 mins)
Pilates for Beginners & Beyond is one of the best Pilates workouts for seniors and people who haven't exercised before.
A 3 DVD set, it contains more than 40 different routines, so a lack of variety should never be an issue.  While suitable for people just beginning their Pilates journey, some people with a lot of experience have also given it the thumbs up.
Disc 1, Pilates for Inflexible People, contains over 20 mat-based routines with modifications to suit every flexibility level.  You can start with the easiest version and progress to the advanced as your flexibility improves.
Disc 2 is called Complete Pilates for Weight Loss.  It contains 20 muscle toning, fat-burning exercises.
Disc 3 goes by the name of Complete Pilates Sculpt and Tone.
With 20 options to choose from, you may choose to do those that target specific muscle groups.  You can do all of the exercises, or those that suit your goal, be that to improve your flexibility, lose weight, or tone your muscles.
Alternatively, you can choose the routine you want to do, be that mat-based, using weights, a Pilates circle, a balance ball, or a small ball.  If you don't have access to these, you will need to buy them to do all of the exercises.  

---
STOTT Pilates Extreme Pilates – Strength and Agility on the Mat (87 mins)
STOTT Pilates Extreme Pilates – Strength and Agility on the Mat is suitable for Pilates students who are intermediate level and beyond.
Done regularly, it will strengthen and stabilize your entire body.  It will also improve your muscle tone, coordination, and flexibility.
There's the option of working out to music only, with no verbal cueing.
Designed for advanced Pilates students, there is one 49 minute workout and a choice of 59 exercises.  The remainder of the DVD covers the STOTT PILATES® Five Basic Principles.
There's also information on Merrithew™ equipment and instructor training.
The lead instructor for this workout is John Gary, who demonstrates the moves along with two other instructors, one male and one female.  A Master Instructor Trainer for Merrithew™,  Gary's specialty is STOTT Pilates, performance training, and athletic conditioning.
This DVD will be of particular benefit to anyone looking to prevent injury and overcome muscle imbalances.

---
Rael Pilates: System 27 (50 mins)
Rael Pilates: System 27 is a mat-based workout led by Pilates Master Rael Isacowitz.  Some of the 27 exercises will get your heart rate up, while others, which focus on breathing, will relax you.  Included are classic Pilates moves, plus some new postures.
While the workout is classed as being for advanced-level Pilates students, intermediate students will be able to do some of the exercises by following the modified versions.  If, however, you have a lot of Pilates experience, some of the moves may not be challenging enough.
The importance of maintaining the proper form and correct breathing is discussed.  Isacowitiz's manner is gentle and encouraging, making the workout more enjoyable.  The background music complements the workout well.
If your main aim is to strengthen and tone your core, you won't get a better workout than this one.

---
Best Pilates Workouts to do at Home Summary
So which of the above are the best Pilates workouts, and why?  The answer to that question will differ depending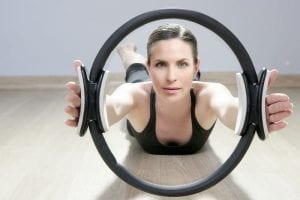 on your starting fitness level and goal, but you won't go wrong with any of them.
In a nutshell, the best Pilates workouts keep you engaged and wanting to come back for more.  They will enable you to see visual improvements reasonably quickly and continue to become stronger, more toned, and flexible over time.