This post may contain affiliate links. If you click a link and buy something, I may receive a small commission at no extra cost to you.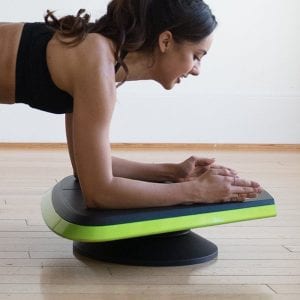 Today, we are looking at two versions of the Stealth Core Trainer, a unique and innovative fitness aid incorporating a gaming system to sculpt and strengthen your entire midsection, upper, and lower body.
We will also look at a less expensive alternative, the Stealth Plankster Core Trainer.
Planks are one of the best core and ab exercises you can do.  While effective, they can be tedious.  Some people try them once or twice, then give up.  Others persevere, hating every minute of it.  But it doesn't have to be that way!
With a Stealth Core Trainer, you will get the benefits of Planks as you have fun twisting, turning, and rotating on a platform to control a smartphone game app.
Instead of counting reps, you will be focusing on making a new high score.  Each 3 to 5-minute session targets 29 different muscles.  But if you're like most people, you won't want to stop at one.
The trainer comes in three different versions, one of which is sure to be perfect for you.
This Stealth Core Trainer review looks at everything you may want to know about this highly-rated fitness aid before purchasing.  Included is an overview of the device, whom it will suit, and how to use it.
We will also examine its pros and cons and how the models in the range differ.
Click here to read an article on the benefits of the plank exercise.
To read about other abdominal exercise equipment to use at home, click this link.
Who will the Stealth Core Trainer Suit?
The Stealth Fitness Core Trainer will suit people of any age and fitness level who want to strengthen and tone their abs, core, upper, and lower body.
You can see results using the device for as little as 3-minutes a day, so it is ideal for busy people.  And, with a user weight limit of 400 pounds, the Professional model will suit heavier people.
The fun nature of stealth exercises will be appreciated by anyone who lacks the motivation to stick to a fitness regimen.  Though challenging, you will look forward to your workouts with this trainer.
Competitive types and people who enjoy group exercise will love the multi-player function option, which provides even more fun as you try to outscore your friends and get the top spot on the leaderboard.
The device will benefit anyone who participates in sports, as the likelihood of back pain and sports-related injury reduce with a stronger core.
Take it to work, and you will be able to fit in a quick session during your break.  Pack it in your bag when you go on vacation, and you need never miss a workout!
Keep reading this Stealth Core Trainer review to determine how the two models vary.
How do the Two Versions Differ?
The trainer comes in two different models: the Stealth Core Trainer Personal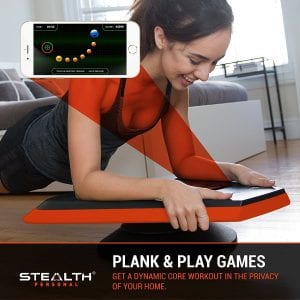 and the Stealth Core Trainer Professional.
Both are robust and durable, smooth and comfortable to use, and either one will get you excellent results if you do the workouts as recommended.
Both models feature a super-comfortable anti-fatigue foam arm pad and a patented Fluidity Sphere that ensures ultra-smooth performance.
As its name indicates, the Stealth Core Trainer Personal is designed for home use.
The more economical of the two, it is manufactured overseas.
Its base is ABS polymer, and it has a polyurethane support pad.
The Personal model is black with an orange trim.
It weighs approximately 15 lbs, can support up to 250 pounds, and offers a 90-day Limited Warranty.
The Stealth Core Trainer Professional model's 1-year Limited Warranty covers its use in health clubs and fitness centers.
Manufactured and hand-assembled in America, its base is Delrin, an industrial plastic as strong as steel.
Available in a choice of black with a glow green trim or all black, it weighs around 15 lbs, and it can support a weight of up to 400 pounds.
If the personal and professional models are out of your price range, you may like the Stealth Plankster Core Trainer.
It comes with the same benefits and games as the other two models, and it is available in yellow.
It is slightly smaller than the other trainers, and its surface padding does not cover the entire platform.
At 9.92 lbs, it is considerably lighter than the other two.
Still, it is robust and resilient and has the same 250-pound user weight capacity as the personal model and the same 90-day Limited Warranty.
Stealth Core Trainer Overview
The Stealth Interactive Core Trainer is a balance board-like piece of equipment that the user controls by body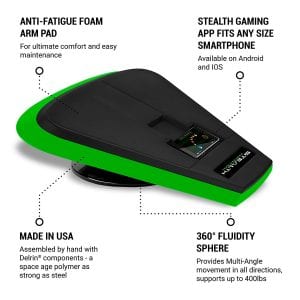 movement.  Synced with an app compatible with iOS and Android phones, you will be able to play a range of interactive fitness games.
Each game is devised to improve core strength by doing 3 to 5-minute long "workouts."  The games are continually updated based on customer feedback, with new ones regularly added, so you will always stay challenged and never get bored.
Along with targeting your core, Stealth exercises will work your arms, shoulders, upper back, glutes, legs, and calves.  With so many gameplay combinations, your brain will even get a workout!
How to Use the Stealth Core Trainer
After downloading the app and reading the instructions – this takes less than two minutes – insert your smartphone in the designated spot in the center of the board.
Mount the platform, select your game, and the app will count you down from 3, giving you time to get into a Plank position. (The underside of your lower arms should be supporting your body, with your legs straight out behind you and your feet and toes supporting them.)
In-built motion sensors will communicate virtually with your cell's accelerometer, detecting and transmitting your every movement into gameplay action, which will display on your phone's screen.
The object of the game is to blast the moving dots.  To do this, follow the instructions on the screen, which will guide you through your workout, telling you when to move and when to hold still.
A basic Stealth exercise involves moving your body, hovering over a flashing blue dot, then stabilizing yourself in a Plank position, staying as still as possible.
As the dots explode, your score will update on the screen.  When you reach 50 points, you will have to detonate a yellow dot before every blue one appears.
This is an example of just one of numerous Stealth exercises you can do.
Video showing how to use the Stealth Fitness Core Trainer
Why the Stealth Core Trainer is so Effective
The main focus of many ab workouts is the rectus abdominis, the muscle within your belly.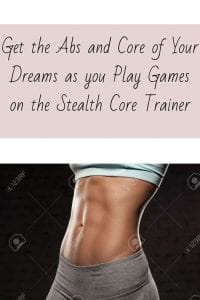 Some also target the key areas of the core, including the obliques and lower back.  Planks are one of the best exercises for targeting all of these muscles.
The unique design of the Stealth Core Trainer enables free movement, allowing you to hit all of these spots.  With this device, you won't be just moving forward and backward and from side to side.
You will also move laterally.  Doing so will work parts of your midsection that some exercises miss, stripping body fat and building lean muscle.
The more you play, the stronger and more toned you will become.  Regular sessions will also improve your flexibility and energy levels.
Pros
Suitable for just about anyone who wants to strengthen tone their abs and core at home
Comfortable to use with smooth movement
Workouts are quick and lots of fun
Each session targets 29 different muscles
At 400 pounds, the user weight limit of the Professional model is generous
Portable and easy to store with little space required
New games are added all the time
Cons
If your cell phone's power is very low, if your phone is flat, or your signal is out of transmission range, you won't be able to use the trainer
The Professional model, in particular, may exceed some people's price range
Stealth exercises may not be suitable for people with back problems – check with your doctor before ordering
Stealth Core Trainer Review Summary
If you're struggling to stick with your ab workout routine, the Stealth Interactive Core Trainer could be just what you need to get back on track.
This cutting-edge device makes long ab routines a thing of the past.
If you have a few minutes to spare, you can strengthen and sculpt your core and abs, lower your body fat, and have fun at the same time.
To read reviews of other popular ab equipment, click this link