This post may contain affiliate links. If you click a link and buy something, I may receive a small commission at no extra cost to you.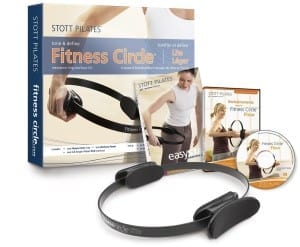 The Stott Pilates Fitness Circle Lite DVD Gift Pack Second Edition, AKA the Stott Pilates Fitness Circle Lite Power Pack, is a high-quality kit that was created especially for new to intermediate level Pilates students.
The kit contains everything needed to get a great Pilates workout.  This includes a 14″ Fitness Circle (AKA a Pilates ring or Pilates circle), a Pilates workout DVD and an Easy Start Poster, which illustrates the exercises.
You will also receive a link that will enable you to access a free online exercise guide, which shows additional Pilates exercises to do with the Fitness Circle.
What are the Benefits of a Fitness Circle?
The Fitness Circle adds resistance to Pilates workouts.  With extra resistance, you will tone and sculpt your muscles and increase your strength and endurance faster.
Being compact, the Fitness Circle is easy to store.  Its lightweight plastic construction makes it very portable, while its foam grips provide a solid and comfortable surface with which to work.  

Short Workout Using the Stott Pilates Fitness Circle

Pros 
Weighing around 3/4lb, the Pilates ring is small enough to fit into a tote bag.  This portability will enable you to take it to a friend's place, or anywhere else you'd like to exercise.  You could even take it on vacation so that you can continue your exercise program, uninterrupted, while you're away.
Surprisingly hardy and durable considering its weight and dimensions, the Stott Pilates Fitness Circle Lite will withstand many, many workouts.
The instructional DVD that is part of the package is easy to understand and the workouts are simple to follow.
Another great thing about the DVD is the variety of exercises that are demonstrated.  By repositioning the Circle, a range of muscle groups can be targeted.  For example, when held between your hands and squeezed inwards you will work your upper back, arms, and chest.  Placed between your knees or upper thighs and squeezed inwards, it will work your inner thighs, glutes, quads, and core.  These are just two of numerous exercises that can be done with the circle.
Within three to four weeks of using the Fitness Circle regularly, you will notice a significant improvement in your strength and muscle tone.
Includes a link to a free exercise guide.
Cons 
A downside of this fitness aid is that its resistance won't be enough for people who are already strong.  So if you've been working out for a while already, you will probably want to give it a miss.
Final Thoughts on the Stott Pilates Fitness Circle Lite Power Pack

If you're just getting started with Pilates, you can't go wrong with the Stott Pilates Fitness Circle Lite Power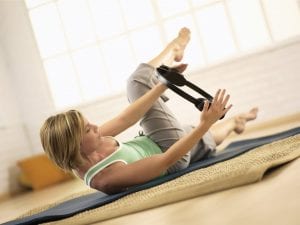 Pack, which will provide you with everything you need to get into shape, fast.
Strong and portable, the Circle will give you an excellent muscle toning and strengthening workout as it increases your flexibility.  The DVD, Easy Start Poster, and online bonus exercises will guide you and get you up to speed in no time.
While you will eventually outgrow the Stott Pilates Fitness Circle Lite Power Pack as your strength increases, it's as good an introductory kit of its type as you will find, and excellent value for money.
You may also like the Mari Winsor Slimming Pilates Kit.  To read a review, click this link.