This post may contain affiliate links. If you click a link and buy something, I may receive a small commission at no extra cost to you.
The Sunny Health and Fitness Rowing Machine SF-RW1205 is ideal for new to intermediate level users with limited workout space and a very tight budget.
My cousin recently bought one, and she's been raving about it.  Last weekend, I gave it a test run, and I was blown away by what you get for the money.
It doesn't have the bells and whistles of high-end models, but IMO it would still be a bargain at twice the price!
Along with being extremely compact and excellent value for money, it is solid, and it has some useful features that will help make your workouts more productive and enjoyable.
These include adjustable resistance, a monitor that shows your workout stats, and a comfortable seat.  The machine is light enough to move if required, and, with minimal disassembly, it folds to store.
This Sunny Rowing Machine review looks at an overview, its specs, pros, cons, and what buyers are saying about it.
Whom does it best suit?
The Sunny Health and Fitness Rowing Machine SF-RW1205 best suits beginners and seniors wanting a compact and inexpensive fitness aid that will enable them to experience the benefits of rowing machine workouts.
It doesn't offer sufficient resistance for advanced athletes.
Sunny Health and Fitness Rowing Machine Specs
Dimensions – The Sunny Health and Fitness Rower measures 21 1/2″ (H) x 20″ (W) x 22″ (L)
Seat dimensions – The seat measures 10″ (L) x 13″ (W) x 2″ (D)
Seat height – The distance from the floor to the seat is 13″
Slide rail – The slide rail length is 39″
Weight – It weighs 20.5 lbs
User weight – The user weight limit for this model is 220 pounds.  Purchasers weighing up to 250 pounds have left positive feedback, but it's best to follow the manufacturer's recommendation
User inseam – The maximum user inseam is 37″
Batteries – The console requires 2 x AA batteries
Overview
The Sunny Health Rower has a solid steel frame with a silver-colored, anti-corrosive finish.
It offers 12 levels of hydraulic resistance.  These are accessible at the turn of a knob, without you having to pause your workout.
A single-centered piston attached to a central rowing arm ensures a smooth rowing motion.  It also eliminates the possibility of uneven wear that can occur with dual-piston rowers.
An easy-to-read electronic monitor displays workout stats, including Time, Calories Burned, Rows, and Total Rows.  Your stats will appear on the screen as soon as you begin exercising.  When you finish your workout, the monitor will shut itself off after four minutes of inactivity.
For a comprehensive overview, initiate Scan Mode, which will cycle through all the stats, displaying each in turn for a few seconds.
You can reset your metrics to zero by pressing the monitor's red button for four seconds.
The seat of the Sunny Health and Fitness Rowing Machine is designed to provide comfort and support.  Thickly padded, it has a durable artificial leather seat cover.  While some buyers have stated that the seat is, indeed, comfortable, others have said that it is not.
This is a common complaint regarding fitness equipment that is used seated.  Most people get used to the feel over time.  Placing a folded towel or a small cushion on the seat can help.
The rower's well-padded ergonomic handles have a soft-touch textured finish to enhance grip and make your sessions more comfortable.
Textured pivoting footplates improve grip and enable natural movement.  Fully adjustable foot straps fit feet of any size.
In the next part of this Sunny Rowing Machine review, we will look at its pros, then its cons.  

Pros
You'd have to look long and hard to find a rower of this caliber that costs less.
Offers multiple resistance levels
It offers a broad range of resistance level options so you can increase the intensity of your workouts as your fitness improves.
Suitable for users of most heights
The Sunny Health and Fitness Rower caters to users up to 6'4″ tall with an inseam of no more than 36″.
Though light, the Sunny Health Rowing Machine feels solid and stable, no matter how hard you row.
Being light, it is easy to move if required.
The rower's cushioned seat glides smoothly, and the majority of buyers have said that it is comfortable, even during long workouts.
The seat's gliding mechanism incorporates quality rollers that should withstand regular, long-term use.
Quiet to operate, you will be able to watch the television as you work out, and you won't have to worry about disturbing anyone in your vicinity.
While this rower does not fold as such, it will be compact enough to fit into most closets if you unscrew and lift the base upwards.
The machine comes with most of the parts pre-assembled.  Completing the job will take approximately 15 minutes or less.  The instructions in the user manual are very easy to follow, and photos are included as a visual
reference.  The tools you will need are supplied.
This model comes with a 3-year warranty on its frame and 180 days for parts.
Cons
The seat isn't adjustable
The seat cannot be lifted or lowered, nor can it be moved further forward or backward.
Comfort is subjective.  While some individuals will find it comfortable from the first use, others will not.
The length of the pulling bar is not adjustable.  While still fully functional, very tall users will not find it long enough to be able to pull the bar up to their chest.
A couple of minutes into working out, the rower's cylinder heats up, resulting in a slight loss of power.  As soon as you notice this, increase the resistance a notch or two to keep your workout consistent.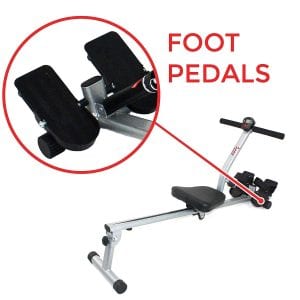 The console is attached to the main rowing arm.  This makes it a bit difficult to view during workouts.
A common issue with fitness equipment, including this piece, is that there is no facility to enter the user's weight, height, and other relevant details.  As a result, your calorie readout will be based on an average.  While not entirely accurate, it will still be a useful guideline.
Buyer Feedback
Sunny Rower buyers have left overwhelmingly positive feedback and given it a high star rating.  Some have even gone so far as to say it is the best fitness aid they've bought.
While the consensus is that the seat is reasonably comfortable, some buyers have stated that it is uncomfortable.
Its very low price point is appreciated, and this should be factored in when considering it.  Buyers have also complimented Sunny Health & Fitness on their excellent customer service.
Sunny Health and Fitness Rowing Machine SF-RW1205 Summary
This simple rower from Sunny Health and Fitness has a lot in its favor.  Effective, quiet, and comfortable to use, it is worthy of a place on your shortlist if you're looking for an inexpensive machine that provides efficient low-impact cardio and total body toning workouts.
With feedback published from several hundred Amazon customers alone, Sunny Health and Fitness Rowing Machine reviews are overwhelmingly positive.
To read reviews of other popular rowing machines, click this link