This post may contain affiliate links. If you click a link and buy something, I may receive a small commission at no extra cost to you.
Tabata training is a popular form of high-intensity interval training (HIIT).
Also known as the 4 Minute Workout due to the length of time it takes to complete, traditional Tabata (pronounced tab-bah-ta) sessions consist of eight sets of exercise, each of which is done at high intensity for 20 seconds, followed by a 10 second rest period.
The exercises you choose to do can be varied and may include those that use body weight, such as Push-Ups, Sit-Ups, Squats, Lunges, and Burpees.
Exercises that utilize hand weights, kettlebells or a cardio machine can also be included.  So basically, you can do any exercise that engages the body's major muscle groups.
Before undertaking it, most people think the 4 Minute Workout will be easy.  The reality is that while four minutes isn't long, you will be doing the one exercise repeatedly and going as hard as you can.
This makes Tabata one of the most challenging forms of exercise you will ever do.
The aim of this article is to give you an overview of Tabata training, outline its benefits and drawbacks and tell you a bit about its origins.
Origins of Tabata Training
The origins of Tabata training date back to 1996 when Irisawa Koichi, Head Coach of the Japanese Olympic Speed Skating Team, formulated an 8 round, 4-minute training session for his team.  It consisted of 20 seconds of HIIT, followed by 10 seconds of rest.  While short, there was no denying the gains this revolutionary form of fitness training was bringing. 
Koichi asked training coach and researcher, Izumi Tabata, (now a Professor at the Faculty of Sport and Health Science at Ritsumeikan University in Japan) to analyze the effectiveness of the 4 Minute Workout.
Tabata and his team conducted a study that followed and compared the results of two groups of athletes.  The control group trained at moderate intensity using an ergonomic cycle for one hour, five days a week, for six weeks.
The Tabata group trained at high intensity on an ergonomic cycle, doing what is now known as Tabata or Tabata Protocol.  They did this for just four minutes, four times a week, for six weeks.
At the end of the six-week period, the athletes' results were evaluated.  It was found that the control group had increased their cardiovascular (aerobic) fitness, but had gained little or no improvement in strength and muscle tone.
The clear winner was the group following the Tabata Protocol, who had a 15 percent greater increase in aerobic capacity than the control group and a 28 percent greater anaerobic gain.  Remarkable results, considering the control group undertook 1,800 minutes of training, and the Tabata Protocol group just 120 minutes.
Although Professor Tabata was not the originator of the training, the term Tabata Protocol was coined.  This style of training is extremely popular in the fitness industry today, particularly in the CrossFit community.
Two Tabata Workout Demos
Mixing it Up & Taking it to the Next Level
Traditional Tabata Protocol comprises workouts consisting of the same move repeatedly done for a duration of four minutes (as outlined above).  Some advanced level exercisers vary the exercises they do in each session and increase the number of sets to 4.
An example of a 20 minute Tabata workout is four rounds comprising 4 minutes of Push-Ups, 4 minutes of Sit-Ups, 4 minutes of Squats and 4 minutes of Rowing.  Do move 1 for 20 seconds at maximum effort, then rest for 10 seconds.  Repeat this 4 times, then take a one-minute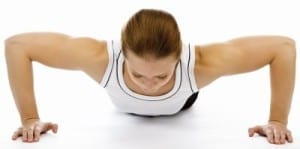 rest, before moving on to move 2.  Repeat, for a total of four rounds.
Other Tabata exercises that can be included in your workouts are Jump Squats, Thrusters, Lunges, Jump Lunges, Burpees, Cleans, Hang Cleans, Mountain Climbers, and the list goes on.
Keep in mind a 20 minute Tabata workout is not for beginners.  It is extremely tough and something that has to be built up to over time.  In fact, if you would like to make Tabata a part of your workout regimen, it's recommended you start with one four-minute workout, once or twice a week.
If you are already quite fit and you find your body can cope, and you recover quickly, add an extra session or two, gradually increasing the number of sets you do.
Tabata Training Warm-Up & Cool-Down
It's imperative that you warm up before and cool down after doing Tabata.  While doing so will add considerably to the time you spend working out, if you go straight to Tabata without preparing your muscles, injuries will be inevitable.
Plan on an 8 to 10-minute Warm-Up before your session and a 5 to 10-minute Cool-Down afterward.  Your Warm-Up is of particular importance.
Start slowly and build to a moderate speed as you go.  If you plan on including sprints in your workout, your Warm-Up could consist of walking, progressing to jogging.  If the focus of your Tabata training will be hard cycling, warm up on your bike by cycling at a comfortable pace, building to a moderate pace.
Your Cool-Down can be the same exercise, but instead of going from a slow to moderate pace, do it in reverse and include some stretches at the end.
The Benefits Of Tabata Workouts
Along with being a very effective form of exercise, Tabata workouts provide a broad range of health benefits.  These include the
following:
Tabata training is exceptionally versatile.  A wide variety of moves can be incorporated, with or without exercise equipment.  You can do Tabata just about anywhere, whenever you have a little time to spare.
Improved Cardiovascular Fitness
Doing regular Tabata workouts will improve your cardiovascular fitness and aerobic capacity and strengthen your heart.
A Tabata workout can burn as many as 67 calories in 4 minutes.  Following each session, you will continue to burn calories at a higher rate for hours.
Studies have shown that HIIT workouts such as Tabata increase the body's level of human growth hormone (HGH).  HGH boosts energy levels.  It also enhances sleep quality, supports muscle growth and increases the rate at which our bodies burn fat.
Low Likelihood of Becoming Bored
Tabata workouts are never boring.  This is because the sessions are very short and the range of exercises you can include is vast.  Regularly changing the exercises you do, will keep you challenged and motivated.
Of only 4 minutes duration, even the busiest of people will be able to fit in a Tabata workout.
The Drawbacks Of Tabata Workouts
While Tabata training has many valuable benefits, there are also some drawbacks which I will outline below.
Tabata is suitable for people who already have a degree of fitness.  If you are brand new to exercise, do not attempt it.  If you have been exercising for a while and class yourself as reasonably fit, proceed with caution.
Tabata workouts place a lot of stress on the muscles and joints.  For this reason, it is vital that you warm up before undertaking it, cool down afterward and don't overdo it.
The intensity of Tabata training can cause extreme muscle fatigue and leave those who engage in it feeling totally spent.  (If it doesn't tire you to the extent that you could not do another set, you need to increase the pace and intensity of your workouts.)  This means that recovering from workouts usually takes longer than it does when doing other forms of exercise.
Tabata training builds muscle, but not to the extent of traditional weight workouts.  If muscle growth is your aim, along with Tabata training, do another form of resistance training.  By combining HIIT and weight training, you will get the benefits of both in the one session.
Final Words on Tabata Training
Tabata training is one of the most intense and effective workouts you can do.  Delivering impressive anaerobic and aerobic benefits, it is the
ultimate fat and calorie burner.
Whether you're interested in HIIT workouts in general or more specifically Tabata, you will find this type of training to be extremely effective.  It is also an excellent option if you are short on time, want to add variety to your current exercise routine or you're looking to improve your speed and endurance for other sporting activities.
If the 4 Minute Workout sounds like something you would like to do, start with one or two 4 minute sessions a week and, if desired, you can build up to longer and more frequent Tabata training sessions as your fitness increases.
I hope this article on Tabata training has given you a good overview of what it involves.  If you're looking for exercises to include in your workouts, read Top 10 Tabata Exercises for Beginners.  The exercises covered can be adapted to suit people of any fitness level, so be sure to check it out.
If you're short on time, be sure read, How to Fit Exercise Into a Busy Schedule.