This post may contain affiliate links. If you click a link and buy something, I may receive a small commission at no extra cost to you.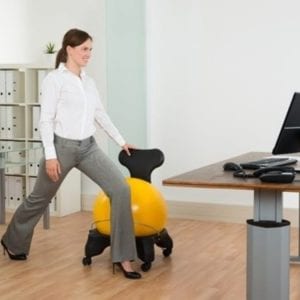 Having used the ball from my Gaiam Total Body Balance Ball Kit as a seat for several months, I was well aware of the benefits of a yoga ball chair.
I spend many hours a day working on my computer, and I'd gotten into the bad habit of slouching.
Not only was my posture suffering, but I'd started experiencing back, neck, and shoulder pain. The pain wasn't bad, but I was definitely aware of it.
I found myself having to stand up, stretch and walk around multiple times a day.  I initially attributed the pain to my new workout, which included crunches.
Around this time, we bought a second computer, but only had one computer chair, so I decided to use my balance ball as a chair.  It wasn't quite the right height for my desk, but I still found it comfortable.
Several weeks later my partner had to go away on business, and I thought I'd use the computer chair.  By then, my back, neck, and shoulders no longer ached and I'd forgotten they ever had.
Come the end of the second day, the pain had returned.  I went back to using my balance ball, and it went away.  At that point, I decided to research yoga ball chair benefits, and I ultimately went on to buy a Gaiam Yoga Ball Chair.
In this article on the top 10 benefits of a yoga ball chair, we will look at the potential yoga ball chair benefits.  First, I will answer the question What is a Yoga Ball Chair, for those who are unsure.
What is a Yoga Ball Chair?
A yoga ball chair comprises a yoga ball that sits inside a frame.  Many have casters, enabling the chair to be relocated easily.  Some have a height adjustable back to accommodate users of different heights.
The ball, or seat, is most often made of burst-resistant vinyl that is filled with air.  Because the ball is curved and it is resting on a flat surface, it is slightly unstable.  To stabilize it, muscles in the core and thighs that aren't usually engaged when we are sedentary, come into play.  This muscle engagement gives us a passive workout, while seated.
The ball can be removed from the frame to use for exercise.
10 Benefits of a Yoga Ball Chair
Next, we will look at the top 10 benefits of a yoga ball chair.
1) Aligns the spine
Perhaps the most valuable of the yoga ball chair benefits is that to balance on a yoga ball chair we must sit up straight with correct spinal alignment.  Our bodies
subconsciously know to do this and automatically assume this position, which can improve spinal health and ease back pain.
2) Enforces movement
When sitting on a yoga ball chair, we make small minor adjustments to maintain balance.  This will occur whether you are doing paperwork, typing, or reaching across your desk to answer the phone.  This regular movement helps to decrease the pressure that can occur from sitting in the same position for a prolonged period.
3) Convenient
Along with being able to sit on one, with a yoga ball chair, you will be able to fit in a quick workout on your break.  Many people find they exercise more because the ball is on hand.  Every little bit helps, so do some stretches while waiting for pages to print or for someone to return your call.  This will help to prevent stiffness that can occur with long periods of sitting and it will also improve your circulation.
4) Improves balance
Spend any time sitting in a yoga ball chair and your balance will improve, guaranteed.  This makes the chair beneficial for anyone who is unsteady, and for older folk in particular.
5) Delivers a passive core workout
To balance on a yoga ball chair, we must engage our core muscles.  While not comparable to doing an intense ab workout, if you regularly spend time sitting in your yoga ball chair, you will improve your abdominal strength and muscle tone.
6) Improves circulation
Sitting in a regular chair for hours a day can make our legs feel heavy or numb.  Some people even experience pain on the underside of their thighs.  The reason often stems from the chair not being the right height or depth.  If the chair is a cheap one, it might not offer the right support.  If it is old, its stuffing may have flattened.
Yoga ball chairs offer comfort.  If you choose the size recommended by the manufacturer for your height, it should suit you well and improve your circulation.
7) Boosts energy
When sitting in the same position for hours at a time, we can become lethargic.  The movement that occurs when sitting in a yoga ball chair will help to boost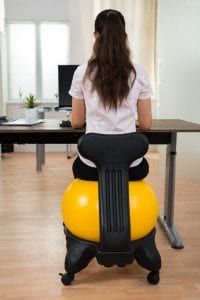 your energy level.
8) Burns calories
Research has shown that when using a yoga ball chair we can burn up to 350 extra calories every 8 hours, compared with the number of calories we burn sitting in an office or another chair.
9) Inexpensive
You should be able to get a good yoga ball chair for under $100.  This is relatively inexpensive, compared to buying many ergonomically correct office chairs.
10) Cool factor
Okay, maybe not a benefit as such, but yoga ball chairs look cool.  The one I bought comes in an impressive range of colors, and it looks great in my computer room.
Benefits of a Yoga Ball Chair Summary
If you're in the market for a new office chair, consider getting a yoga ball chair instead.  The benefits of a yoga ball chair aside, sitting and bouncing on one is fun.
The ball can be removed from its frame to include in your exercise routine.  Pop it back into the frame after your workout for compact storage, and it will be ready for you to use as a chair.
Click this link to read an overview of 5 of the best exercise ball chairs for the home or office.