This post may contain affiliate links. If you click a link and buy something, I may receive a small commission at no extra cost to you.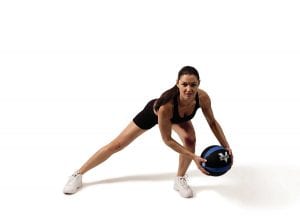 The medicine ball offers the means to improve flexibility, balance, and coordination as it builds strength, and one of the best on the market is the Valeo Medicine Ball.
An updated version of a centuries-old classic, the ball's textured surface allows for easy gripping.  Its rubber construction means it bounces rather than bangs into hard surfaces, significantly reducing the likelihood of impact damage.
Coming in 5 different weights (see below for details), there will be one or more to suit your exercise requirements and fitness level.
This Valeo Medicine Ball review looks at its specs and features and what purchasers are saying about it.
Valeo Medicine Ball Features at a Glance
Suitable for exercisers of all fitness levels
Sturdy and durable rubber construction 
Rebounds off solid surfaces when thrown or bounced
Textured surface with non-slip grip for easy handling
Available in a range of useful weights
Comes with an exercise wall chart
Who will benefit from using a medicine ball?
Everyone, regardless of fitness level, can use a medicine ball and have fun doing so.  The perfect tool to improve your fitness for various sports, you can use it on your own or with one or more workout partners.  The latter makes it a valuable fitness tool for those who lack motivation and need peer encouragement to stick with a workout schedule.
Valeo Medicine Ball Overview
One of the most reasonably priced medicine balls on the market, the Valeo Medicine Ball, is also one of the most popular.  After testing it out, I can see why!
Its durable rubber construction should give you years of use.  It rebounds when tossed or bounced, making it an excellent choice when doing exercises that require momentum.
Being very firm, it provides more flexibility than a soft gel ball that is more suited to exercise that doesn't require a ball that bounces.  And, with its weight being distributed evenly, the Valeo Medicine Ball delivers excellent performance.
Exercises that team especially well with the ball include ab workouts, CrossFit, plyometric exercises, and home workout programs such as P90X.  Available in 5 of the most popular weights, each is a different color, making for easy identification when you are in a hurry to locate a particular weight.
Included with your purchase is an exercise wall chart demonstrating a range of effective exercises you can do with the ball.  This means that after taking your Valeo Medicine Ball out of the box, you will be able to start using it right away.
An online search reveals many additional applications, and you will no doubt come up with some of your own.
The diameter of each of the balls is approximately 8 1/2″.  The weights and corresponding colors of the balls are as follows: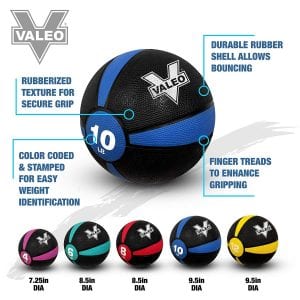 4 lb ball – Purple 
6 lb ball – Aqua
8 lb ball – Pink
10 lb ball – Blue
12 lb ball – Yellow
Valeo Medicine Ball Overview & Demo
What Customers Are Saying about the Valeo Medicine Ball
With several hundred plus purchaser reviews published online so far, the Valeo Medicine Ball has overwhelmingly positive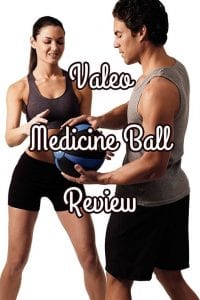 feedback.
Typical comments include that it bounces well and has a good grip.  It is also said to be a good size and comfortable to throw and catch.
A number of reviewers commented on the ball's durability, and many said it is excellent value for money.  Some of these people went so far as to say the Valeo Medicine Ball is the best medicine ball of any they've used.
Purchasers who use the ball for P90X and similar plyometric workouts claim to be very pleased with its performance.
On a less positive note, a small percentage of purchasers said that the ball they received smelled strongly of rubber.  Most stated that the odor dissipated after a while.
Some purchasers complained that the ball they received split after several uses.  A few others said some of the "paint color" flaked off the surface of the ball.  These issues are rare.  If the ball you receive splits within 12 months of purchase, the manufacturer will repair or replace it.
Final Thoughts on the Valeo Medicine Ball
If you're looking for a way to improve your balance and hand/eye coordination, increase your flexibility and gain core and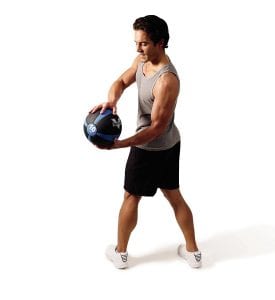 all-over body strength, the Valeo Medicine Ball can help you do just that.
Reasonably priced and very durable, this versatile fitness tool is fun to use, and it would be a great addition to any workout program.
Click this link to read about the Benefits of Medicine Ball Workouts.  The article covers the various types of medicine ball and their best uses.  There is also information on how to choose a ball of the right weight.