This post may contain affiliate links. If you click a link and buy something, I may receive a small commission at no extra cost to you.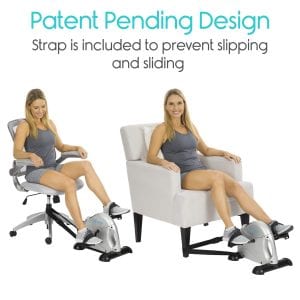 The Vive Pedal Exerciser is a compact, convenient, and affordable portable mini cycle, but does it work?
Read this Vive Pedal Exerciser review to find out!
We're all aware of the health benefits of exercise, but no matter how well-intentioned, sometimes there aren't enough hours in the day to fit it in.
This is where an under desk cycle can help, enabling you to get a light cardio workout that burns calories, tones your lower body muscles, and improves your circulation, energy, and stamina as you work at your desk.
You can also use it while surfing the net on your computer or watching television.  And, when placed on a table or desk, you can use it to target your upper body.
But not all under desk cycles are created equal.  The model we will be discussing here is one of the better offerings of its type.
We will look at whom it will best suit, its specs, an overview, and its pros and cons, so you can decide if it will suit your needs.
Whom Will this model Suit?
Providing low-impact, low-intensity workouts, the Vive Pedal Exerciser is suitable for anyone who wants to improve their health and fitness.
It is also useful for gaining strength and movement while rehabilitating from an injury or surgical procedure such as a knee replacement or a shoulder reconstruction.
NB: Check with a medical professional before resuming exercise following surgery or an injury.
Vive Pedal Exerciser Specs
Dimensions – The portable Pedal Exerciser by Vive measures 16.8″ x 12.5″ x 8″
Pedal width – Its pedals are 4″ wide
Weight – It weighs 12 3/4 lbs
User weight – This portable mini cycle does not have a maximum user weight limit
Color – It comes in silver with black highlights
Battery – 1 x AAA battery is included for the monitor
How many calories will this under desk cycle burn?
Every hour you spend peddling at a medium pace will burn approximately 100 calories.
What muscles can I target?
Lower body muscles targeted during workouts include the calves, hamstrings, quads, and glutes.
Upper body muscles you can target include the biceps, triceps, and deltoids.
Vive Pedal Exerciser Overview
The Vive Pedal Exerciser is sufficiently compact to fit under most desks.
It is light enough to
move around easily, so you can take it into another room or lift it onto a desk or table to exercise your arms and upper body.
Slip-resistant rubber feet help hold the unit securely in place and minimize unnecessary movement.
The feet are non-marking, so you won't have to worry about damaging your floor or furniture.
Safety straps will hold your feet securely in place as you pedal.
And, when your strength and fitness improve, you can adjust the resistance to increase the challenge.
An easy-to-read and access LCD screen with one-touch functionality displays useful workout metrics, including your time, RPM, speed, distance, and calories burned.
The stats appear automatically as soon as you start to peddle.
Assembling the Pedal Exerciser by Vive takes most people around 15 minutes or less. All that's required is to attach the feet and the pedals.
Easy-to-follow assembly instructions, a screwdriver, and a wrench are included to facilitate this.
You will also get a 12-month warranty, so you can purchase with confidence, knowing that you will be covered if there is a problem.
Next, in this Vive Pedal Exerciser review, we will look at its pros and then its cons.
Vive Pedal Exerciser Infomercial
Pros
This portable pedal exerciser by Vive suits people of any age and fitness level.  
The device is compact, light, and easy to move around.
Non-slip feet and foot safety straps make for stable and safe workouts.
Smooth and very quiet during operation, you won't have to worry about disturbing nearby people.
It can be used to target your upper and lower body.
You can peddle in reverse as well as forwards to target different muscles.
Adjustable resistance will enable you to keep your muscles challenged as you become stronger and fitter.
Vive Pedal Exerciser workouts can help you recover from injury without stressing your joints or muscles.
A display screen shows useful workout stats to help keep you on track and enable you to set new targets.
This portable mini cycle is quick and straightforward to assemble.
It comes with a 1-year warranty.
Cons
There's not much difference between resistance levels.
Being low to the ground, this model might not suit people with overly large feet.
Some buyers have had issues with the device moving and wobbling during use. To counteract this, place it on an exercise mat or in front of a solid object such as a wall.
Vive Pedal Exerciser Summary
A portable mini cycle won't take the place of traditional cardio exercise.
However, if you're a senior, someone with mobility issues, or just looking for a convenient way to get in some exercise when you can't make it to the gym, the Vive Pedal Exerciser can help.
It's affordable, it offers low-impact workouts, and you can use it to target and strengthen your lower and upper body muscles.
And, being so quiet, you can watch the television while using it, and you won't have to worry that it will bother others in your household.
If this isn't the under desk cycle for you, the MagneTrainer may be more to your liking. Click on this link to read a review.