This post may contain affiliate links. If you click a link and buy something, I may receive a small commission at no extra cost to you.
A HIIT cardio workout involves a combination of high-intensity moves, alternated with moderate to low-intensity moves.
The ratio of high to moderate/low-intensity exercise is usually 2 to 1, with workouts typically lasting anywhere from 5 minutes to 30 minutes.
Also known as High Intensity Interval Training, Sprint Interval Training (SIT), and High Intensity Intermittent Exercise (HIIE), whatever you choose to call it, it can be incorporated into a variety of training regimens and sports.
An example of a simple HIIT workout routine for runners consists of a 20 or 30-second sprint, followed by 10 or 15 seconds of light jogging, alternating this sequence for the duration of the workout.
One of the biggest fitness trends today and destined to become even more popular, HIIT cardio provides an efficient and very effective means of quickly reducing body fat levels.  It does, however, have its detractors.  Included among these are some in the health and fitness industry who maintain that we get better results by exercising consistently at moderate intensity.
In this article, we will look at the benefits and drawbacks of HIIT cardio workouts.  Knowing these will help you decide if it will fit into your health and fitness regimen.
Benefits 
HIIT cardio workouts are ideal for anyone who wants to add variety to their existing workout routine.
The prime benefits of HIIT cardio include the following:
Short workouts 
With workouts taking 30 minutes to complete at the most, HIIT cardio is worth considering if you don't have a lot of time to exercise or if you want to shape up in the shortest amount of time.
By regularly doing three HIIT cardio workouts a week, you can improve your cardio fitness and increase your energy level and stamina.
Burning up to 500 calories each 30-minute HIIT workout, High Intensity Interval Training is excellent for promoting weight loss.
With HIIT cardio, you will burn fat a lot faster than you will when doing traditional cardio.  This makes it an efficient means of lowering your body fat percentage quickly.
HIIT cardio workouts enhance HGH (Human Growth Hormone) production, increasing levels by up to 450%.  According to proponents, HGH burns body fat, enables greater exercise capacity, encourages muscle growth, increases bone density, decreases the visible signs of aging and more.
Additional health benefits 
Additional HIIT cardio health benefits include improved heart health, balanced blood sugar and cholesterol levels, and regulated blood pressure.  HIIT can also reduce the risk of metabolic syndrome and improve glucose metabolism.  Improved glucose metabolism can help you to avoid obesity and related diseases including Type 11 Diabetes.
Challenging, but fun workouts 
HIIT cardio workouts are fast-paced and intense.  Fun to do, they can be varied almost endlessly which means they never become boring and sticking with them is easier.
This vast range of variation and flexibility also means that your muscles will be challenged continuously so you will be far less likely to hit a fitness or weight loss plateau.
Drawbacks 
While HIIT cardio has a lot to offer, it does not come without drawbacks.  We will look at these below.
Something to be aware of is that due to the nature of the exercise, HIIT cardio places more stress on the joints than gentle, low-impact cardio.  This makes it unsuitable for anyone who suffers from joint pain and those who are recovering from an injury.
Full recovery from HIIT cardio workouts can take 2 to 3 days so they should not be undertaken on a daily basis.  While this will please some people, it will test the patience of others who want to be physically active every day.  The simple solution is to partake in another form of physical activity on the days you don't do a HIIT cardio workout.
HIIT cardio workouts require that the participant is reasonably fit.  Unfortunately, this makes it unsuitable for those who are just beginning their fitness journey.
23 Minute Fat-Burning HIIT Cardio Workout
Incorporating HIIT into Your Current Training Program
To reap the full benefits of HIIT cardio, undertake it as one part of your fitness training.  The recommended maximum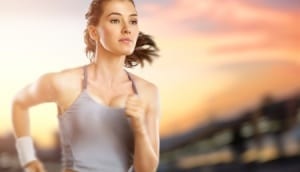 time you spend doing HIIT should be capped at 3 x 30-minute workouts per week.
Approached this way, your body will be able to recover between workouts.  You will also significantly reduce the likelihood of an injury occurring.
With HIIT your options are virtually limitless, encompassing as it does all types and manner of exercise.  Following are some sample HIIT workouts to try:
HIIT Bodyweight Workout – Select up to 20

bodyweight exercises

.  Do each for 1 minute at high intensity, followed by 30 seconds at low intensity.  Alternate this sequence for a total of 5 to 30 minutes.
HIIT Cycling Workout – Cycle on a road or stationary exercise bike for 1 minute at high intensity, then 30 seconds at low intensity, for a total duration of 5 to 30 minutes.
HIIT Dumbbell Workout – Select as many as 20 dumbbell exercises.  Using a set of light dumbbells, perform as many reps of the first exercise as you can in 20 seconds.  Rest for 10 seconds, then move on to the next set of moves.  When you've done all of them, start again at the first one.  Continue for 5 to 30 minutes.
HIIT Sprint Workout – Find an open space where you will be able to sprint freely.  Sprint for 20 seconds, rest for 10 seconds.  Repeat until you've done 5 to 30 minutes, in total.
HIIT Cardio Workout Summary
If HIIT workouts aren't currently a part of your fitness training, I recommend you give them a try.  Taking an hour and a half per week at the most, people who do even half that or less have reported benefits typically associated with workouts that take far longer.
While the HIIT cardio workout does have some negatives and it won't be suitable for everyone, used as recommended, High Intensity Interval Training can be highly beneficial, and it can help you take your fitness to the next level.
Click here to find out about 5 of the best HIIT fat burning exercises to include in your workouts
To read an article comparing HIIT and Steady State Cardio workouts, click this link
Another popular use of HIIT is to combine it with weight training as outlined in Combining HIIT and Weight Training