This post may contain affiliate links. If you click a link and buy something, I may receive a small commission at no extra cost to you.
This review covers everything you need to know about the Xterra Fitness FB350 Folding Exercise Bike Silver, the third-tier model from the budget-friendly American-headquartered Xterra Fitness exercise bike range.
Suitable for light to medium intensity cardio workouts, while its features are basic, it offers everything new users need to improve their fitness, tone up, and over time lose weight.
This includes variable resistance so you can increase the challenge of your sessions as you become fitter.  A fitness meter with a monitor shows useful workout stats so that you can monitor your workouts and plan new fitness goals.  A built-in heart rate monitoring system extends the capacity to track your progress.
The bike is solid, relatively compact, and it folds small enough to store in a closet or corner.  Transport wheels make moving it easy, and assembling it is straightforward.
If you are new to exercise and your budget is limited, this solid and reliable model could be for you.
Keep reading this Xterra Fitness FB350 Folding Bike review for an overview, its pros, cons, and more.  We will also look at how it compares to the manufacturer's entry level offering, the Xterra Fitness FB150.
Whom does it suit?
This Xterra FB350 Folding Bike best suits new to intermediate level users of average height who weigh under 226 pounds.
Its relatively small footprint and foldability will suit people who don't have a lot of space for exercise equipment.  Near-silent workouts make it an excellent option for people who are concerned that their workouts may disturbing others in their household.
How does the Xterra FB350 differ from the Xterra Fitness FB150?
A few things set the Xterra Fitness FB350 apart from the Xterra Fitness FB150.
The FB350 has a backrest with a padded lumbar support, while the FB150 does not, so it is classed as being semi-recumbent.  It also has comfortable-to-grip padded handles on either side of the seat.  These are useful for anyone who requires extra support, and they make for an easier means to enter and exit the seat.
The FB350 is slightly larger and heavier than the FB150.  Lastly, the 350 has a cell phone/TV remote holder, and it is slightly more expensive than the 150.
Click this link to read my review of the Xterra Fitness FB150.
Xterra Fitness FB350 Folding Exercise Bike Specs
Assembled dimensions – Assembled, the bike measures 40.50″ (L) x 21″ (W) x 48″ (H)
Folded dimensions – Folded, it measures 20.50″ (D)  x 21″ (W) x 50.5″ (H)
Clearance – For safe and unobstructed workouts, allow approximately 2 feet of free space on either side of the bike and 1 foot to the front and rear
Seat dimensions – The seat measures 12″ (L) x 9.5″ (W) x 2 1/2″ (H)
Distance from seat to pedals – The seat to pedal distance is adjustable between 15.16″ and 29.13″
Seat height – The seat adjusts from between 29″ above floor height to 33″ above floor height
Weight – The bike weighs 42.3 lbs
Flywheel weight – Its flywheel weighs 3.3 lbs
Flywheel diameter – 6.18″
User weight – The maximum user weight is 225 pounds
User height – The manufacturer recommends the bike for users between 4′ 10″ tall and 5′ 10″, though some customers over 6′ tall have left positive feedback
Color – It is gray with blue details
Batteries – 2 x AA batteries are included for the monitor 
Xterra Fitness FB350 Folding Bike Infomercial
Xterra Fitness FB350 Overview
Finish and Build –
The rust and chip-resistant painted finish of the Xterra Fitness FB350 ensures that your bike will stay looking new for many years.
Constructed from thick steel tubing, it features a solid X-frame design.  A 3-piece pedal crank adds to the bike's durability.  This combination should provide years of regular use and stable cycling sessions with no unwanted movement to distract you.
The spacing between the pedals – known as the Q Factor – is on the narrow side.  This configuration places the cyclist's feet and legs in a natural position that keeps pressure off the ankles and knees.
Flywheel and Drive –
A precision-balanced bi-directional flywheel enables forward and backward pedaling.  However, it is not suitable to use in a standing position.
Friction-free magnetic resistance ensures smooth, quiet workouts, as does a near-silent belt-drive system.  This makes the bike a great option if you are looking for a model that won't disturb other people in your household.  A three-piece pedal crank adds durability.
The drive and flywheel are covered with a shroud that keeps out dust and protects tiny fingers and curious pets from catching their finger or fur.
Folding and Unfolding the Bike –
To fold the bike for storage, remove the center pin, then, after folding it, reinsert it to keep it folded.  Remove the pin, unfold it, then put the pin back in, and the bike will be ready to use.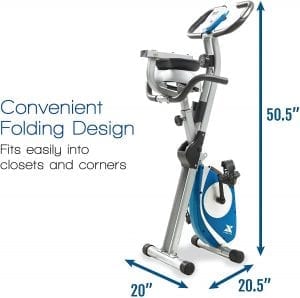 Resistance –
The Xterra Fitness FB350 Folding Exercise Bike Silver has eight levels of magnetic resistance to provide scope for growth as you become fitter.
Adjustments are easy to implement during workouts by turning a large, accessible knob.  The difference between level 1 and level 8 is reasonably subtle.
Monitor –
A 2″ x 1″ (2.24″ diagonal) user-friendly backlit LCD screens show workout statistics, including your Speed, Distance, Time, Calories Burnt, and Pulse Rate.
Press a button to power on the meter, and it will relay your stats.  You can view a single metric or use the Scan feature to automatically scroll through all, displaying each for a few seconds.  There is also an odometer.
Access to these metrics makes monitoring your progress and setting and tracking new fitness goals easy.
Sleep mode activates automatically after a few minutes of inactivity.
Seat –
The Xterra Fitness FB350 has a large, thickly padded vinyl-covered ergonomic seat.  Th seat adjusts up and down and back and forth, so you can customize it to suit your height and personal preference.
The majority of customers have
stated that it is comfortable.  However, seat comfort varies between individuals, with some finding it uncomfortable.  If you require additional cushioning, place a folded towel on the seat or use a bicycle seat cover or gel cycling shorts.
If you have a favorite seat you'd like to use, swapping it out is easy, providing it is of a standard size.  All you will need to do is remove three bolts, replace the seat with your chosen one, then retighten the bolts to secure it in place.
Handlebars –
The bike's fixed-position, padded, multi-grip foam rubber handlebars are slip-resistant and comfortable to hold, even during extended use.  They house a pulse-rate monitor that enables you to check your heart rate and determine if you are exercising in your target zone.
Pedals –
Non-slip weighted foot pedals and adjustable straps provide secure footing.  The pedals are attached at an angle that allows for comfortable pedaling that feels organic.  Standard threads enable the pedals to be replaced if you have a favorite pair you'd prefer to use.
Backward pedaling is possible if you want to mix things up and target different muscles.
Accessories
A holder keeps your phone or TV remote handy, so you can stay entertained during your sessions.
Transport Wheels –
Two transport wheels in the front base allow the bike to be moved easily if required.
Assembly –
The XTERRA Fitness FB350 comes with the mainframe assembled and the flywheel, belt, crank, and resistance system attached.  You will only need to attach the seat post and seat, the pedals, two bases, and the fitness meters.  This should take around 45 minutes or less.  The instructions for this are easy to follow, and the tools you will need are included.
Warranty –
The Xterra Fitness FB350 Folding Exercise Bike Silver comes with a warranty covering 1-year for the frame and 90 days for the brake and other parts.
Pros
The Xterra FB350 Bike is sturdy and durable 
The bike operates without the need of a power source
Workouts are stable, smooth, and quiet
It's good value for the quality
Eight levels of magnetic resistance allow you to increase the challenge of your workouts as you become fitter
This model is low maintenance, with no extra lubricant ever needed
The bike's weight limit exceeds that of some models of a similar price
Its design minimizes pressure on the ankle and knee joints
It doesn't require a lot of space during use
The bike's large, padded seat is adjustable
A backrest and sidebars add extra support
The padded multi-grip handlebars are slip-resistant and comfortable to hold
The Xterra Fitness FB350 Folding Exercise Bike Silver has large, weighted pedals with adjustable straps for security
A fitness meter tracks useful workout metrics and displays them on an LCD screen
Batteries are included, so you can start using the bike right away
Pulse sensors monitor heart rate during workouts
Assembly is quick and easy
A cell holder allows you to have your phone or TV remote control close at hand during workouts
Transport wheels facilitate moving the bike if required
Batteries are included so you can use the bike as soon as it's assembled
Cons
The LCD screen is not backlit, which could make it difficult to view your metrics in a room with low lighting
The Xterra Fitness FB350 has a hand grip pulse rate monitor that displays your heart rate, but it won't be as accurate as a chest strap heart rate monitor
This model does not have levelers, so it could wobble if used on an uneven floor
The resistance levels won't be challenging enough for experienced athletes
A cell phone holder is the only accessory
The Xterra Fitness FB350 Folding Exercise Bike doesn't have WiFi or Bluetooth capability
Final Thoughts on the Xterra Fitness FB350
The Xterra Fitness FB350 is a compact semi-recumbent stationary bike that folds to store.  It's a no-frills model, so there are no preset workouts, and it is very light on accessories.
However, it offers eight levels of resistance and an LCD screen that tracks your workout metrics.  It also has integrated heart rate monitoring.  This is all you need to being experiencing the benefits of indoor cycling.
Best suited to new and intermediate level users, if you want a reliable machine that will enable you to improve your fitness and muscle tone and shed some pounds, check it out in more detail by clicking on the last link below to visit Amazon.
To read reviews of other semi-recumbent stationary bikes, click this link.