This post may contain affiliate links. If you click a link and buy something, I may receive a small commission at no extra cost to you.
I'm a big fan of Zumba and one of my favorite workouts at the moment is the Zumba Incredible Results System, which is also known by its full name, Zumba Fitness Incredible Results DVD with Zumba Max DVD.
I'm currently rotating it with Zumba Fitness Exhilarate, which I also love.  I like changing things up, and the vibe of the two programs is quite different.
Zumba Fitness Exhilarate moves at a faster pace.  Filmed in a dark setting that is reminiscent of a  nightclub, the music is techno-inspired.
Filmed in a brightly lit studio, the setting for the Zumba Incredible Results DVD is more traditional.  The music is representative of Zumba, with a modern twist.
Newcomers to Zumba may find they do better with the slightly slower-paced Zumba Incredible Results System.  Then again, I'm no dancer by any means, and I started with Exhilarate.
Incredible Results doesn't come with Toning Sticks, as Exhilarate does.  Instead, it comes with a "step" called a Rizer, which is used to optimize lower body toning.  There is, of course, nothing to stop you using toning sticks with this or any other Zumba workout.
With no further ado, here is my Zumba Incredible Results review.  I hope it helps you decide if it's the right DVD for you.
Zumba Incredible Results Infomercial
Zumba Incredible Results System – What You Get
The Zumba Incredible Results System comprises 4 DVDs containing 6 workouts, a Rizer, the Fresh and Simple Nutrition Guide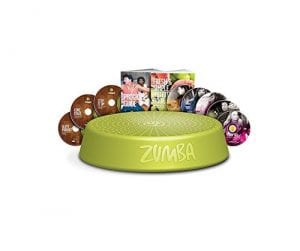 and a Program Guide.  Details of each follow.
Zumba Fitness Incredible Results DVD Breakdown
In this part of my Zumba Incredible Results review, we will look at each of the workouts.  Most come with the option of turning the verbal cue function off.  This is something you may choose to do after a few run-throughs, but it's best to leave it on until you are familiar with the sequences.
DVD #1 – Quick Start & 20 Minute Express
• Quick Start – In this 39-minute segment, Loretta and Hermann host a demo of all the dances, followed by a tutorial of the basic Zumba moves.  If you've done Zumba before, you can probably skip straight to the next segment as you will already be familiar with most, if not all, of the moves.
If you're new to Zumba, the fun is about to begin as you learn the Merengue, Cumbia, Reggaeton, Samba, and Salsa.  The moves are set out in such a way that even if you've never danced a step in your life before, you should be able to pick up the basics pretty quickly.
Once you get the foot movement right, you will add arm movements.  You will then pick up the pace from slow to medium, then fast, as you become more accustomed to the moves and your fitness improves.
• 20 Minute Express – Made up of 5 songs/hip hop beats, Nick leads this 20-minute segment.  It is paced perfectly for new exercisers (or for those days you don't want an overly intense workout), while still being energetic enough to be effective.
DVD #2 – Super Cardio Dance Party
Be sure to keep a towel to dry off with and plenty of water handy for this one.  Of 55 minutes duration, Super Cardio Dance Party is one tough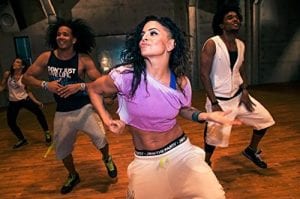 workout.  Led in turn by Kass, Steve, and Ricardo, it starts with a 5-minute tutorial demonstrating some additional moves.  This is followed by the workout which will keep your heart rate elevated throughout to promote maximum calorie burn.
There are 14 different dance sequences, the pace of which alternates between brisk and blistering.  Each song in the set includes cued cardio bursts, during which the screen turns to black and white.  The idea is for you to go as hard and as fast as you can until the color returns.  If you are unable to keep up, slow down.  Keep moving to the music until you catch your breath, then jump back in when you can.
DVD #3 – Zumba Step
I love step workouts, and Zumba Step is probably my favorite segment in Zumba Incredible Results.  45 minutes long, it commences with the creator of Zumba, Beto, showing you the correct way to use the Rizer.  Next, comes 10 workouts led by Beto and four female All Stars team members.
Along with some basic step moves, there is dancing and a lot of leg sculpting exercises that give new meaning to the term "kick butt."  You will definitely feel the muscles of your legs, glutes, and core working overtime.
If you're accustomed to doing a lot of legwork, you should get through the entire workout just fine.  If you find the going too tough, you will still get a good workout without using the Rizer, or by including it as you can until your fitness improves.
DVD #4 – 30 Minute Burn & Amazing Abs
• 30 Minute Burn – Another of my faves in the Zumba Incredible Results System series is 30 Minute Burn.  This live class is led by Gina, who teams up with a different All Stars team member for each of the 7 songs.  A fast-paced, high-energy workout that lives up to its name, it will have you sweating up a storm, but if you've done Zumba before you should have no trouble keeping up.  If you haven't worked out before, you may struggle to get through it without stopping.  But, as with the other Zumba Incredible Results workouts, by doing it regularly you will soon become used to the pace, and you will love the results it delivers.
• Amazing Abs – Amazing Abs is a 15-minute live workout class that immediately follows 30 Minute Burn.  If an ab workout can be described as fun, this one is.  Hosted by Beto, it consists of four fast and furious workouts adapted from his Exhilarate Sentao Routine.
While you will be doing some Zumba dance moves in this segment, most of the exercises are done seated.  Don't make the mistake of thinking that the workout will be easy because you are sitting down.  If you can't tell right away, the next day you will definitely know that your abs and obliques have worked overtime.
Next, we will look at the other components that make up the Zumba Incredible Results System kit.
The Zumba Rizer is a low platform, similar to the step you may have used in step aerobics.  Made of sturdy plastic which has nubs on the top for traction, it is 4 inches high with a diameter of approximately 16 inches by 18 1/2 inches, and it weighs around 3lbs.
The manufacturer stipulates that shoes should be worn when using the Rizer; however, I have used mine barefoot without a problem.  Still, it's best to follow the manufacturer's recommendation, as possibly the surface of the Rizer can become slippery if you sweat a lot.  Also, good sports shoes will support your feet and ankles and help protect you from injuries.
Fresh and Simple Nutrition Guide:
The Fresh and Simple Nutrition Guide comes with the 7-Day Rapid Results Eating Plan.  Simple to implement, this contains dozens of delicious and easy to prepare recipes, along with their nutritional content.  Follow the eating plan, and you will be able to lose weight quickly, without compromising your health.
Also included is the Everyday Weight Loss Plan, which focuses on "clean" and healthy eating.  Use it to help prevent gaining back the weight you lose on the 7-Day Rapid Results Eating Plan.  The thing I really like about the plan is that it is realistic and there is leeway to indulge in our favorite foods, as long as you do so in moderation.
Two workout calendars in the booklet entitled Fun & Easy Body Slimming and Maximum Weight Loss, provide useful training and lifestyle tips and advice that will help ensure you achieve your goals safely.
The Program Guide discusses each of the DVDs, to help you decide upon the schedule that will work best given your current fitness level.
It also contains an overview of the history of Zumba and introduces and provides a brief bio of the All-Stars, who are the dance team members you will see throughout the workouts.
Zumba Incredible Results System Customer Feedback
With feedback from hundreds of Zumba Fitness Incredible Results DVD with Zumba Max DVD purchasers published on
the net, it has an excellent rating.
Many customers report having lost weight since undertaking the Zumba Incredible Results System regularly.  People love the variety and pace of the workouts.
Numerous reviewers have commented favorably on the breakdown of the workouts, saying it makes learning the moves easy.  Something else most people agree upon is that along with being very effective, the workouts are fun.  This makes it easy to stick to a workout schedule.
Conversely, the majority of those who left less than positive comments did so because they found the workouts to be too quick and therefore difficult to follow.
Some people said there is too much talking, while others don't think there is enough.  A number of reviewers stated that they were happy to have the option of turning off the voice cue.
Final Thoughts on Zumba Incredible Results
Zumba is an ideal workout for people who find it difficult to commit to a fitness program.  Commonly described as feeling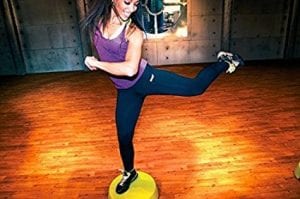 more like a party than exercise, Zumba workouts typically burn a lot of calories.  Over time, this results in weight loss and a lowering of body fat.  Zumba is also great for improving muscle tone, quickly.  Zumba Incredible Results delivers on all of these fronts.
The steps are demonstrated in a way that makes them easy to pick up, even if you've never danced before.  The pace is fast, but a benefit of exercising to a DVD is that you can go at your own speed.  You can stop if need be, without feeling self-conscious as may be the case in a Zumba class.
Cardio Bursts in the Super Cardio Dance Party help to burn body fat even faster. And, the Rizer makes for more rapid sculpting and toning of the calves, quads, and glutes.
If you're thinking of trying Zumba, Zumba Incredible Results would be an excellent introduction to this exciting form of exercise.  A program you can grow with as your fitness improves, you will get a lot of use from it.
For more information or to purchase Zumba Incredible Results, click the link below.