This post may contain affiliate links. If you click a link and buy something, I may receive a small commission at no extra cost to you.
This article looks at eleven of the most common HIIT mistakes that will not only prevent you from progressing but can also result in injury.
At between fifteen and thirty minutes, HIIT (High-Intensity Interval Training) workouts typically involve alternating between 20 to 30 seconds of high-intensity exercise and shorter periods of low-intensity physical activity.
Workouts offer unlimited variety, and they can be customized to help you improve your sporting performance in any arena.
Though short, HIIT is one of the toughest workouts you can do.  It is not for beginners, and even the most experienced fitness fans can get it wrong.
Undertaken the right way, high-intensity interval training provides an efficient way to lower your body fat and lose weight quickly.  It will also sculpt your muscles and increase your stamina and endurance.  Undertake it incorrectly, and you will limit its benefits and potentially sustain a serious injury.
Keep reading to find out the most common HIIT mistakes people make, and why you should avoid them.
Best Women's Workout Reviews Video
Common HIIT Mistakes
1. Not warming up and cooling down
One of the most common HIIT mistakes is not doing a pre-workout Warm-Up or a post-workout Cool-
Down.
Stretching and warming up before working out and cooling down afterward is essential.  It is even more critical when doing strenuous exercise, such as HIIT.  You will benefit greatly, and it will only add an extra six to ten minutes to your workout.
A Warm-Up will gradually increase your heart rate and mentally prepare you for the challenge ahead.  It will warm up cold, stiff, muscles, and therefore improve your flexibility.  Improved flexibility can help to prevent muscle pulls, strains, and other injuries that can come from doing intense exercise.
Warming up will also promote blood flow to the muscles, and help to distribute oxygen.  This will enable your muscles to work more efficiently, which in turn will enhance your performance.
A few minutes of stretching after your workout will help to relax your muscles, which can prevent cramps.  A Cool-Down can also prevent your blood pressure from dropping too rapidly, which can happen when you stop abruptly.
2. Training too frequently
One of the most common HIIT mistakes is doing it too often.  It's natural to want to see results quickly, but with this type of workout, more is not better.
When starting HIIT, aim for two sessions a week at the most.  As your fitness improves, you can increase this to three or four times a week.  If possible, take a day off between workouts.  This will allow your muscles to recover, repair, and grow, and your body to recuperate.
Doing HIIT daily, especially if you are a beginner, often results in an injury.  At the very least, this schedule would be exhausting, and your workouts could become tedious.  When this happens, you will look for excuses to skip workouts, and you may ultimately quit.
3. Working out for too long
As mentioned earlier, keep your workout to thirty minutes or under.  The Tabata Protocol, which is considered to be one of the most effective HIIT workouts of all, lasts for only 4 minutes.
Even elite, seasoned athletes would find it extremely difficult to go all out for an hour without their effort and form failing.  With HIIT, there is no need to.  Short, intense sessions will get you leaner and fitter than long slower-paced ones.
4. Too long intervals
The most effective and safest HIIT intervals are in the 15 to 30-second range.  Remember, you should be going as hard and as fast as you can before taking a short rest then moving on to the next exercise.
Your work to rest ratio will likely vary depending on your level of fitness.  If you are a beginner, you may want to start with a 1:2 ratio by training hard for fifteen to twenty seconds, then resting for thirty to forty seconds.
As your fitness improves, you can transition to a 1:1 ratio; going all out for sixty seconds, then resting for sixty seconds before moving on to the next round.
If you do intervals longer than sixty seconds, you will quickly tire and not be able to put in as much effort.
5. Training on an empty stomach
Unlike fasted-cardio, when doing HIIT, it's wise to eat a light meal approximately one hour before starting your workout.  This is because one of its main benefits comes from EPOC, or afterburn.  These are the terms used to describe the increased rate of oxygen intake that occurs following intense exercise. This can last for between twelve and twenty-four hours after you finish working out.  During this time, your metabolism will be high, so you will burn a lot of calories.
When doing HIIT on an empty stomach, not having carbs as an energy source, your body will use muscle. Additionally, if you do HIIT on an empty stomach, without glycogen for energy, you won't be able to put as much into your sessions.
6. Not putting in enough effort
There's no denying that HIIT workouts are tough, so the tendency can be to reduce the effort you are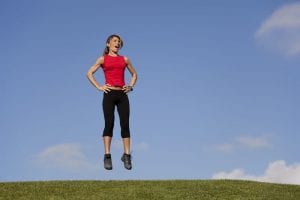 putting in and slow down after the first few minutes.  If you do this, you will not get the maximum benefit from your sessions.
With this type of workout, you will get a better result if you put in maximum effort for a shorter time, rather than do half-hearted sessions.
So go all out and don't hold back.  If you're not panting, groaning, and gasping for air, you probably aren't going hard enough.
7. Not enough, or too much, recovery time 
When doing HIIT, it's important to rest between rounds.  The length of your rest will vary depending on the workout you are doing.  For most, this will be between fifteen seconds and thirty seconds.  Any longer than that will greatly decrease the benefits.
If you don't take a break between exercises, you will tire quickly, and so not be able to put in enough effort.  The short break will let you catch your breath.  It will also enable your heart rate to lower slightly so that you can put in the effort required to complete the workout.
8. Using weights that are too heavy
Many of the benefits of HIIT are due to the speed of the workouts.  If you're planning on combining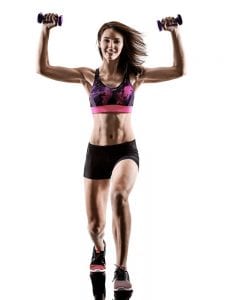 HIIT and weight training, don't use weights that are too heavy.  If you do, you won't be able to move quickly enough, and you may injure yourself.
Choose a weight that is heavy enough to work your muscles, but light enough that you can do 15 repetitions in quick succession without sacrificing your form.
9. Not wearing supportive shoes 
Another one of the most common HIIT mistakes is wearing the wrong shoes.  HIIT usually involves jumping and other high-impact moves.  This type of activity puts pressure on the feet, ankles, knees, and hips, so wearing the right shoes is paramount to help prevent injury.
Shoes that are comfortable, well-cushioned, and supportive, will stabilize your ankles, and help to absorb some of the impact.
10. Using poor form
One of the most common HIIT mistakes is using poor form.
Find the perfect balance between high speed and correct form.  If your movements become sloppy, your workouts will be less effective, which could cause you to injure yourself.
11. Not improving your diet 
Most people do HIIT to improve their health and fitness, build muscle tone, lose weight, or all of these.
HIIT, on its own, provides health and fitness benefits.  However, if you regularly overindulge in sugar-laden junk food and bad carbs, you will not get the most from your workouts.  As effective as this form of exercise is, you can't out-exercise a bad diet.
A nutritious diet will help to protect you from various diseases and illnesses.  It will also provide the energy needed to undertake intense workouts.
The right diet can also lower your body fat.  Even if you aren't overweight, a lower BMI will enable you to see the muscles formed through all of your hard work.
Common HIIT Mistakes Summary
By avoiding the 11 common HIIT mistakes above, you will get the most benefit from your workouts and lower the risk of an injury.
Some of the mistakes will more than likely creep in from time to time.  For example, not putting in as much effort as you should, resting for too long between sets, and letting your form slip when you are over-tired.  And you may be tempted to skip your Warm-Up and Cool-Down when you are pressed for time.
Be vigilant, and if you find yourself slipping, get back on track right away.  Stick with it, and you will start seeing and feeling the results of regular workouts within just a few weeks.