This post may contain affiliate links. If you click a link and buy something, I may receive a small commission at no extra cost to you.
Done regularly, if you put in the effort, the right HIIT workout routine will get you into shape faster than just about any other form of exercise.
HIIT (High-Intensity Interval Training) sessions can be as short as 4 minutes (if you're doing Tabata) or up to 30 minutes, so it is perfect for busy people.
Some people do 60-minute sessions, but exercising at high intensity for that long will increase the likelihood of injury occurring.
Surprisingly, given its intensity, HIIT is also ideal for people who don't enjoy exercising.  This is because though challenging, you will only have to put in 100% effort for a short period before taking a breather, then getting back into it again.
One of the reasons HIIT Workouts are so effective is because the brief, highly intense bursts of activity increase the exerciser's heart rate and keep it elevated throughout the session and long after it's finished.
The work-rest-work-rest formula of HIIT workout routines optimize fat burning and build more lean muscle mass than steady state cardio workouts.  Another HIIT benefit is that it improves aerobic fitness and sporting performance.
For more information on HIIT and its primary advantages, and to access some sample workouts, click here to read What is a HIIT Cardio Workout?
Creating a HIIT Workout Routine 101
If you don't want to join a gym, there are some great HIIT workout plans available online.  Still, for various reasons you may want to include extra moves or change some moves.  This could be because you are busy and have very little time to exercise.
You may want to add variety and keep your workout fresh and engaging.  Maybe you want to put more focus on a particular area of your body that needs extra work.  Or perhaps you struggle to regularly exercise because you dislike some of the moves in your current HIIT workout routine.
Following are four important things to consider when creating a HIIT workout plan.
The body area you want to target
Before formulating your HIIT workout routine, establish the areas you most want to improve.  Doing this will help you to choose the best moves to help you achieve your goals.
Select exercises that interest you and suit your purpose.  Choose a mix of low-intensity and high-intensity moves.  This will give you a balanced workout.  If you pick all low-intensity moves, your sessions won't be as productive.  Choosing all high-intensity moves would be exhausting.  It would also put you at a high risk of injury, especially when doing longer sessions.
The length of your workout
Most HIIT workout routines range anywhere from 8 minutes to 60 minutes.  The duration of your workout should be dependant upon your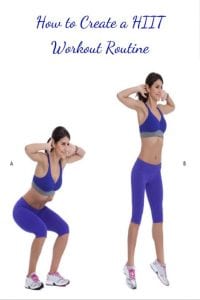 fitness and how much time you have to exercise.
Jumping into something as tough as HIIT if you haven't exercised before is a sure recipe for burnout and injury.  Start with something easier like walking, jogging, or using a stationary bike.  When your fitness improves, try a short HIIT workout, building to longer sessions as your strength and endurance improve.
If you are already fit, you may be able to start with a 20-minute workout.
Your work and rest intervals
Be realistic when planning your sessions.  Remember, for the best result HIIT requires 100% effort for a predetermined period.  You will then take a brief break before moving on to the next circuit in the session.
Choose moves that are challenging, but in line with your ability.  Your work intervals (the time you spend on each set of moves) should be between 20 seconds and 60 seconds.  Think of the difficulty of the exercise you will be doing.  Sixty seconds of Burpees can be torturous.
It's equally important to time your rest periods.  If you rest for too long between moves, your heart rate will drop so you won't get the most from the workout.  If your break is too short, you won't have enough time to recover and be able to give the next exercise your best effort.
Depending on the exercise, you may want to do longer or shorter work intervals, and/or take a 60-second rest between sets.  If you decide to do Tabata, you would typically exercise for 20 seconds, then have a 10-second rest, repeating this cycle eight times before resting for 60 seconds.
Now it's time to choose the exercises you will be doing.  Mix things up with a selection of plyometric and strengthening movements, sprints and toning exercises.  As mentioned earlier, it's important that you do both high and low-intensity moves.
Exercises to try include Mountain Climbers, Dumbbell Rows, Squat Jumps, Burpees, Push-Ups, Wall Sits, Tuck Jumps, and High Knees.
Final Words on How To Create a HIIT Cardio Routine
As you can see, creating a HIIT workout routine is easy, it's fun, and it will enable you to alter your workout whenever you feel like a change.
Experiment with the exercises you do.  If you find them overly stressful, scale back your workout or change some of the exercises until you are stronger and fitter.  If you work beyond your current capability, there's a genuine chance you will injure yourself.  The defeats the point of exercising, which is to improve your fitness and health, tone your muscles, and lower your body fat.