This post may contain affiliate links. If you click a link and buy something, I may receive a small commission at no extra cost to you.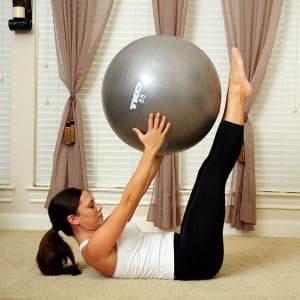 If you're looking for a gentle way to strengthen your muscles and improve your balance, coordination, and flexibility, used regularly, a fitness ball will enable you to do just that.
Also known as a stability ball, the fitness ball is very affordable, and it provides an efficient and low-impact workout.
Suitable for people of any age and any fitness level, it is a viable option for seniors.  People who are unfit, overweight, or recovering from an injury will also benefit from regular use.
This article discusses the many uses of the exercise ball and how to choose the right-sized ball.  We will also look at the TKO Fitness Ball, which is the one I currently use.
NB: If you are rehabilitating from an injury, check with your doctor that's it's okay for you to exercise.
What the Fitness Ball Can do for You
Fitness ball exercises can target the core, abs, back muscles, upper or lower body.  A ball can substitute for a workout bench when performing Crunches, Sit-Ups, Shoulder Presses, Chest Flys, and more.
Used as a seat, it can improve your posture and enable you to tone and strengthen your core while you use the computer or watch TV.  Fitness balls don't deliver cardio benefits per se, but they can be utilized in aerobics workouts.
Click here to read a comprehensive guide to exercise ball workouts.
How do I Know What Size Fitness Ball to Get?
Fitness balls come in various sizes to suit people of different heights.  To get the most from your workout, it's important to select the right size.  The various manufacturers include recommendations which you can find on their site and on the box the fitness ball comes in.
The TKO Fitness Ball comes in 3 sizes and three colors, as listed below:
The silver-colored ball, which has a diameter of 55 cms, is most suitable for people between 4′ 8″ and 5′ 5″ tall.
The blue-colored ball, which has a diameter of 65 cms, is most suitable for people between 5′ 6″ and 5′ 11″ tall.
The black-colored ball, which has a diameter of 75 cms, is most suitable for people between 6′ and 6′ 5″ tall.
TKO Fitness Ball Overview
The TKO Fitness Ball is capable of withstanding over 2,645 pounds of pressure.
Made of durable anti-burst material, it will slowly deflate if it comes into contact with a sharp object and punctures.  This means you can exercise on it or use it as a seat, safe in the knowledge that you won't suddenly find yourself sprawled across the floor.
The ball has a textured surface, so it won't roll from underneath you as easily as some fitness balls can, even when used on a timber floor or shiny tiles.  This makes it easy to keep in place, whether using it to exercise or as a seat.
The ball's surface doesn't collect dust, and it can easily be wiped clean when required.
Coming with a hand pump and a stopper pin, inflating the ball is easy.  Follow the directions to make sure you don't under or overinflate it, and within a few minutes, you will be able to start using it.
The TKO ball holds air well, unlike one I used to have that needed to be re-inflated every few weeks.
That's not to say you will never need to re-inflate it, but you won't have to do so often.  It's usually several months before I notice the ball is a little less firm and needs topping up with air.
This ball comes with an instructional exercise wall chart detailing a number of exercises suitable for toning and strengthening the entire body.

10 Minute Total Body Fitness Ball Workout
What Other Purchasers Have to say About the TKO Fitness Ball
Many TKO Fitness Ball customers have commented upon its effectiveness at increasing strength, muscle tone, and
stability.  The ball's durability has also received positive feedback, with some exercisers having used their ball for years.
Many people who bought the ball to incorporate into P90X workouts, said they are very happy with their results.
Some purchasers stated that they like their TKO Fitness Ball so much they got a second one to use as a seat in their office.  This has allowed them to improve their posture and tone and strengthen their abs and core while they work.  Not all reviews are positive, though.
Several early purchasers received a ball that was missing the plug that seals in the air.  Customer service promptly rectified the issue after they were contacted.
Nevertheless, it is frustrating and disappointing to pay for and receive an essentially unusable product.  The issue appears to have been rectified several years ago, with no recent complaints about this.  If you do receive a faulty ball, contact customer service, and they will send you a replacement.
A small percentage of people said the ball they received slowly loses air over time.  Some people said the ball they received smelled strongly of chemicals.  Again, the comments left regarding these two matters are old.
My TKO ball doesn't and never has had a chemical-like smell.   If the one you receive has an unpleasant odor, be assured it will dissipate over time.  I can't see any recent complaints regarding this, so assume a different material or processing method is now used.
Final Thoughts on the TKO Fitness Ball
The stability ball provides a reliable means of improving physical fitness with minimal effort required.  You can use it to shape and tone your upper body, core, and lower body, and improve your posture, strength, and flexibility.
Having used three different brands so far, my hands-down favorite is the TKO Fitness Ball.  It stays in place more easily than previous fitness balls I used, and I don't have to be constantly refilling it with air.  While the latter is not difficult to do, pumping your fitness ball before using it is an inconvenience.
With a wide range of fitness ball exercises to choose from, if you're looking for a fitness tool that is inexpensive to purchase and fun to use, a fitness ball, and the TKO Fitness Ball, in particular, is well worth checking out.