This post may contain affiliate links. If you click a link and buy something, I may receive a small commission at no extra cost to you.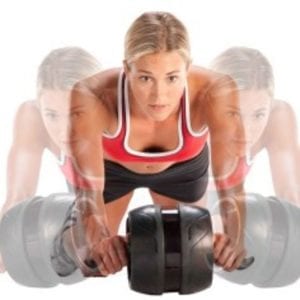 One area of my body I'd never had a problem with was my midsection, but here I was at 1.30 am in the morning reading Ab Carver Pro reviews and searching for answers to my question, "does the Ab Carver Pro work?"
Wearing clothes, my waist, and abs looked pretty much the same as they always had.  However, there was a small roll of fat at the sides of my waist that hadn't been there before and a layer of fat across my stomach that protruded when I sat down.
I hadn't put on weight, so dieting wasn't going to help me.  I knew I needed to improve the muscle tone of my abs and work my obliques, and I knew I needed to start doing so right away before things got any worse.
Not being a fan of Sit-Ups or Crunches, I decided to look online for ab workout equipment, which is how I found the Ab Carver Pro.  The first thing that caught my eye was the impressive before and after shots of people who had been using it.  I then noticed the high number of extremely positive Ab Carver Pro reviews and its reasonable price, and I placed an order
I've been using the device for core workouts over the past few weeks.  I can already see and feel improved muscle tone in my abs, and my waist is looking trimmer than it has for some time.
My arms feel stronger and look more toned too, particularly my biceps.  So I decided to write this Ab Carver Pro review.  Hopefully, it will be helpful to anyone who is in the market for ab workout equipment.
Ab Carver Pro Overview
The Perfect Fitness Ab Carver Pro roller is a functional piece of exercise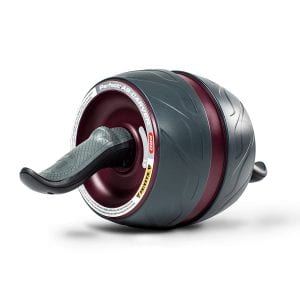 equipment that will quickly strengthen and sculpt your core as it tones and improves the shape of your arms and shoulders.
Constructed of heavy-duty plastic and metal, the device is strong and durable.  Its extra-wide wheel and sturdy non-slip handles help to provide a smooth workout.
Built-in thumb rests allow a relaxed grip with less pressure placed on the wrists.  Coming with high-density foam knee pads, these enable comfortable workouts.
Unlike some similar products that are flimsy and unstable, this one doesn't tip sideways during use, so you can exercise with confidence.
A carbon steel spring delivers resistance during the roll-out phase of the move and assistance during the rollback phase.  This feature ensures smooth workouts and enables you to get the most from your workouts and not have to worry about sustaining a back injury caused by jerky movement.
After purchasing the device, you will receive access to download an additional Ab Carver Pro workout that will improve your core strength and give you better-shaped arms in 21 days.  The workout will benefit all, from the rank beginner to the seasoned exerciser and everyone in between. 

Video demo showing how to use the device 
How to use the device
To use Ab Carver Pro, first, kneel on your hands and knees with the device on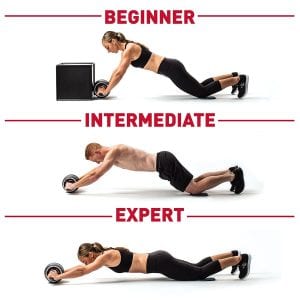 the floor in front of you.
With your knees a comfortable distance apart and resting on separate kneepads, place one hand on each of the wheel's ergonomically designed angled handles with your thumbs positioned in the thumb rests.
Roll slowly forward as far as possible, keeping a slight curve in your back.  Next, slowly roll back to your starting position, using control, and being sure to engage your core throughout the entire sequence from start to finish.
While the above movement is simple, you will be surprised at just how much effort is required to balance on and move the Perfect Fitness Ab Carver Pro roller backward and forwards.  The further forward you roll, and the slower you go, the more effective the exercise will be.
Balancing on the device can be tricky at first, especially if your abs and upper arms are weak, so it's recommended you start out using it in front of a wall.  Doing so will stop you from rolling too far forward and overbalancing.
By slightly altering your starting position and alternating rolling out to either side of the center, you will target your oblique muscles, giving your entire abdomen and waist a workout.
Final Thoughts on the Perfect Fitness Ab Carver Pro
High in quality and comfortable to use, the Perfect Fitness Ab Carver Pro roller will work your entire core.  Your back and your abdominal area will become stronger, and your posture will improve.  Regular use of the device can also ease back pain in those afflicted, so you will not only look better, you will feel better too.
I hope you found my Ab Carver Pro review helpful.  If the Ab Carver isn't what you're looking for, click here for information on alternative ab machines.
To read an article on how to get rid of a muffin top, click this link