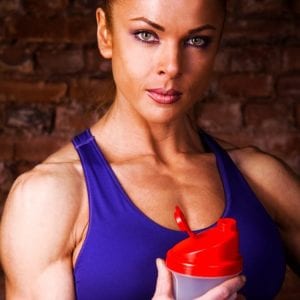 If you want to build muscle mass quickly, you may have considered taking muscle building supplements and be wondering if they're worthwhile or a waste of money. And, even more importantly, are they safe?
There are many muscle building supplements on the market that promise to build muscle mass quickly.
But are these claims true, and will supplements really give you the body you want, or can you get as good a result without them?
In this article, we will look at whether or not muscle building supplements work, if you really need them, and if they are safe. We will also look at the role protein plays in building muscle, how much you should be ingesting every day, and more.
How to Maximize Muscle Growth
Some fitness experts recommend supplements that promote muscle growth as a means of reaching your goal faster. Others think that if you are getting enough protein through food, you don't need supplements.
The main criteria to maximize muscle growth includes ingesting more calories than you expend, regularly undertaking exercise that challenges your muscles, and consuming more protein than your body breaks down.
The best foods for promoting muscle growth include fish, lean ground beef, chicken, eggs, milk, soy, and nuts. All are high in easily digestible protein, as well as healthy fats and other nutrients that accelerate muscle growth. People who eat enough of these shouldn't need to take supplements. If you are unsure that you are getting enough protein from your diet, use a fitness app to find out.
If you aren't getting enough protein from food and you can't eat any more, muscle building supplements may help. These often come as a powder which is added to food during meal preparation or added to a liquid to make a shake. Other popular options include protein bars, and tablets or capsules.
When choosing a supplement to gain muscle, look for one that is FDA approved. This is vital, as virtually anyone could throw some ingredients together and sell it as a protein supplement. While it would be unlikely that the components would be harmful, with no verification or government testing, you could be paying for something that is virtually useless.
How Much Protein Do I Need to Build Muscle?
Protein recommendations to build muscle vary, with most fitness experts saying that you should aim for between 0.6 grams and 1 gram per pound of bodyweight.
Are there any Other Muscle Building Supplements I can Take?
Along with protein, there are other vitamin and mineral supplements that can promote muscle growth. As with protein, it is possible to get what you need from food, but many people are low in these supplements, which include calcium and iron.
Calcium is a bone-building mineral which plays a vital role in muscle function. If your diet is low in calcium, you may find it difficult to contract your muscles during workouts. Your recovery between workouts will also likely be slower.
Foods that are high in calcium include cheese, milk, and yogurt. There are also some excellent non-dairy sources. Among these is seafood, legumes, leafy green vegetables, tofu, dried fruits, and foods or beverages which are fortified with calcium.
Iron is a mineral that provides the energy to work out optimally, and it is essential for muscles to function well and grow. Good sources of iron include red meat and offal. Pork, chicken, turkey, fish, and eggs contain iron, as do broccoli and spinach. Nuts, seeds, beans, lentils, wholegrain foods, brown rice, fortified cereals, and dried fruit are other good iron sources.
When eaten at the same time as iron-rich meals, foods containing vitamin C, such as oranges, berries, kiwi fruit, tomatoes, and capsicum will help your body to better absorb the iron.
It can be hard to get sufficient iron from plant-based foods, so if you are a vegetarian or vegan, you may need to take iron supplements. Look for one that contains vitamin C. Alternatively, take a vitamin C supplement with your iron tablet, or wash it down with a glass of orange juice.
Foods that hinder iron absorption include those that are high in calcium and tinned salmon. Calcium supplements, coffee, tea, and wine also limit iron absorption, so take these in between iron-rich meals, if possible.
Next, we will look at some of the most effective protein muscle building supplements, and how and why they work.
Different Types of Protein Muscle Building Supplements
Protein comprises a combination of amino acids. Amino acids are the muscles building blocks. Without adequate protein, your muscles will atrophy over time.
There are two types of amino acids; essential amino acids (EAA's), and non-essential amino acids. Our bodies produce non-essential amino acids, but not EAA's, so we must get these from either food or a supplement.
There are nine essential amino acids. These include isoleucine, leucine, lysine, methionine, phenylalanine, histidine, threonine, tryptophan, and valine.
Most foods contain protein, but some contain more than others. There are seven primary types of protein supplement, these being whey, casein, soy, pea, hemp, brown rice, and egg. The composition and source of these vary, as does their cost and rate of absorption. Whey is the fastest acting protein supplement, and casein is the slowest.
While there is no conclusive evidence that proteins which are absorbed into the bloodstream quickly are better for muscle gain, many bodybuilders say that the digestion rate of proteins influences how tissue including muscle, skin, and nails is broken down and rebuilt.
Whey Protein:
Whey protein is among the best protein powders to take if you want to build muscle and recover quickly after exercising.
An excellent source of both essential and non-essential amino acids, being sourced from dairy, it contains lactose. While the amount is very small and it doesn't usually cause a problem, this is something to be aware of if you are lactose-intolerant.
One of the most popular and highly-rated whey protein supplements is Optimum Nutrition Gold Standard 100% Whey Protein Powder, which comes in a choice of twenty different flavors.

Casein Protein:
Casein protein is also derived from dairy, so it typically contains a small amount of lactose. It absorbs slowly and steadily, and it forms a gel upon reaching the stomach.
This attribute can help you to feel full for longer between meals. However, according to many in the fitness industry, whey protein with its quick absorption rate is the better choice for muscle building.
Soy Protein:
Soy protein originates from plants, which makes it suitable for vegetarians and vegans. It is faster to digest than casein, but not as fast as whey. Containing almost zero fat and cholesterol, it is considered to be heart-healthy.
Pea Protein:
Being sourced from yellow split peas, pea protein is suitable for vegetarians and vegans. It is low in cysteine and methionine, and while it is slower to absorb than whey protein, some studies indicate that it is just as effective.
Hemp Protein:
Hemp protein is another option for vegetarians and vegans. And don't worry, it won't get you high! It is easily digestible; however, it is not a complete protein as it lacks sufficient lysine and leucine.
Brown Rice Protein:
Brown rice protein absorbs faster than some protein supplements but slower than whey. It is low in lysine, which suggests it is not as effective as whey protein. However, interestingly, one study showed that leucine – the only amino acid known to promote muscle building on its own – sourced from rice protein reaches the bloodstream faster than leucine from whey protein, though brown rice protein contains less of it.
Egg Protein:
Egg protein is pulverized and dehydrated egg whites or the yolk and the whites of eggs. Popular with people who have dairy or soy allergies, as with whey protein it contains almost zero lactose. The effectiveness of egg protein compared to whey protein for promoting muscle growth has not been widely studied.
Final Thoughts on Muscle Building Supplements
If you can't get enough protein through food, by all means, give the appropriate vitamins, minerals, or muscle building supplements a try. If you buy from a reputable company, they should be safe and effective for most people. And the benefits of protein supplements go beyond muscle building for people who aren't getting enough protein through diet.
While whey is the protein supplement that many bodybuilders and professional sportspeople prefer, vegans and lactose-intolerant people may want to consider one of the other options discussed above.