This post may contain affiliate links. If you click a link and buy something, I may receive a small commission at no extra cost to you.
The JNL Fusion workout DVD is a unique and intense total body workout created by fitness model and celebrity Jennifer Nicole Lee, who has graced the cover of many fitness magazines.
It's the same 60-day three-step program that enabled mother of two Jennifer to lose her baby weight, get into the best shape of her life and become a two-time Miss Bikini World Champion.
Utilizing "Super-Spiking," this method combines cardio, strength training, and stretching to address every fitness aspect.
Along with improving your endurance and building a healthier heart and lungs, you will rapidly torch calories, lower your body fat level, sculpt lean muscle, and become more flexible and coordinated.
The pace is fast, but the workouts are relatively short at between around 30 to 36 minutes each.  And, being clearly demonstrated, they are easy to follow.  You will get one rest day per week.
Keep reading this JNL Fusion Review to help you decide if it's for you.  Included will be an overview, information on the JNL Fusion workouts, their approximate runtimes, the program inclusions, its pros and cons, and more.
Whom will it suit?
The program suits women and men of any fitness level, with beginners, moderately fit, and very experienced fitness fans accommodated.
This means that you can start slowly and increase the effort you put in as you become fitter, or do the intermediate or advanced level workout, depending on how fit you are.
The workouts include some moves I've never come across before, so if you are bored with your regular fitness routine, give this one a try.
What is the space requirement?
For unimpeded workouts, you will need a free area of 5′ by 5′.
What equipment will I need?
You will need light hand weights for some of the intermediate level moves.  Heavier weights are used for the advanced version and a light fitness band for the modified version.
Some workouts require a cordless jump rope.  If you don't have one you can jump in place.  You will need a towel for some of the ab moves.  A mat is optional.
Click on the banner directly below to visit the creator's website and check out the incredible JNL Fusion before and after photos.  The transformations will amaze you.
JNL Fusion Overview
JNL Fusion is an extreme 8-week exercise program that has excellent buyer feedback.  Comprising 10 different workouts, these consist of 30 seconds of strength training –
see below for details of the individual workouts – followed by 30 seconds of cardio.
The cardio segments include running on the spot, Jumping Jacks, Burpees, jumping rope, and more.
Working out in this manner will elevate your heart rate into a fat-burning zone, enabling you to expend a ton of calories.  The increased calorie burn can last for up to 48 hours after your workout even when you are resting.
The JNL Fusion workout schedule targets a different area of the body each day.
One day will target your upper body, another day your mid-section, and another day your lower body.  This helps to prevent the strain that can come from repeatedly targeting the same muscle groups, and it allows your muscles to rest, repair, and build.
The sessions are led by Jennifer, who does the intermediate level of the workouts.  A team of exercisers work out alongside her.  This gives the sessions an exercise class feel that is fun, upbeat and motivating.
One team member does a modified version suitable for people who are just getting into fitness and those who want to do low-impact moves.  Another demonstrates an advanced version of the moves for people who want to take things to the next level.
The only break you will get is when you transition between the different moves and circuits.
The workouts are viewable on a PC, laptop, iPad, iPhone, or Android.  They are also accessible via Apple TV, Chromecast, Roku, and Amazon Fire.
The program comes with a 60-day no quibble, money-back guarantee.  This means that you can get a refund if you don't love it or don't get the results you are after.
The Inclusions
When you purchase JNL Fusion, you will have access to ten different workouts, including a BONUS workout available for a limited time.  There are two other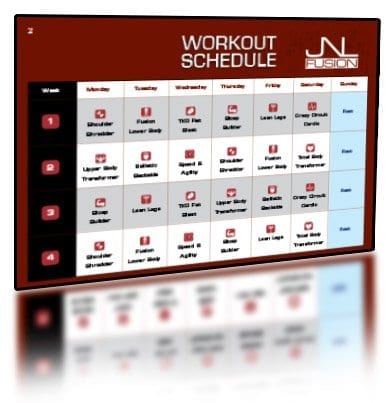 bonuses for fast action-takers,  The bonuses include a Success Tracker & Workout Journal/8-Week Calendar and the 14 Day Rapid Makeover.
The journal lists the workouts you will be doing. Use it to keep on track and motivated and record how much weight you lose and how many inches. There's also space for you to register comments.
The 14 Day Rapid Makeover is a short-term low-calorie diet that can be used if you want to lose weight quickly for an upcoming event.
You will be given a link to access a downloadable fitness guide.  It contains everything you need to know to get started and get the maximum benefit from the sessions.
There's a step-by-step breakdown of all of the moves, plus modifications for every level.  You will also find Warm-Ups to do before the workouts and Cool-Downs you should do afterward.  These are an essential part of any workout as they can help to prevent an injury.
The guide also contains testimonials from previous course participants, along with before and after photos, to keep you motivated.
A healthy eating plan known as the JNL Nutrition Blueprint is also included.  Along with useful nutritional information, the blueprint contains a meal plan.  And, there's a range of delicious and easy-to-prepare recipes.
Following the diet is optional.  According to Jennifer, it can increase fat burning three times, so it's worth doing if you have a lot of weight to lose and you want to lose it faster.
Next, we will look at the JNL Fusion workouts and their approximate runtimes.
JNL Fusion Workouts
10 Minute Total Body – (10 mins)
10 Minute Total Body is a ten-minute strength and cardio-based total body workout.   It requires a cordless rope and dumbbells.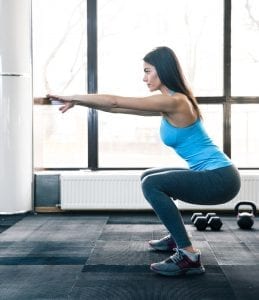 Exercises you will be doing include Military Presses, Squats, Speed Jumping, Bicep Curls, Dips, Plyo Scissors, French Presses, and Deadlifts.
Other exercises you will do in this workout include Hi-Knee Runs, Rows, Weighted Elbow-to-Knee Pulls, and Burpees with 180-degree Jumps.
Shoulder Shredder – (33 mins)
Shoulder Shredder is a 33-minute session.  It requires a set of dumbbells and a cordless jump rope.
The exercises you will be doing include Overhead Shoulder Presses, Speed Rope jumping, Side Laterals, Snatch & Grabs.  You will also do Front Laterals, Plyo Piles, Bentover Rear Delts, and Fusion Power Jacks.
Other moves you will do are Standing French Presses, Fusion Hot Coals, Tricep Kickbacks, Titanium Tucks, Floor Dips, and Fusion Glides.
Total Upper Body – (36 mins)
Total Upper Body is a 35-minute workout that targets the upper body.  It requires dumbbells or a resistance band and a cordless jump rope.
Exercises you will do include Close Grip Rows, Hop Scotch, Tows to Flyes, Hi-Knee Runs, Military Presses, and Speed Jump Rope.
Making up the other exercises are Bi-Curls, Leg Plank Hops, Hammer Curls, Jacks, French Presses, Push-Ups, and Plank Frog Hops.
Kiss My Abs Express – (5 mins)
JNL Fusion Kiss My Abs Express proves that a workout doesn't have to be long to be effective.
A bonus session involving standing and floor core moves, it will sculpt your abs and obliques and whittle your waistline.  You will need a towel.
The exercises you will be doing include Towel Twists, Bicycle Twists, V- Ups, and Elbow-to-Knee Pulldowns.
TKO Fat Blast – (29 mins)
TKO Fat Blast is a total body workout that shreds fat as it tones muscles and improves coordination.  You will need a cordless jump rope.
Incorporating martial art moves, these include Side-to-Side Punches, Front Hooks, Upper Cuts, Squats with Kicks, Squats with Side Kicks, Front Punches, Rapid Fire Kicks, Speed Bag, JNL Jacks, Burpees, and Criss Cross Jacks.
Crazy Circuit Cardio (31 – mins)
Core movements are the focus of the strength circuits in Crazy Circuit Cardio.  You will need a pair of weights, a cordless jump rope, and a towel for this workout.
Exercises you will do are Standing Ab Crunches, Power Core, Fusion Coils, Horse Stance, Pelvis Thrusts,  and Overheard Punches.
The other exercises include No-Limit Jumps, Power Kicks, Speed Rope, Snatch & Grab Open and Close, Criss Cross Jacks, Mountain Climbers.
This workout sculpts long, lean muscles and lifts the glutes.  You will need a set of dumbbells and a cordless jump rope.
The exercises include Deep Squats, Rim Builders, Split Squats, Speed Rope, Plyo Squats, and Sumo Squats.
Other exercises you will do are One-Leg Deadlifts, Sexy Scissors, Calf Raises, Heisman, Pelvic Thrusts, and Butt Blasters.
Lower Body Blast – (29 mins)
Lower Body Blast targets the entire lower body.  You will need a set of dumbbells.
The exercises include Alternating Front Lunges, Power Plyo Lunges, Reverse Alternating Lunges, Jumping Lunges, Squat Leg Lifts, and Front Squats with Side Kicks.
Some of the other exercises you will do are Power Plyo Squats, Power Power Plies, Core Kicks, Quad Kicks, Calf Raises, Sexy Scissors, Fusion Skiers, Shoot for the Hoops, and Half-Burpees.
Bicep Builder – (30 mins)
JNL Fusion Bicep Builder targets the biceps from every angle, plus the entire arm and chest.  For this workout, you will need a set of dumbbells and a cordless jump rope. 
The exercises include Bicep Curls, Burpees, Jogging Air Punches, Sexy Scissors, Angled Out Bicep Curls, Explosive Squats, V-Legged Push-Ups, Wide Push-Ups, X Push-Ups with a Twist, and Fusion Glides.
Fusion Stretch – (24 mins)
For this workout, you will need a mat or a towel.
This gentle-paced total body stretching workout will unkink tight muscles and leave you feeling relaxed and limber.
Next, in this JNL Fusions review, we will look at its pros, followed by its cons.
Pros:
Suits every fitness level from beginner through to the seasoned athlete
It tones the entire body and addresses every aspect of fitness
You will quickly lower your body fat
You'll get sculpted abs and obliques and a tiny waist
You will burn a lot of calories during the sessions, and your metabolism will stay boosted for up to two days afterward
The course is intense but enjoyable
Jennifer is very motivating and encouraging
The format makes it feel as though you are in the studio and a part of Jennifer's team
The program comes with a money-back guarantee
Cons:
People with knee problems will probably need to copy the modifier
The commentary is loud and fairly constant – if this annoys you, you can adjust the music volume
Warm-Ups and Cool-Downs are recommended but not included, so you will need to allow extra time for these
JNL Fusion Summary
If you are looking to lower your body fat level dramatically, lose your excess pounds, sculpt your entire body, and get a tiny waist and six-pack abs, the JNL Fusion DVD workout is for you.  The program will also improve your strength, fitness, endurance, stamina, flexibility, and coordination when done regularly.
I am currently doing Figure 8 Fitness, which is also from Body FX.  I've gotten great results, and after thoroughly researching JNL Fusion and having done five of the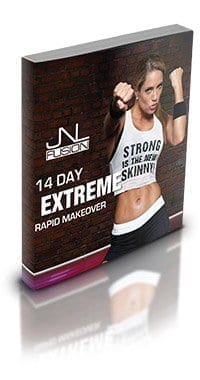 ten workouts so far, I'm confident that it, too, will be equally effective.
I'd class myself as reasonably fit, and Figure 8 wasn't a walk in the park at first.  I already know that JNL Fusion will also challenge me.
I'll update this review when I've gone through all of the workouts.
Or click on the banner ad below.