This post may contain affiliate links. If you click a link and buy something, I may receive a small commission at no extra cost to you.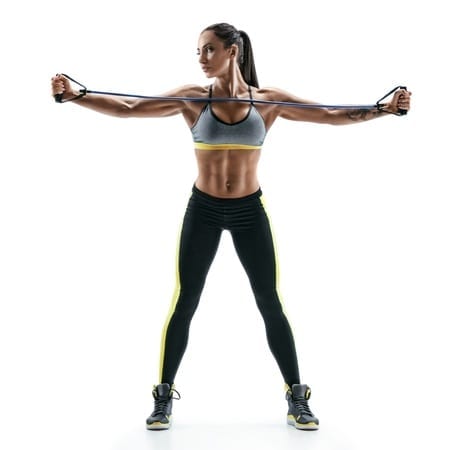 In this article, we will look at the benefits of resistance bands and how to choose the right band for your needs.
Living in a tiny apartment that barely had room for me let alone exercise equipment, and working a job that involved a lot of travel, I quickly came to appreciate the benefits of resistance bands.
I could toss them into a drawer after using them, or into a suitcase to take my workout with me.  This saved me the time, bother and expense of looking for a gym in an unfamiliar city.  That was some years ago, and I still use resistance bands regularly.
Anyone who has used free weights or weight machines knows they are excellent for developing strength and muscle tone.  But not all of us have access to these, be that due to them not being affordable or not having the space to accommodate them.  Some people simply aren't comfortable using them.
The good news is that resistance bands provide a similar workout to heavy strength training equipment, in a more user-friendly package.  They also cost far less, and they are easily transportable.
As with hand weights, resistance bands allow a free range of motion and provide variable resistance.  They also enable the user to progress to a "heavier weight" when their strength and fitness improves.
In this article on the benefits of resistance bands, we will look at some of their pros and cons to help you decide if they would be a good option for you.
Click here for resistance band exercises that will tone your entire body.
30 Minute Resistance Bands Workout for Toning and Strengthening
Benefits of Resistance Bands
Low-Impact Total Body Toning
Resistance bands can deliver a comprehensive, total-body toning workout that is gentle on the joints.
Multiple fitness benefits

One of the most simple fitness tools going, resistance bands are extremely effective for toning and strengthening muscles.  They are also great for boosting stamina and endurance.  Used regularly, they can significantly increase the range of motion and flexibility.
Another of the benefits of resistance bands is that people of any age and fitness level can use them.  This is because they come in a variety of strengths from light to medium and heavy, providing resistance that is the equivalent of anywhere from 2 pounds to 30 pounds of weight or more.
They work well for anyone from the casual exerciser or weekend warrior to the professional athlete who is looking for a way to build strength for their sport.  Seniors seeking a low-impact workout that delivers multiple advantages should find
resistance bands very much to their liking.
Light, Compact, and Transportable
Light and compact, resistance bands weigh next to nothing, and they take up almost no room.  This makes them ideal for people on the go who want to fit some toning exercises into their day when they have a few spare minutes.
Resistance bands are substantially less expensive to purchase than hand weights, kettlebells, and weight machines.
By grasping the band with your hands closer together or further apart, you can increase or decrease the resistance.  For an even greater challenge, you can work with more than one band.  This is called stacking.
One of the most appreciated benefits of resistance bands is that people undergoing physical therapy can use them.  Utilized for this purpose, they are more gentle and far safer than traditional weights.  This makes them a viable exercise option for people undergoing rehabilitation of bad elbows, torn rotator cuffs and the like.  Using weights in such a situation would mean running the risk of exacerbating the injury.
Resistance bands enable us to isolate the muscles we want to strengthen without burdening them or the surrounding tendons, bones or joints.  Using a light resistance band to exercise muscles not affected by injury, will improve blood circulation and promote a faster recovery.
Choosing the Right Bands
To fully experience resistance bands benefits, choose bands that provide the right amount of resistance for your fitness level.  If you are totally new to exercise, start with a band that is equivalent to two pounds of resistance.
When your muscles are stronger, you will be able to progress to a stronger band.  Do this throughout your fitness journey, and you will keep your muscles challenged and increase your fitness further.
Bands of varying strength can be used for different parts of your body.  For example, you may want to use a band with less resistance to exercise your arms and one with greater resistance to exercise your legs.
Click this link to read about some popular resistance bands sets 
Another of the benefits of resistance band training is that they allow us to target specific muscles and work them in different ways.  Squats, Chest Presses, Bicep Curls and Tricep Extensions are just some of the many exercises that can be done with resistance bands.
Bands can be used when doing CrossFit.  They can also be incorporated into fitness programs such as P90x, Insanity, and Turbo Jam.
Some people prefer using bands with handles.  Others find it easier to work with the bands grasped in their hands.  Both are equally effective.  If your bands have handles permanently attached, you will only be able to work with one band at a time.  When using a band without handles or one that has detachable handles, if you require more resistance you can add extra bands.  Some sets come with a door anchor, which increases their use further.
Benefits of Resistance Bands Summary

The benefits of resistance bands are many.  Firstly, they are easy to use, portable and very inexpensive.  They enable people of any age and fitness level to tone their muscles and increase their strength and flexibility. 
Resistance bands can be used to supplement an aerobic program.  They can be used as a sole means of exercise for people with mobility issues.  Enabling people who may not otherwise be able to exercise to improve their shape, they can help those recovering from an injury ease back into exercise.
Personally, I love that they enable me to define my muscles without adding bulk.  They're easy to work with and, for me at least, more gentle to use than regular hand weights.
I moved out of that tiny apartment years ago.  My resistance bands came with me.  I use them to this day, and I still have a set in my drawer at work that I use regularly.  I probably always will.