This post may contain affiliate links. If you click a link and buy something, I may receive a small commission at no extra cost to you.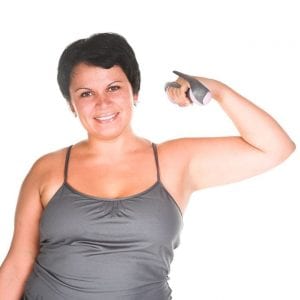 In this article, we will look at the best workouts for overweight women who want to lose weight and improve their health and fitness.
People who are carrying a lot of excess weight can find it very difficult to motivate themselves to exercise.
For some, the problem seems insurmountable, and they lose hope and give up before they even start.
Others may have the motivation but get out of breath so quickly that the discomfort they experience causes them to stop exercising after a few minutes.
They may also worry that exertion could bring on a medical emergency.  However, this is far more likely to occur if they do nothing and continue to gain weight.
If you're embarrassed at the thought of working out in public, don't be.  The reality is that most people are caught up in their own world and not interested in what anyone else is doing.  But if someone does stare at you, so what?
You are getting into shape to look and feel better and improve your health so that you will be around for your family for a long time to come.
That's far more important than what some random stranger you will probably never see again may or may not be thinking.  For all you know, they could be admiring you for exercising.  You may even inspire them to start a fitness regimen of their own.
Keep reading to find out about some tested and proven workouts for overweight women.
Precautions
If you are overweight, suffering a medical condition that could make exertion dangerous, or you are sedentary and over the age of 40, get the okay from your doctor before undertaking a new fitness program.
If at any time you have trouble breathing, or you feel dizzy, nauseous, experience chest pain or you sweat profusely while exercising, stop, and see your doctor.
Best Exercises for Overweight Women Overview
If you want to lose weight and keep it off, it's crucial to diet as well as exercise.  Weight loss is 80% diet and 20% exercise.  Without that 20% though, it will take you a lot longer to shed your excess pounds.
Exercise boosts metabolism and builds muscle so that you burn more calories both during your workout and later when you are inactive.  The more you move, the more calories you will burn, and the faster you will lose weight.
Exercise also improves heart health, builds stamina and endurance, tones muscles, and provides protection against type 2 diabetes, heart disease, stroke, certain cancers, and more.
Following are some of the best workouts for overweight women.  Start with the easiest ones and progress to the more challenging ones as you become fitter.
Low-Impact Cardio Workout for Overweight Women
The Exercises
Walking is one of the best workouts for overweight women (or men for that matter).  It's something everyone knows how to do, so there's no learning curve.  Being low-impact, it won't stress your joints.  You can do it almost anywhere, and the only "equipment" you will need is a pair of walking shoes.
Walking burns calories and improves stamina when done regularly.  Start by walking 10 minutes non-stop, or even 5 minutes.
Go as slowly as you need to, gradually increasing your speed and the duration of the walk as your strength and stamina improve.
Build to a brisk pace and increase the time you spend walking until you are doing thirty to sixty minutes at a time, five or six days a week.
Click this link to find out about the benefits of walking for 30 minutes a day
Once you've built up some endurance, you may want to move on to something more intense, such as Interval Training.  These short bursts of concentrated exercise increase levels of Human Growth Hormone (HGH), which is an especially potent fat burner.
Interval Training can be very challenging, but you will be able to incorporate it into your walks if you take things slowly.
Walk for three minutes at your regular speed, then do 30 seconds of very fast walking.  Alternate this sequence for twenty to thirty minutes.  Gradually increase the time you speed walk, and decrease the time you spend walking at a regular pace.
If you are very large, you may experience joint pain when walking.  Swimming and other water exercise is an ideal alternative because the water will support your weight and take the pressure off your joints.  This puts it up there with the best workouts for overweight women.
If you don't have a pool at home, check to see where the closest public pool is.  If you are embarrassed to be seen in a swimming costume in front of strangers, find out when the quietest time is, and go then.
Swimming for 30 minutes a day is ideal.  It will take you a while to be able to do that, but stick with it.  With every stroke, you will burn calories and improve your fitness and stamina.
Pool noodle exercises will also help you to lose weight.  They are fun to do and excellent for toning muscles.  Click here for 10 of the best pool noodle exercises
Exercises you can do at home
Beginner workout DVDs are a useful option for anyone who wants to exercise at home.  They enable you to work at your own pace in privacy and at a time that suits you.  If you need a break, you can pause the DVD and start again when you catch your breath.
A walk at-home workout DVD with excellent buyer feedback is Leslie Sansone Miracle Miles System, which you can read about by clicking on the previous link.
If you already have a degree of fitness and you want to lose weight and tone up fast, it's hard to go past the Figure 8 Workout.  (Click on the previous link to read my review.)  I'm currently doing it for the third time and I absolutely love it.
It's not the easiest workout I've done, but the results are worth the effort.  I wasn't overweight to start with, but it's really trimmed my waist, tightened my abs, and improved my muscle tone in general.  Check it out if you enjoy Latin music and dancing or would like to learn some Latin dance moves.
If it's not what you're looking for, click here to read reviews of other popular fitness DVDs.
If you can't bring yourself to work out in public and you don't have a DVD player, buying your own fitness equipment is the way to go.  There are numerous options to choose from including a
treadmill, a rowing machine, an elliptical trainer, and a stationary bike.
Any of these will allow you to exercise in the privacy of your home.  All provide low-impact workouts that will improve your fitness, make you stronger and more toned, and enable you to lose weight over time.
A hybrid or cross-trainer is another excellent option as it will allow you to work your upper and lower body at the same time.
If you don't have the space for bulky exercise equipment, or if you are immobile, you may want to consider getting a mini cycle.  These compact and lightweight fitness aids are designed to be used while you are seated.
They offer a convenient way to burn some calories and tone your upper and lower body while you are on your computer or watching the television.  Two that I like and recommend are the MagneTrainer Mini Exercise Bike and the Vive Pedal Exerciser.  (Click on the previous links to read reviews.)
Whichever equipment you choose, start slowly and be consistent.  Use the machine for five minutes, then take a rest.  Repeat this once or twice.  As you become fitter, extend the time you exercise and shorten your rest periods.  Do this until you are training for at least thirty minutes non-stop, up to six days a week.
Tai chi is another of the best workouts for overweight women and anyone looking for a relaxing fitness activity.  While it won't burn as many calories as a lot of other forms of exercise, it is an excellent starting point.
The movements, which mimic those done in martial arts, are slow, gentle, and extremely low-impact.  Regular sessions will strengthen your muscles and improve your balance.
You can join a class or buy a Tai Chi DVD and work out at home.  One I like is Beachbody's Tai Cheng which has overwhelmingly positive buyer feedback.  (Click the previous link to read a review.)
Click here to read about more of the benefits of Tai Chi.
Weightlifting is a very effective exercise for overweight women who want to trim down.  If you lift weights three or four times a week, you will improve your muscle tone and lower your body fat.  With more muscle and less fat, you will burn calories, even when you are inactive.
You won't have to use heavy weights to experience these benefits, and nor will you need to join a gym.
Start with a pair of 3 to 5-pound dumbbells, or lighter weights if need be.  Do bicep curls and triceps extensions to tone your arms and upper body.
Still holding the dumbbells, do some lunges and squats.  This will tone your legs, hips, and buttocks, and the added weight will enable you to burn more calories.
Start with 5 repetitions of each exercise and do two sets if you can.  Gradually add more reps until you are doing ten to fifteen and three sets, then add more exercises.
Resistance bands can be used in place of hand weights if preferred.  They are an ideal option if you want to ease into exercise and they can even be used seated.
The Exercise Chair Resistance System is also worth checking out.  Workouts don't burn a lot of calories, but they will burn some and help you to tone and strengthen your muscles and improve your flexibility.
Final Words on the Best Workouts For Overweight Women
Done regularly, any of the above workouts for overweight women will help you to lose weight and improve your health and
fitness.
To reap the health benefits of aerobic exercise, undertake it a minimum of three times a week for at least twenty minutes at a time.  However, you will have to do more than that to lose weight, especially if you need to shed a lot of pounds.
To lose one pound, you will need to burn 3,500 calories.  Using walking as an example, the average person will burn approximately 150 calories every thirty minutes they walk.  That's around 100 calories for every mile covered, but there are some variables.
Heavier people and those with a lot of muscle will burn more than people who are lighter or have a higher BMI.  Speed and terrain also come into play.
For a more accurate reading, use a pedometer or a fitness watch with the facility to enter your weight and age, or a smartphone app designed for this purpose.
If money is tight, you can get fit on a budget, so don't put off starting any longer.
There isn't a definitive list of best exercises for overweight women.  Along with modifying your diet, to lose weight and improve your fitness you will need to be more physically active.
Find a sport or exercise that you enjoy, commit to doing it regularly, and you will be amazed at how quickly you will improve your shape and health.
If you're looking for inspiration, click here to discover 10 of the best calorie-burning exercises.